UVA Law Professor Margo Bagley Gives Expert IP Assistance to Mozambique Government, Co-Edits New Book on Global Patent Law
University of Virginia School of Law professor Margo Bagley set out in early February to be an informal observer at World Intellectual Property Organization committee talks. By the time she returned, she had rendered expert negotiations assistance to the government of Mozambique — beginning a relationship that should help the country balance its IP protection and development goals.
Bagley, an international patent law expert and co-editor of the new book "Patent Law in Global Perspective," attended the WIPO Intergovernmental Committee on Genetic Resources, Traditional Knowledge and Folklore talks from Feb. 3-6 in Geneva, Switzerland. During a working dinner, she met H.E. Pedro Comissário, Mozambique's ambassador to the United Nations Office at Geneva (UN European Headquarters). WIPO was created in 1967 by the UN as a forum for protecting intellectual property throughout the world.
"After learning of my expertise in the area of international patent law and policy, and more recently my report on the Nagoya Protocol, the ambassador requested my assistance," Bagley said. "I was delighted to be asked, not only because of the opportunity it afforded me to participate in, as opposed to just observe, the negotiations, but also because knowledge of the patent laws of developed countries such as the U.S. could be helpful in seeking compromises to advance the work at the IGC session."
The focus of the session was to draft an international instrument to address the worldwide misappropriation of genetic resources and associated traditional knowledge. Many developing countries rich in genetic resources, and associated knowledge of particular uses for those resources, are concerned by the ongoing patenting of genetic resource-based inventions acquired within their borders without prior informed consent or benefit-sharing agreements in place, Bagley said. A major component of the proposed instrument under negotiation is a disclosure-of-origin requirement in national patent systems to minimize the issuance of patents based on publicly available information or in violation of government access and benefit-sharing provisions. Bagley's comments helped to shape text that will now go before the WIPO Annual General Assembly in September.
Mozambique is on the United Nations' Least Developed Countries list, which classifies the world's most impoverished countries based on per capita gross national income, human resource weakness and economic vulnerability.
"While Mozambique is making great strides in development and is discovering a wealth of natural resources, it has been pressured to join several multilateral treaties that may not be in its best interest based on its current stage of industrial development," Bagley said. "This is a problem many LDCs face."
WIPO statistics indicate that 80 percent of patent applications filed in low-income countries are filed by foreigners, a statistic with several negative implications, Bagley said, including higher prices for patented goods and an increased outflow of funds from poor countries to higher income countries.
She said countries such as Mozambique have been influenced to adopt stronger patent laws — serving to protect patent-holders in developed nations — in exchange for promised trade benefits and increased innovation.
"Often, such influence is exerted within multilateral processes in which the capacity and knowledge of many least-developed countries is constrained and, as a result, negotiations can be skewed against their development interests," Bagley said. "Recent research concludes that countries with low human capital — for example, insufficient scientists and experts — are often unable to reap the benefits of increased incentives to innovate and instead must contend with the negative effects of a reduced diffusion of technology due to stronger patent protections."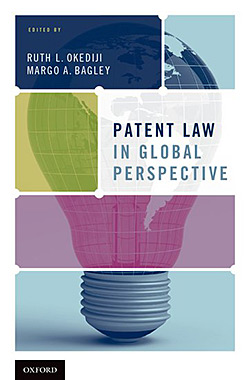 Bagley's new book, "Patent Law in Global Perspective," co-authored with Professor Ruth Okediji and released this month by Oxford University Press, is an edited collection of contributions by 27 patent law professors and experts from around the world. Several of the chapters focus on the emerging economies of developing countries such as India, China and Brazil, and the challenges and opportunities they face in relation to patents.
"The chapters are quite eye-opening in their analysis and conclusions," Bagley said. "Of course I am biased, but I highly recommend the book to anyone interested in learning more about these issues."
Bagley's work on behalf of Mozambique will continue, she said. In March, she will again provide expert assistance during a WIPO intergovernmental committee session, this time addressing the misappropriation of traditional knowledge and traditional cultural expressions. And she expects to be involved in an ongoing effort to assist the country's various intellectual property agencies in developing best practices in an LDC context while working with policymakers regarding Mozambique's IP-related domestic framework and development goals.
"Over the years I have highlighted for my International Patent Law and Policy students the negotiating disadvantage that developing countries often face on critical IP issues," Bagley said. "I felt truly blessed to have the opportunity to serve as an expert and try to ameliorate some of the imbalance, while seeking a win-win for developed and developing countries in these negotiations."
Founded in 1819, the University of Virginia School of Law is the second-oldest continuously operating law school in the nation. Consistently ranked among the top law schools, Virginia is a world-renowned training ground for distinguished lawyers and public servants, instilling in them a commitment to leadership, integrity and community service.