Congressman Kennedy to Deliver UVA Law Commencement Address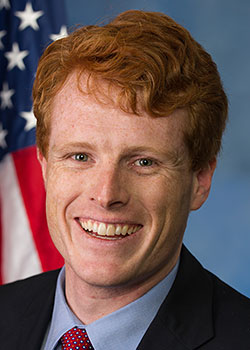 U.S. Rep. Joseph P. Kennedy III, a first-term congressman from Massachusetts, former prosecutor and former Peace Corps volunteer, will deliver the commencement address to the University of Virginia School of Law's Class of 2014 on May 18.
Kennedy, a Democrat, was elected in November 2012 to the district previously held by Barney Frank, an area stretching from the Boston suburbs to the industrial towns of Massachusetts' South Coast. Kennedy serves on the House Committee on Foreign Affairs, as well as the House Committee on Science and Technology.
"Congressman Kennedy has devoted his career to public service and in so doing has followed in the footsteps of his grandfather, Robert F. Kennedy, one of UVA Law's most illustrious graduates," said Law School Dean Paul G. Mahoney.
Prior to seeking elected office, Kennedy served as an assistant district attorney in the Middlesex County and Cape and Island's district attorneys' offices in Massachusetts.
He earned his law degree from Harvard Law School, where he was an active member of the school's Legal Aid Bureau, a pro bono law firm that provided legal services to low-income families in the Boston area. Around that same time, Kennedy and his wife, Lauren, co-founded an afterschool program for at-risk youth in Boston.
Kennedy earned an undergraduate degree in management science and engineering in 2003 from Stanford University.
Following graduation, he served as a member of the Peace Corps, working in the Dominican Republic where he designed and implemented an economic development project that helped create jobs and raise the standard of living in an isolated community near Puerto Plata.
Kennedy is the son of former six-term congressman Joseph Kennedy II and the grandson of Robert F. Kennedy '51. In 2006, he co-chaired the re-election campaign of the late Sen. Edward M. Kennedy '59.
Third-year law student and Student Bar Association President Brian Park said the students chose to invite Kennedy to speak at graduation because he, as one of the youngest congressional leaders, represents a new attitude and approach to Washington.
"In many ways, he not only represents the 4th District of Massachusetts but also a generation of Americans under the age of 40 whose interests have been underrepresented until now," Park said. "Most of the Law School's graduating class will fit well within that under-40 demographic, and I know the congressman's comments will be well-received by a generally young audience."
Park added that the Kennedy family legacy and belief in public service resonates in a special way with UVA Law students.
"The exemplary passion for public service that the Kennedy family has epitomized for nearly a century is still vibrant and strong at the University of Virginia," he said. "Public service is a huge part of the UVA Law experience, and we have a very high proportion of graduates pursue careers in public service. I am certain that Congressman Kennedy's diverse and distinguished background with the Peace Corps, the Middlesex D.A.'s office, and his political service will resonate with and inspire our graduates."
Founded in 1819, the University of Virginia School of Law is the second-oldest continuously operating law school in the nation. Consistently ranked among the top law schools, Virginia is a world-renowned training ground for distinguished lawyers and public servants, instilling in them a commitment to leadership, integrity and community service.