UVA Law Sets School Records Again in Clerkship Placement
More than 100 graduates of the University of Virginia School of Law are clerking in the 2015 court term, including four at the U.S. Supreme Court and a school record 62 in U.S. district courts. This year marks the third time since 2011 the number of alumni clerkships has topped 100.
This year's success follows a record-setting term in 2014, Director of Clerkships Ruth Payne '02 said. That term featured school records in U.S. courts of appeal (35 clerkships), and the total number of clerkships (105; this year's tally so far is 102).
The school's graduates have a history of performing well at elite clerkship placement. UVA is fourth in contributing clerks to the Supreme Court from 2005-15, after Harvard, Yale and Stanford. According to ABA data, Virginia is fifth among law schools in the number of alumni earning federal appellate clerkships for the classes of 2012-14. ( Classes of 2012-14: Judges, courts and locations | Clerkships map, 2012-14 court terms)
"Our students make great clerks — our judges are happy and come back for more," Payne said. "Every year about 75 percent of our hires are from judges who've hired our graduates before."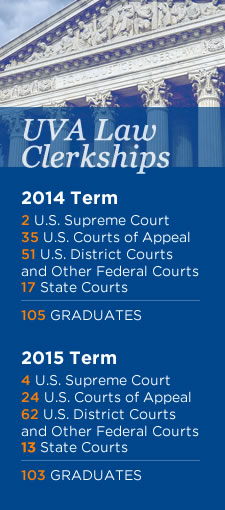 And the number of judges who hire UVA Law graduates is growing. At least 58 judges appointed by President Barack Obama have hired graduates.
Payne attributed some of the success to faculty who are dedicated to helping students achieve the best possible outcome.
"Our faculty both are very generous about helping students, but also are well-connected," she said.
Many alumni who clerk also advise Payne and students seeking clerkships, which helps create a cycle of success, she said. (Payne herself clerked for Judge J. Harvie Wilkinson III on the U.S. Court of Appeals for the Fourth Circuit and completed a one-year Bristow Fellowship with the U.S. Office of the Solicitor General.) And of course, many judges hold degrees from UVA Law — 160 according to Payne's records.
Clerkships are considered a prestigious stepping stone to a successful career in law. Graduates who clerk before starting work at a firm typically receive sizable bonuses and join as a second-year associate.
"Employers really want you to clerk," Payne said, and many government employers hire from the clerk pool. The hiring process for firms runs in parallel with the clerkship application and interviewing process, so that graduates finishing a clerkship can immediately start at a firm without another job search. Some graduates clerk for two years with different judges before launching their career.
Professor Micah Schwartzman , chair of the Clerkships Committee, said faculty are "strongly committed" to the school's clerkships program.
"Clerking is a great way to start your legal career, both in terms of gaining valuable experience and in opening doors to future career paths," Schwartzman said. "Because our students get so much out of their clerkships, we want to do everything we can to support them."
Related Links
Founded in 1819, the University of Virginia School of Law is the second-oldest continuously operating law school in the nation. Consistently ranked among the top law schools, Virginia is a world-renowned training ground for distinguished lawyers and public servants, instilling in them a commitment to leadership, integrity and community service.