Thirteen University of Virginia School of Law students learned firsthand about business law and entrepreneurism in Israel by traveling there last month for a January Term course led by UVA Law professors.
The weeklong, two-credit "Israeli Business Law and Innovation," led by UVA Law's Michal Barzuza, a corporate law expert, and Dotan Oliar, an intellectual property expert, allowed students to hear from high-profile speakers at a Tel Aviv University Faculty of Law classroom and through off-campus meetings.
Students met with a justice on the Supreme Court of Israel, a judge on the new business court and the head of the Israel Patent Office — as well as representatives from law firms who interact with the government's business law infrastructure.  
The group also had the opportunity to visit a number of Israeli businesses, including WIX.com, an online website-building platform, and MyTheme, an incubator that assists in startup growth.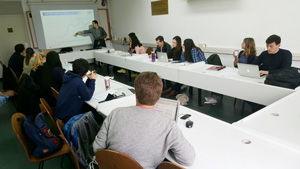 Israel is one of the world's top business law hubs, and second-year student Yufeng Wu said meeting experts in person was a great way to learn about Israel's legal atmosphere.
"The J-Term course in Israel has been very well-designed and does open a new horizon for me in terms of learning laws in a different setting, by communicating with Israeli professors, judges and government officials," Wu said.
Supreme Court Justice Daphne Barak-Erez, who is also an Israeli law professor, was among the experts who shared their wisdom. Third-year law student James Smith said that speaking to Barak-Erez allowed him to gain insight into the effect international relations can have on business and other aspects of law.
Although students were given an inside look at a unique business law system, Oliar said many of the lessons students learned could also be applicable elsewhere in the world.
This year marks the second time the J-Term course has been offered.
Founded in 1819, the University of Virginia School of Law is the second-oldest continuously operating law school in the nation. Consistently ranked among the top law schools, Virginia is a world-renowned training ground for distinguished lawyers and public servants, instilling in them a commitment to leadership, integrity and community service.