David Martin, Shaper of Immigration Policy, to Retire After 36 Years at UVA Law
When University of Virginia School of Law Professor David Martin looks back on his career, he sees himself as an academic first, and a high-profile public servant second.
"I am a professor who has been blessed with opportunities to apply ideas directly in the policy arena," Martin said.
A leading scholar not only on immigration, but in constitutional and international law, Martin retires this spring after 36 years as a faculty member who also held several key political appointments that influenced U.S. immigration and refugee policy. Currently the Warner-Booker Distinguished Professor of International Law at UVA, Martin wasn't just an academic who was occasionally consulted. He had significant operational responsibilities in his government roles, most recently as principal deputy general counsel of the Department of Homeland Security.
"I developed an eye for spotting subtle openings that could lead to improved policy, and I thoroughly enjoyed negotiating the details of policy initiatives," he said.
Martin's first government role, as a special assistant in the State Department's fledgling human rights bureau, helped set the tone for his career. He was chosen for the position in part because he had handled international human rights issues in private practice — experience that only a few attorneys could claim in the 1970s.
Following President Jimmy Carter's election pledge to uphold human rights internationally, Martin looked forward to implementing the administration's "inspiring" vision. But his first assignments were quite different from what he expected. As he waited for his security clearance, the world witnessed an enormous surge in "boat people" — tens of thousands fleeing Vietnam each month.
Martin didn't have a background in refugee law. A special assistant's role, however, is to be "plugged in wherever needed," and "boy, the need was there in a huge way," he said.
"The refugee work was a complete fortuity that had a huge effect on my scholarly career and agenda," he said. "I had to learn quickly about the mysteries of the Immigration and Nationality Act, and about international refugee treaties."
His policy work was integral to what became the Refugee Act of 1980.
With a change in administrations on the horizon, Martin was ready to try teaching — a long-time aspiration.
A DePauw University and Yale Law School graduate, Martin had classic academic credentials that helped him land his new job at UVA Law. He had been editor-in-chief of the Yale Law Journal, and had clerked for U.S. Court of Appeals for the D.C. Circuit Judge J. Skelly Wright and for U.S. Supreme Court Justice Lewis F. Powell Jr.
As he prepared for his initial classes, though, Martin began to wonder if teaching was going to be right for him. The initial lesson-planning was arduous, and he had never taught before.
"I thought: What if I don't like this?" he said.
Yet once he engaged with his eager pupils, Martin knew he had made the correct decision. He prides himself on his understated and accessible approach to teaching.
"I'm a relentlessly normal Midwestern guy," said Martin, who was raised in Indianapolis. "I don't do colorful, zany things in the classroom. So I've rarely figured very prominently in the Libel Show [the annual send-up of professors and Law School life], for example."
Among the students in Martin's first small section was future public servant Janet Napolitano '83, the current president of the University of California. Martin renewed his association with Napolitano several times over the years, most notably working for her as counsel when she served as secretary of Homeland Security during the first Obama administration.
"I was happy to have one of my former students become my boss," Martin said with a smile. "That worked out just fine."
Martin said his timing for becoming a professor was a stroke of luck. Refugee law had previously claimed little attention in law schools, but in 1980, headlines regularly focused not only on Vietnamese refugees but also the Mariel boatlift and its mass exodus of Cubans to the U.S. Martin increasingly found himself being invited to academic symposia, and being asked to write on the refugee issue.
"I went to these conferences as an absolute rookie professor," Martin said. "And it turned out I knew the subject better than just about anybody else there. I had been living it, working it for two years. I had actually been drafting statutory language, and working on how to reform government programs to accommodate the new reality of massive refugee flows."
That decade at the Law School, Martin also took a lead role on the UVA Law curriculum committee that devised the modern first-year framework of three four-hour law classes per semester; took a sabbatical year in Europe to do a comparative study of political asylum adjudication systems as a German Marshall Fund Research Fellow; coordinated the Law School's Sokol Colloquium dedicated to refugee issues, which resulted in the edited volume "The New Asylum Seekers: Refugee Law in the 1980s"; and chaired the Immigration Section of the Association of American Law Schools.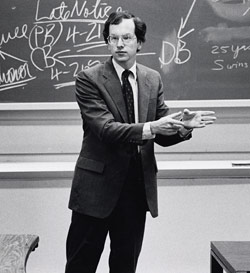 Soon after Democrats regained the Oval Office in 1993, Martin was asked again to serve. He was appointed in 1995 as general counsel to the Immigration and Naturalization Service in the Department of Justice. During those three years, Martin helped the Clinton administration shepherd a major alteration to U.S. asylum procedures, as well as implement extensive statutory amendments to the immigration laws.
"The asylum system was swamped by 1993," he said. "People were getting temporary work authorization merely by filing, and their claims wouldn't be heard for years. Immigration operators were taking advantage, and the dysfunction fed on itself."
Martin's team, with input from nongovernmental organizations, came up with a new system that provided closer linkage between the various parts of the process. Staffing was nearly doubled, work authorization decoupled from the mere act of filing for asylum, and new claims moved to the front of the line.
"The changes meant that if you had a valid claim, you were going to get asylum much quicker than before," he said, "but if your claim was invalid, you would generally receive a deportation order within six months."
Martin said that hammering out the new asylum system, which had bipartisan support, was probably his most gratifying experience in government. The system worked well for about 18 years, he said, until reduced funding for federal immigration judges mired the process once more.
"It's probably something that won't be recaptured," he said. "There's just not as much space now to convene a process where people of different backgrounds can come together quietly and try to work out what makes sense."
The 1990s effort to reform asylum — and also to head off more draconian statutory changes — is recounted in the book "A Well-Founded Fear: The Congressional Battle to Save Political Asylum in America," by Philip Schrag, which devotes many pages to Martin's role in the regulatory reforms. Martin published his own reflections on that process in "Making Asylum Policy: The 1994 Reforms," which was published in the Washington Law Review.
Martin said he has tried to apply the same even-handed, common-sense approach he brought to government to his scholarly writing. During his career, in addition to dozens of other books, book chapter and articles, Martin co-authored "Immigration and Citizenship: Process and Policy," one of the two main textbooks in the field.
"The immigration field is quite polarized, and the academic literature tends to be more in the nature of advocacy," he said. "Criticism is understandable — and necessary. But not enough effort is made to try to understand the government's position on its own terms before launching a critique. Scholars need to offer reforms that still result in a functional, workable system for migration management."
In addition to indirectly affecting policy through the education of future lawyers, Martin's casebook (soon to be published in its eighth edition) has influenced legislation directly.
"In 1996, when Congress enacted some major reforms, they picked up on some of our ideas," he said.
Martin has also had an impact in arguing high-profile, contested issues. During his service with the Immigration and Naturalization Service, Martin argued two key cases on behalf of the government before the Board of Immigration Appeals. Matter of Kasinga established, with INS support, that female genital mutilation can be a basis for political asylum. Matter of Ruiz-Massieu, involving deportation proceedings against a former high-ranking Mexican government official who was alleged to be corrupt, interpreted the statutory removal grounds that are based on adverse foreign policy impacts.
Kasinga received enormous attention, Martin said, because of public sympathy for the petitioner, and for its implications for the number of women who might seek asylum from the cultural practice.
"We put forth an analytical framework that offered real protection, but didn't necessarily open the floodgates," he said. The evening of the argument, ABC's "Nightline" with Ted Koppel covered the case and included a lengthy live interview with Martin.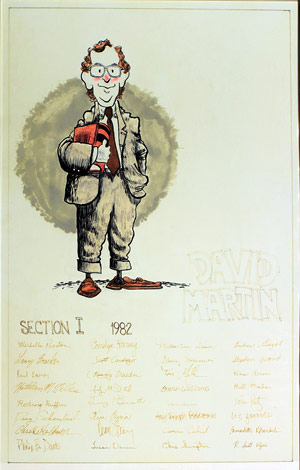 Dean Strang '85 of "Making a Murderer" drew this memento in 1982 for Martin, his small-section professor
A decade after serving in the Clinton administration, Martin returned again to government service. He was part of the Obama administration's transition team, and then was appointed to the Department of Homeland Security, which by that time had absorbed the former INS.
In his role as acting general counsel and then principal deputy general counsel for the department from January 2009 to December 2010, Martin led a team developing proposed immigration reform legislation. He helped hone the federal government's 2010 lawsuit against Arizona's restrictive immigration enforcement law, which later resulted in the U.S. Supreme Court striking down three provisions as violations of the Supremacy Clause of the Constitution. He also served as the department's representative on the interdepartmental task forces for evaluating the cases of detainees at the Guantanamo Bay detention camp and for reviewing overall detention and interrogation policies in the battle against terrorism. He estimates that he attended more than 50 meetings in the White House Situation Room, many of them cabinet-level sessions.
Martin said he regrets that immigration reform didn't happen during that time period, but it wasn't for lack of trying.
"Critics often say that Obama had the Congress but didn't do anything on immigration reform in those first two years," he said. "Well, behind the scenes, there was an awful lot being done, but the right political moment never arrived for Congress to take it up."
He currently serves on the Homeland Security Advisory Council.
In addition to his government roles and scholarship, Martin has studied and promoted the use of law to foster international relations and to promote justice. From 2003-05, he served as vice president of the American Society of International Law, and in 2004 was elected to the Board of Editors of the American Journal of International Law. Martin was honored in October 2015 with the Excellence in International Migration Scholarship Award by the Center for Migration Studies of New York City.
Napolitano was among those celebrating Martin's award with a video tribute at the center's annual banquet. "My time at Virginia marked the beginning of my training in law and public service, and I can't think of a better mentor than Dave in those early years," Napolitano said. "His career is a terrific example of the impact a scholar and public servant can make."
Jon Cannon, who joined the Law School faculty in 1998 from the Environmental Protection Agency, where he served as general counsel (1995-98) and assistant administrator for administration and resources management (1992-95), also served with Martin as a member of the Obama transition team.
Cannon said Martin will be remembered for his substantive contributions to law and public service, facilitated by his keen intellect and strong moral compass.
"David Martin has joined distinguished scholarship in immigration and international law with distinguished public service in these areas," Cannon said. "Dave's combination of scholarly reflection and high-level engagement reflects a special set of qualities, including both an uncompromising intellect and a gift for responding effectively to diverse points of view. Dave and I co-taught an ethical values seminar on the tension between public and private virtue; he is one of those exemplary individuals who combine both in generous measure."
 
As an emeritus professor, Martin said, he will continue to contribute commentary on U.S. immigration issues, but doubts that he will serve in a government office as he has in the past.
"The kind of immigration policies I want to advance are basically falling between the camps right now," he said. "So I don't see a government position happening. Public service is an honor, and a way to repay the blessings we enjoy in this society. It can be quite exciting, but government jobs are very demanding. The hours are long and brutal, and you're always subject to the unexpected."
He said government service provided an exhilarating contrast to the slower, steadier pace of teaching and academic publishing. "But each time I returned to the Law School with a new appreciation for Charlottesville and for the collegial satisfactions of the scholarly life."
Founded in 1819, the University of Virginia School of Law is the second-oldest continuously operating law school in the nation. Consistently ranked among the top law schools, Virginia is a world-renowned training ground for distinguished lawyers and public servants, instilling in them a commitment to leadership, integrity and community service.