Dean Strang '85 of 'Making a Murderer' Turns Spotlight on Problems in Criminal Justice System
The first email trickled in from a fan who binge-watched the 10-part documentary the day Netflix made it available. Soon, "Making a Murderer" attorney Dean Strang was answering 150 emails a day from fans who felt compelled to write after seeing the complex murder trial of Strang's client unfold.
Strang, a 1985 graduate of the University of Virginia School of Law who visited the school on Wednesday, said he wants to turn his accidental fame into a broader discussion on justice. He talked with students over lunch and participated in a question-and-answer session in Caplin Auditorium.
"I think you'll also hear me, every time I get a chance, try to lift the sight lines above the specific, and talk about [broader criminal justice] issues," said Strang, who has 105 speaking engagements scheduled for 2016. "I cannot squander the moment while I have it."
"Making a Murderer," which was watched by more than 19 million people in its first 35 days of release, focused on Steven Avery, a man who had previously been exonerated of a sexual assault conviction, for which he spent 18 years in prison. Soon after he filed a $36 million lawsuit against Manitowoc County, Wisconsin, and several officials associated with his arrest, he was accused of another crime — the murder of Teresa Halbach, a photographer who visited the Avery family's auto salvage yard the day she disappeared.
The series, filmed and edited over a 10-year period, explores the intricacies of the more recent trial, which resulted in Avery's conviction and sentence of life without parole, as well as the trial of Avery's nephew, Brendan Dassey, who was sentenced to life in prison, with his first chance of parole at age 59.
After starting his career as a litigator in a large civil firm and a short stint as an assistant U.S. attorney, Strang turned to criminal defense.
"I decided I love the shoes, but I have them on the wrong feet," he said of his brief career as a prosecutor. He eventually became Wisconsin's first federal public defender. Now a partner at his own firm, StrangBradley, Strang also teaches as an adjunct at the University of Wisconsin and its law school, and at Marquette University Law School.
Strang said being well-known in connection to the Avery case started in 2007, when he and co-counsel Jerry Buting moved to the area for the seven-week trial — but the public reaction in Wisconsin at the time was quite different than today's.
"We'd go out to a restaurant or something on a Friday night, and parents would be shooing their children away from us," he said.
When he didn't hear about the fate of the film for years, which he assumed would be feature-length, "I kind of forgot about it."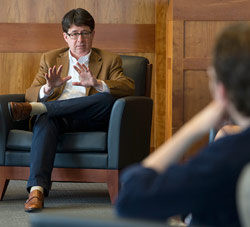 Strang spoke with students and administrators in the Innocence Project Clinic, as well as members of the Virginia Journal of Criminal Law, during a lunch talk. 
In December, weeks before the show would become available, Strang learned the show would air on Netflix. He recalled a conference call with publicity and marketing representatives that warned the lawyers, "You may get some media calls."
"They clearly had no idea what the appetite might be for that particular docuseries," he said. One memorable fan reaction came from Alec Baldwin, who called Strang while on a break from filming a commercial and was "utterly charming."
Fans' emails mostly have been thoughtful, articulate and well-written, as well as emotional, Strang said.
"It's really been an uplifting look at human nature," he said.
Strang, who has been celebrated by fans for his sincere demeanor, offered advice to a student who asked how to handle the emotional aspects of being a defense attorney.
It's important to be "emotionally open" to the pain and fear clients and victims feel, Strang said, as well as to what drives law enforcement. Without emotions, he said, you're just a technician.
"Technicians don't connect with judges, they don't connect with juries, and they don't connect with clients," he said. "Unless you connect with a client, you're not really able to walk this journey with a client, and that's a large part of what a client needs."
Yet, "there's a separate 'me' at the end of the day," he said. "You've got to figure out where the boundary is for you."
Asked about obstacles to justice in Wisconsin, Strang pointed to problems that also affect other parts of the country: elected judges, the indigent and minorities facing more police contact and being disproportionately jailed, and poor pay for court-appointed lawyers.
Expanding on his comments in the public talk, Strang said, "No matter where you look in this country, upward of 80 percent of all people charged with a crime do not have the money even to hire a lawyer, any lawyer — let alone [for] bail, experts, defense investigation, whatever the other out-of pocket expenses may be required to defend a case."
Strang told the audience that he was honored to visit the Law School in this capacity.
"I cannot describe what an honor it feels like to be on this side of the Caplin Auditorium," he said. "Until dementia overtakes me, I will remember being here and getting to look at [Professor] David Martin, who kindled for me an academic interest in law and modeled for me the kind of lawyer I wish I could be."
Strang said the criminal justice system could improve if an internal review was triggered in police departments and prosecutors' offices after certain critical incidents, such as acquittals or exonerations — much as some hospitals review what goes wrong after a bad outcome.
"Once you're charged in this country, you've lost," he said, "You've lost your reputation, you've lost a bunch of money — if you ever had money — you've lost your peace of mind, you've lost fair-weather friends, you lose family. So acquittals are not a good thing, they're only a less-bad thing than a wrongful-conviction."
Strang said there are many narratives to "Making a Murderer" and that the final film made reasonable editing decisions about what to leave out.
"Why is it that the prosecution or police narrative, the first one we hear, then necessarily becomes the North Pole — and the legitimacy of all competing narratives gets measured by their distance from that pole? That's a broader question."
Pointing to Dassey's confession, which was trumpeted by the prosecutor in a press conference before either Avery's or Dassey's trials had begun, Strang said that the criminal justice system could do more to preserve the presumption of innocence, perhaps drawing a bright line at stopping lawyers and law enforcement from discussing a case once a suspect is named.
"We can do much better at controlling what lawyers say about that, so that someone does not arrive at trial functionally presuming guilt," he said.
Strang, who attended UVA Law right after graduating from Dartmouth, fondly recalled his time at the Law School. He recounted being chased off farms while volunteering with the Migrant Farmworker Project and, at a time when nerves gave him "cotton mouth" in public speaking, washing out of the first round of the William Minor Lile Moot Court competition.
After law school, he started in litigation only because his firm had a need; he was supposed to work in employee benefits.
Teaching and arguing appellate cases later helped hone his speaking skills, he said. After seeing a "stunningly good" oral argument by then-U.S. Solicitor General Paul Clement, who brought no paperwork to the Supreme Court podium, he decided not to work from his "Linus blanket," a card of notes, any longer.
Strang, the author of "Worse than the Devil: Anarchists, Clarence Darrow, and Justice in a Time of Terror," said he's working on a second book, about a 1918 federal trial targeting the Industrial Workers of the World, a radical labor union whose members were convicted of obstructing World War I under the Espionage Act. The book will come out in 2018, in time for the trial's 100-year anniversary.
Founded in 1819, the University of Virginia School of Law is the second-oldest continuously operating law school in the nation. Consistently ranked among the top law schools, Virginia is a world-renowned training ground for distinguished lawyers and public servants, instilling in them a commitment to leadership, integrity and community service.