A Record 126 Students Will Receive $514,979 to Work in Public Service
Update: As of June 20, 2016, more than $525,300 was awarded to 128 students working in public interest jobs over the summer.
A record 126 University of Virginia School of Law students will receive $514,979 in grants to work in public interest jobs this summer.
The grants — benefiting 105 first year-students and 21 second-years, and representing a 50 percent increase over last year — are made possible through the Law School's new plan guaranteeing funding for qualifying students, which was announced in October. Grants are $3,750 for first-years and $6,500 for second-years, before taxes.
"We're thrilled so many students are interested in and doing public service jobs," said Annie Kim, assistant dean for public service and director of the Mortimer Caplin Public Service Center.
Though the grant guarantee is new, recipients are still required to apply and qualify for the funding by volunteering pro bono and public service hours — 40 for first-year students and 80 for second-year students. Grantees must also have secured a public service position and agree to donate hours back to the Public Interest Law Association student group, the founder of the grant program.
Though now working more closely with the Public Service Center, PILA still holds their regular complement of fundraising events, including an auction and book sale, to assist with costs.
"The transition to working with the Public Service Center has been seamless," PILA President Reedy Swanson said. "Collaborating with Dean Annie Kim and [Assistant Director of Public Service] Andrew Broaddus has been a wonderful experience. Combining their expertise, including experience counseling students and technical know-how, with PILA's institutional memory administering the grant process has produced a system that really marries the best of both organizations."
Students will be working in 39 cities across the country and internationally, with positions in the federal government, local and state government, nonprofit organizations and in public defender offices. The most common type of employer is the federal government, with 69 students.
Students who work in such roles over the summer gain experience in interviewing clients, researching, and writing about issues used in court and in investigating cases, Kim said.
"Whether students work in legal aid offices or federal agencies, most public service offices don't have the funds to pay them," Kim said. "The grants enable students to do this kind of public service work, many of whom go on to have a life-long interest or career in public service."
PILA Disbursement Director Morgan Lingar said working in public interest offers special benefits to students.
"It lets us become ingrained in our community's fabric in new ways," Lingar said. "Many public interest jobs let us see the positive impact of our work firsthand, challenging us to improve our practice every day.
"The PILA grants give students an opportunity to explore and learn about their passions in law during the summers. This opportunity often translates into a job directly after law school, a career move later on, or pro bono work."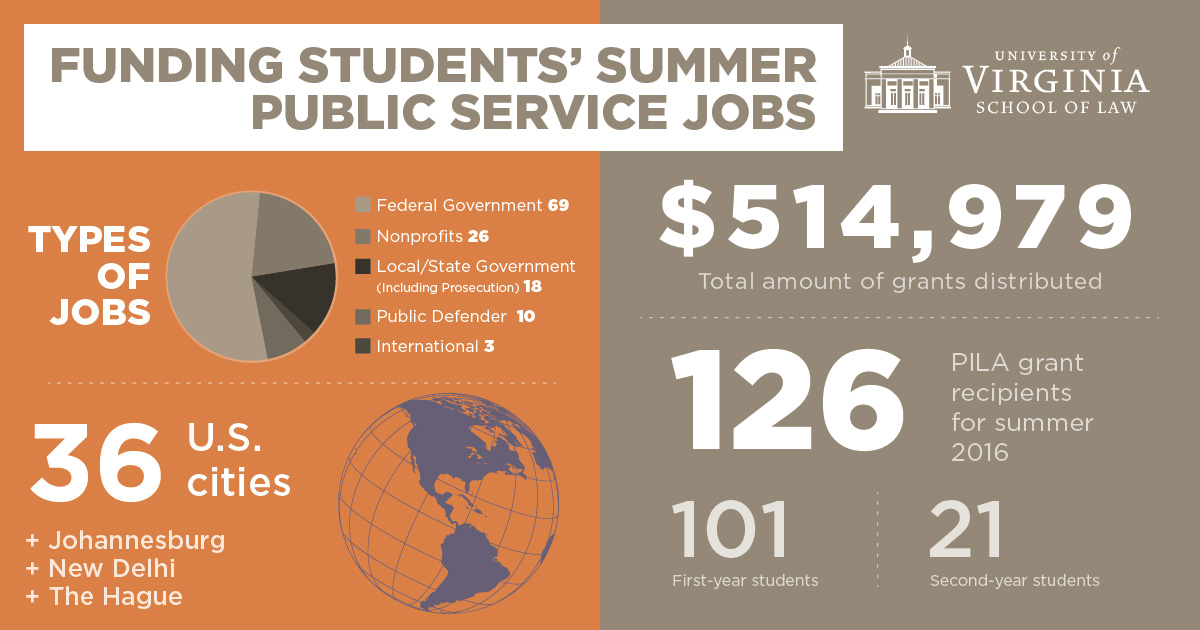 Here's a look at what some of this year's PILA fellows are doing. (Full list)
Teresa Hepler '17
Hometown: Gaithersburg, Maryland
College/education: B.A., University of Maryland, College Park; M.A., University of Chicago
Summer job: Mecklenburg Public Defenders, Charlotte, North Carolina
What she'll be doing: I will be defending indigent people charged with misdemeanor offenses and managing their cases from start to finish. Since I will have a practice certificate, I will be responsible for litigating these cases and holding the government to its burden of proof. I will get the opportunity to argue in court and possibly do a trial.
Goals: I came to law school so that I could do criminal defense and justice reform work after graduation. I chose Mecklenburg Public Defenders because they offered me extensive practice experience. My main goal is to learn what it is like to defend a client in court, because even though I've practiced doing it through mock trial and trial advocacy, it's completely different when someone's life is at stake.
This internship will guide me into more deeply developing my client representation skills, which involves building client trust and working with that client as a teammate. I want to learn how to give my client an actual voice, so that the client does not feel like just another file number. I also want to further develop my oral advocacy skills, so that I can be a better trial lawyer and better advocate for indigent defendants.
Jennifer Lee '18
Hometown: Boca Raton, Florida
College/education: University of Florida
Summer job: Children's Rights, New York
What she'll be doing: I will be assisting attorneys with various stages of pending impact litigation. This will include conducting legal research, helping with trial preparation and monitoring progress of child welfare reform strategies.
Goals: I hope to continue advocating for children and youth in need. I am passionate about addressing the adversity they face through improved services, representation and system reform.
Tex Pasley '17
Hometown: San Antonio, Texas
College: St. John's College in Maryland
Summer job: Sargent Shriver National Center on Poverty Law, Chicago
What he'll be doing: The Shriver Center partners with nonprofit legal aid organizations around the country to assist in impact litigation, policy development and administrative advocacy on behalf of the indigent. As an intern, I will help draft memoranda, briefs and policy papers across a wide range of topic areas including health care, housing, public benefits, women's rights and criminal justice reform.
Goals: The legal system works against the indigent, disadvantaged and oppressed in countless ways, and I came to law school to get the necessary tools to change that system piece by piece. This summer will teach me the writing and advocacy skills I need to become an effective and resourceful poverty lawyer.
Jenna Pike '18
Hometown: Milford, Pennsylvania
College/education: Villanova University
Summer job: U.S. Department of Justice, National Security Division, Counterterrorism Section, Washington, D.C.
What she'll be doing: My main responsibilities this summer will be conducting legal research and analysis, assisting with the drafting of motions and other pleadings, and assisting with presentations and supporting materials. CTS handles the investigation and prosecution of domestic and international terrorism. Their mission is to prevent and disrupt acts of terrorism in the United States and around the world.
Goals: My goal is to pursue a career in national security law. I am excited to get a chance to assist attorneys in this field while gaining a better understanding of how our national security sector works. 
Ryan Snow '18
Hometown: Stanford, California
College/education: Oberlin College, Oberlin Conservatory of Music
Summer job: Campaign Legal Center, Washington, D.C.
What he'll be doing: As a summer associate, I will be supporting attorneys in litigation of trial and appellate cases involving voting rights, redistricting and campaign finance law at the federal, state and local level. The CLC provides direct counsel, supporting counsel and also regularly functions as an amicus curiae, so I should have the opportunity to both develop my understanding of election law more broadly and gain experience in its application.
Goals: I came to law school in order to build a career working to make our political system more responsive to the interests of the people rather than corporations and wealthy individuals. Protecting every citizen's access to the vote and reforming the laws governing campaign finance and redistricting are central to this goal, and the CLC is at the forefront of litigation and advocacy in these areas.
PILA Grant Employers, Summer 2016
FEDERAL GOVERNMENT

Federal Communications Commission, Wireless Bureau Broadband Division
Washington, D.C.
Federal Election Commission
Washington, D.C.
Federal Labor Relations Authority
Washington, D.C.
Federal Mine Safety and Health Review Commission, Office of Administrative Law Judges (2)
Washington, D.C.
National Aeronautics and Space Administration, Office of the Chief Counsel
Titusville, Fla.
U.S. Attorney, Southern District of New York
New York
U.S. Attorney's Office, Central District of California
Los Angeles
U.S. Attorney's Office, District of Arizona
Phoenix, Ariz.
U.S. Attorney's Office, District of Arizona, Criminal Division
Phoenix, Ariz.
U.S. Attorney's Office, District of Columbia (6)
Washington, D.C.
U.S. Attorney's Office, District of Connecticut
Hartford, Conn.
U.S. Attorney's Office, District of Delaware
Wilmington, Del. 
U.S. Attorney's Office, District of New Jersey
Newark, N.J.
U.S. Attorney's Office, District of New Jersey
Newark, N.J.
U.S. Attorney's Office, District of South Carolina
Columbia, S.C.
U.S. Attorney's Office, Eastern District of Virginia, Criminal Division (2)
Alexandria, Va.
U.S. Attorney's Office, Northern District of Alabama
Birmingham, Ala.
U.S. Attorney's Office, Northern District of California
San Francisco
U.S. Attorney's Office, Northern District of California
San Francisco
U.S. Attorney's Office, Northern District of Ohio
Cleveland
U.S. Attorney's Office, Western District of Pennsylvania  (2)
Pittsburgh
U.S. Department of Defense, Office of Military Commissions
Tysons Corner, Va.
U.S. Department of Defense, Office of Military Commissions
Washington, D.C.
U.S. Department of Education, Office of Civil Rights
Washington, D.C.
U.S. Department of Justice,  Civil Rights Division, Servicemembers and Veterans Initiative
Washington, D.C.
U.S. Department of Justice, Capital Case Unit
Washington, D.C.
U.S. Department of Justice, Civil Division, Commercial Litigation Branch
Washington, D.C.
U.S. Department of Justice, Civil Division, Federal Programs Branch
Washington, D.C.
U.S. Department of Justice, Civil Rights Division, Federal Coordination and Compliance Section
Washington, D.C.
U.S. Department of Justice, Counterterrorism Section
Washington, D.C.
U.S. Department of Justice, Criminal Division, Office of International Affairs
Washington, D.C.
U.S. Department of Justice, Criminal Division, Public Integrity Section
Washington, D.C.
U.S. Department of Justice, Environment and Natural Resource Division, Environmental Defense Office
Washington, D.C.
U.S. Department of Justice, Environment and Natural Resources Division, Land Acquisition Section
Washington, D.C.
U.S. Department of Justice, Environmental and Natural Resources Division
Washington, D.C.
U.S. Department of Justice, Executive Office for Immigration Review, Arlington Immigration Court
Arlington, Va.
U.S. Department of Justice, Executive Office for Immigration Review, Office of General Counsel
Falls Church, Va.
U.S. Department of Justice, Federal Tort Claims Act Section (2)
Washington, D.C.
U.S. Department of Justice, Human Rights and Special Prosecutions Section
Washington, D.C.
U.S. Department of Justice, Office of Foreign Litigation
Washington, D.C.
U.S. Department of Justice, Office of International Affairs
Washington, D.C.
U.S. Department of Justice, Organized Crime and Gang Section
Washington, D.C.
U.S. Department of Justice, Tax Division, Appellate Section
Washington, D.C.
U.S. Environmental Protection Agency, Office of Enforcement and Compliance Assurance (3)
Washington, D.C.
U.S. Equal Employment Opportunity Commission, Office of Federal Operations (2)
Washington, D.C.
U.S. Federal Trade Commission, Bureau of Competition
Washington, D.C.
U.S. Navy JAG Corps
Washington, D.C.
U.S. Navy Judge Advocate General's Corps
Washington, D.C.
U.S. Securities and Exchange Commission (2)
Washington, D.C.
U.S. Securities and Exchange Commission, Division of Enforcement
Washington, D.C.
U.S. Securities and Exchange Commission, Division of Trading and Markets
Washington, D.C.
U.S. Securities and Exchange Commission, Office of the Inspector General
Washington, D.C.
U.S. Senate Judiciary Committee, Office of Senator Mike Lee
Washington, D.C.
U.S. Senate Judiciary Committee, Office of Senator Ted Cruz
Washington, D.C.
U.S. Small Business Administration, Office of General Counsel (2)
Washington, D.C.
U.S. Small Business Administration, Office of General Counsel
Washington, D.C.

INTERNATIONAL

International Criminal Tribunal for the former Yugoslavia
The Hague, Netherlands
International Finance Corporation, World Bank Group
Johannesburg, South Africa
South Asia Human Rights Documentation Centre
New Delhi, India

LOCAL AND STATE GOVERNMENT (INCLUDING PROSECUTION)

Albemarle County Commonwealth's Attorney's Office
Charlottesville, Va.
Arlington County Commonwealth's Attorney's Office
Arlington, Va.
California Department of Justice, Consumer Law Section
Los Angeles
Camden County Prosecutor's Office
Camden, N.J.
Charlottesville Commonwealth's Attorney's Office
Charlottesville, Va.
District of Columbia, Office of the Attorney General
Washington, D.C.
Los Angeles District Attorney's Office
Los Angeles 
Maryland Attorney General's Office
Baltimore
New York City Law Department
New York
New York County District Attorney's Office (2)
New York
Norfolk Commonwealth's Attorney's Office
Norfolk, Va.
North Carolina Attorney General's Office
Raleigh, N.C.
Queen's County District Attorney's Office (2)
New York
Santa Clara County District Attorney's Office
San Jose, Calif.
Washington Suburban Sanitation Commission
Laurel, Md.
West Virginia Attorney General's Office
Charleston, W.Va. 

NONPROFIT ORGANIZATIONS

ACLU Racial Justice Program
New York
American Cancer Society Cancer Action Network
Washington, D.C.
Ayuda
Falls Church, Va.
Bay Area Legal Aid
Richmond, Va.
Campaign Legal Center
Washington, D.C.
Central Virginia Legal Aid Society
Charlottesville, Va.
Chicago Lawyers' Committee for Civil Rights Under Law
Chicago
Children's Rights
New York
EarthRights International
Washington, D.C.
Health Law Advocates
Boston
Institute for Justice (2)
Arlington, Va.
International Fund for Animal Welfare
Yarmouth Port, Mass.
JustChildren
Charlottesville, Va.
Lambda Legal Defense & Education Fund
New York
Legal Aid Justice Center (2)
Charlottesville, Va.
Legal Aid Justice Center, Immigration Law Clinic
Charlottesville, Va.
National Partnership for Women and Families
Washington, D.C.
New York Legal Assistance Goup
New York
Sargent Shriver National Center on Poverty Law
Chicago
Sierra Club Environmental Law Program
Washington, D.C.
Southern Environmental Law Center
Birmingham, Ala.
Thomas Jefferson Center for the Protection of Free Expression
Charlottesville, Va.
Wallace Stegner Center for Land, Environment, and Natural Resources
Salt Lake City
World Vision International
Monrovia, Calif.
Youth Law Center
San Francisco 

PUBLIC DEFENDERS

Alaska Public Defender Agency
Fairbanks, Alaska
Bronx Defenders (2)
Bronx, New York
Colorado State Public Defender (2)
Centennial, Colo.
Federal Public Defender, District of Maryland
Baltimore
Federal Public Defender, Eastern District of Virginia
Alexandria, Va.
Federal Public Defender's Office, Southern District of Florida
Miami
Mecklenburg County Public Defenders
Charlotte, N.C.
Orleans Public Defenders
New Orleans
Related Links: Where PILA Grantees Worked