UVA Law Students and Dean Join Effort to 'Listen First'
Two University of Virginia School of Law students and Dean Paul G. Mahoney are participating in an effort to encourage listening as a way to bridge divides in a polarized world.
Mahoney and second-year law students Kemi Adegoroye and Elaine Sylvester have written essays for the Listen First Project, a nonpartisan, nonprofit organization dedicated to promoting listening as a way to strengthen relationships and communities. The authors discuss their experiences with listening and what they believe people can accomplish just by listening more.
"It is through listening that we learn, grow and obtain the opportunity to question our own beliefs and opinions," Adegoroye said. "It is through this questioning that we can determine which beliefs should be discarded, which should be cultivated further and those that will stand the test of time. None of this can be achieved without being open to listening, particularly to another point of view."
Adegoroye is also vice president of strategic initiatives for Listen First. A friend of the founder and president Pearce Godwin, she said she was intrigued and motivated by the work he was doing to promote listening. She wrote an essay, "Lessons in Listening," and developed the essay series to give others a platform for sharing their experiences.
Adegoroye said her professors at UVA Law also inspired her to listen more. As a student of Mahoney's contracts class during her first year, she said he taught her that even ridiculous and extreme arguments have some value toward understanding. The group released an essay from Mahoney last week.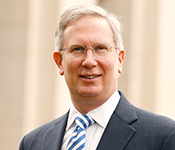 Mahoney's essay, "Financial Regulation: An Issue Ripe for Listening," explores why people don't want to talk about financial regulation, and offers a framework for how to talk about controversial issues.
"Arguments premised on the notion that those who disagree have a hidden agenda are a decision not to listen," Mahoney said. He is the first professor and dean to participate in the project.
Started in 2013, the Listen First Project was created after an essay by Godwin on listening as a cure for political polarization was published in newspapers around the country. In addition to the essay series, the organization has led campaigns such as Listen First, Vote Second, and 100 Days of Listening to encourage others to listen and seek understanding first, and act thereafter. The organization emphasizes that listening is not the same as hearing; listening requires concentration to process information while hearing is perceiving sound.
Sylvester became involved with the essay series through her friendship with Adegoroye, and contributed "Listening, a Richer Experience than Hearing," about interactions with her grandparents. Now that she has only one surviving grandparent, she regrets missed opportunities to truly listen and learn from them.
"It is important to not just take those opportunities to listen when they arise, but to make sure that you can actually have the opportunity to listen. Whether this means talking to a beloved grandparent or reaching across the political aisle to recognize someone else's perspective — if you want to actually process additional information you have to make an opportunity to do so," Sylvester wrote.
Founded in 1819, the University of Virginia School of Law is the second-oldest continuously operating law school in the nation. Consistently ranked among the top law schools, Virginia is a world-renowned training ground for distinguished lawyers and public servants, instilling in them a commitment to leadership, integrity and community service.