University of Virginia School of Law student Subarkah Syafruddin LL.M. '16 has been awarded the Orrick Fellowship to clerk on the International Court of Justice, the primary judicial branch of the United Nations.
Sponsored by the law firm Orrick, Herrington & Sutcliffe, the fellowship includes a $55,000 stipend to cover expenses during the 10-month ICJ University Traineeship Program. The fellowship was available this year to graduating UVA Law students and recent graduates who are interested in pursuing a career in international law. The Law School is among a small group of academic institutions invited to submit candidates to the traineeship program each year.
Syafruddin, a native of Indonesia, has been assigned to Judge Joan E. Donoghue, the 2015 recipient of the Thomas Jefferson Foundation Medal in Law. Syafruddin will assist Donoghue in various tasks at the ICJ, also called the World Court, including carrying out research, preparing case files and drafting opinions, orders and other court documents.
"This traineeship is a tremendous opportunity to gain inside knowledge of the court as the principal judicial organ of the United Nations," Syafruddin said. "I am looking forward to working on cases that are likely to involve the most pressing issues of public international law, and to learning from judges who are some of the most brilliant legal scholars in our times."
As an undergraduate at the University of Indonesia, Syafruddin participated in the Philip C. Jessup International Law Moot Court Competition, where his team reached the final eight and earned top memorial awards at the international round in Washington, D.C. After receiving a bachelor of laws degree, he worked as a monitoring and evaluation assistant at the U.N. Population Fund, where he dealt with a number of human rights issues, such as female genital mutilation and child marriage.
At UVA Law, Syafruddin has been a member of the J.B. Moore Society of International Law, and completed an independent study with Professor John Norton Moore on the legal effects of climate change on statehood and maritime boundaries. A 2015 Salzburg Cutler Law Fellow, he also presented a paper that analyzes the conflict between investor rights and environmental protection in the era of the Trans-Pacific Partnership.
Syafruddin said he is grateful for the opportunity.
"As the first Indonesian to clerk at the international court, I hope that this opportunity will enable me to meaningfully contribute to the development of international law in my home country, which has provided me with generous financial support to pursue an LL.M. degree from UVA," he said.
5 Students Earn Grants to Work in International Law Positions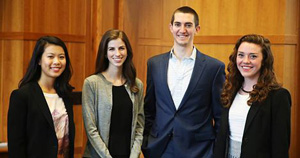 Monroe Leigh Fellows Stephanie Fung, Anna Searcey, Karl Lockhart and Megan Keenan 
First-year law students Stephanie Fung, Anna Searcey, Karl Lockhart and Megan Keenan received the 2016 Monroe Leigh Fellowship in International Law, which provides a total of $10,000 to one or more students to pursue a public international law project of their choosing. 
The students will work in several locations this summer. Fung will be at the International Criminal Tribunal for the former Yugoslavia in The Hague, Netherlands; Searcey will be with the Justice Department's Office of International Affairs in Washington, D.C.; Lockhart will be at the International Finance Corporation in Johannesburg; and Keenan will be with the Justice Department's Human Rights and Special Prosecution Section, Criminal Division, also in D.C.
Lockhart and Fung also received Public Interest Law Association grants from the Law School for the summer, which offer $3,750 to first-year students working in qualifying public service jobs (and $6,500 for second-years). First-year Nicole Lawler additionally received a PILA grant to work for the South Asia Human Rights Documentation Centre in New Delhi.
Founded in 1819, the University of Virginia School of Law is the second-oldest continuously operating law school in the nation. Consistently ranked among the top law schools, Virginia is a world-renowned training ground for distinguished lawyers and public servants, instilling in them a commitment to leadership, integrity and community service.