Hello from Johannesburg, South Africa!
I have spent most of my summer (winter here) working as an intern for the legal team at a field office of the International Finance Corp., the private-sector arm of the World Bank Group. The IFC's mission is to support international development through multimillion dollar debt and equity investments in companies and projects throughout emerging markets. The Johannesburg field office predictably works on deals centered in Africa, and in my time as an intern, I worked on transactions in many countries, including Nigeria, South Africa, Sierra Leone, Mali and Cote D'Ivoire.
As part of the internship, I was able to see many different aspects of the deal cycle, including reviewing, editing and drafting documents, as well as sitting in on conference calls with clients and external counsel. The highly skilled legal team did a fantastic job teaching me about project finance and the complexities of doing business in emerging markets. They allowed me to get involved on projects from the beginning and kindly provided all sorts of fantastic advice and tips. The collegial, upbeat environment made me excited to go to work every day, and it was also wonderful to be able to work in a highly diverse setting, interacting with people from Africa and the rest of the world on a daily basis.
I couldn't have asked for a better place to spend the summer, and I sincerely wish I could stay on longer and spend more time with my incredible supervisor and co-workers. I also grew to love Johannesburg, also known as Jo'burg and Jozi. While crime in some places remains a problem, the city is experiencing something of an urban revival, with areas like Braamfontein and Maboneng seeing stores, restaurants, open-air markets, and all sorts of activity increasing over the past few years. For a history buff like myself, there are also many interesting attractions worth checking out. Two world-famous lawyers began their careers by practicing law in Johannesburg — Nelson Mandela and Mahatma Gandhi — and I was able to visit both of their former houses while in Jozi, which have been turned into museums about their lives. I also saw the Apartheid Museum, a chilling testament to the horrors of a legal system used to oppress members of society based on race. It is unbelievable to see how far the country has progressed since then, and hopes for the "Born Free" generation — those born since the fall of Apartheid in 1994 — remain high.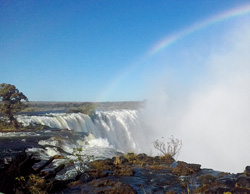 Johannesburg is also a hub for the entire region of southern Africa, and I was fortunate enough to find last-minute weekend deals to travel both to Zambia and Zimbabwe to see Victoria Falls and to Swaziland to see the Bushfire Music Festival. Africa is a continent full of beautiful places, wonderful people and limitless opportunity. I can't wait to go back.
Founded in 1819, the University of Virginia School of Law is the second-oldest continuously operating law school in the nation. Consistently ranked among the top law schools, Virginia is a world-renowned training ground for distinguished lawyers and public servants, instilling in them a commitment to leadership, integrity and community service.