Minding Your Business: 10 Reasons Students Choose the Law & Business Program at UVA Law
The John W. Glynn, Jr. '65 Law & Business Program at the University of Virginia School of Law helps students kick-start their careers by teaching the methods and skills of the corporate world before they enter it.
Students can take advantage of an extensive set of curricular opportunities that allow them the flexibility to sample according to their interests, or choose classes and activities that allow them to dive deeper.
Here are 10 reasons students choose the program.
The program is led by a former SEC official.
Andrew Vollmer '78, director of the program, served as deputy general counsel at the Securities and Exchange Commission from 2006 to early 2009. In that role, he advised the SEC on enforcement proceedings, rule-makings, appellate briefs and adjudications. He most recently was as a partner in the Securities Litigation and Enforcement Practice Group of Wilmer Cutler Pickering Hale and Dorr LLP.
Other faculty members and adjuncts teach from real-world experience, too.
Resident faculty members such as George Yin, who from 2003-05 held the position of chief of staff of the U.S. Congress' Joint Committee on Taxation, one of the most influential tax positions in the country, and Paul Mahoney, one of the nation's foremost experts on securities regulation who has testified before Congress, are joined by adjunct professors such as Jim Donovan, a managing director of Goldman Sachs; Ned Kelly '81, a former top executive at Citigroup; and many others (program faculty list). During 2015-16, 48 practitioners taught Law & Business courses.
Alumni aren't just general counsel for Fortune 500 companies, they run them.
Dozens of UVA Law alumni serve as general counsel to companies such as Verizon, Chevron and Netflix, but they also lead established corporations such as TIAA-CREF and GE Capital Real Estate as executives (prominent alumni).
UVA Law alumni are also known for launching their own entrepreneurial ventures, large and small.
Students benefit from the connections they make from these alumni, who are famous for taking the time to give back. Alumni and other successful professionals often return to the Law School at the invitation of student organizations
Student organizations add practical experience and aid in networking.
In addition to the practical writing and research skills on business law topics that the Virginia Law & Business Review provides, groups such as the journal and the Virginia Law & Business Society combine speakers, programming and receptions to build networking connections and offer a deeper understanding of business activity.
But UVA Law students don't just listen to advice; they act upon it. Students can gain hands-on experience investing (Rivanna Investments) and with developing startup companies (the  E*Society). The University's annual entrepreneurship competition further allows students to hone their skills.
Programs and speakers give insight into timely business law issues.
A recent symposium examined the forces that drive business decisions in the health care industry. Previous symposia have focused on market structures and the fashion industry, among other topics.
Orientation and commencement are additional opportunities to hear from business leaders, such as the recent talk by Deborah Platt Majoras '89, chief legal officer for Procter & Gamble.
Classes give insight into practical business concerns.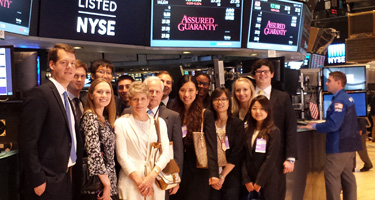 From a course that teaches students how to manage big law firms, to journeys to Israel, which is the third-largest originator in the world of companies listing on the NYSE, students gain inside knowledge of business practices (complete list of courses).
Advanced courses move beyond basic concepts into hands-on exercises, such as deal-structuring, negotiating and counseling. Law & Business Program Director Andrew Vollmer led his classes on a trip to the New York Stock Exchange. 
Research being done by faculty is expanding our understanding of the business world.
Professor Quinn Curtis' research has shed light on the true costs of 401(k)s, Michal Barzuza has explored how businesses incorporated in Nevada face little liability, and Paul Mahoney has challenged prevailing narratives about financial industry regulation with his book, "Wasting a Crisis: Why Securities Regulation Fails."
Professor Ruth Mason, an expert in comparative taxation, recently facilitated a victory for tax justice in the U.S. when an explanatory amicus brief she co-authored helped persuade the Supreme Court in Comptroller of the Treasury of Maryland v. Wynne.
Students learn the language of business.
Students who take the introductory Accounting and Corporate Finance course or who have equivalent experience are eligible to take enhanced versions of core Law & Business courses that incorporate finance and quantitative concepts. In addition, professors emphasize the importance of understanding business vocabulary, as Goldman Sachs' Donovan stressed in a recent talk on client relationships, and that understanding, students and alumni say, gives them an advantage.
"The program has helped me achieve a conversance in the nuts and bolts of business transactions that will be invaluable [to me] as a tax lawyer," said Pradip Chandrasoma '15.
Law firms appreciate the exposure to transactions.
Many students also take classes offered by the program to help get noticed by law firms, which value knowledge of business-world transactions.
"I knew that I wanted to get involved with the Law & Business Program, and the Virginia Law & Business Review, so I had that experience and that knowledge that big law firms look for when they are hiring associates," said Kelsey Bryan '15, now a law firm associate in Washington, D.C.
Clinics give students hands-on experience, such as the chance to be general counsel for a startup.
Clinical experience supplements other forms of classroom training. Business-related clinics include Entrepreneurial Lawand Patent and Licensing I and II.
The Entrepreneurial Law Clinic, led by Rob Masri '96, an alumnus who has been involved in a number of successful startup companies, allows students to help startups participating in the Darden Business Incubator.
"It's a great way to get practical experience doing transactional law, but it's also a great way to meet some entrepreneurs — to become involved with their companies, see what they're doing and help them along," Tony Steiner '15 (center) said.
Founded in 1819, the University of Virginia School of Law is the second-oldest continuously operating law school in the nation. Consistently ranked among the top law schools, Virginia is a world-renowned training ground for distinguished lawyers and public servants, instilling in them a commitment to leadership, integrity and community service.