Breaking Good: UVA Law Students Spend Spring Break Serving the Public
Volunteers Go Far and Wide to Help Indigent
Gannam Rifkah '17 went to New Orleans for spring break, but it wasn't a vacation. Instead, he scoured hours of police body camera footage to look for Fourth Amendment violations.
Rifkah was among 29 University of Virginia School of Law students who participated the week of March 3 in the school's alternative spring break program. The annual volunteer effort takes place in multiple cities across the country, and is run by the Public Interest Law Association, a student organization at UVA Law that promotes public service and helps fund summer jobs in public interest positions.
Rifkah volunteered with the Orleans Public Defenders in New Orleans. Whenever he found something that looked like a police violation, he marked the time code, then proposed arguments that he hoped would be useful to attorneys in arguing against the footage's use as evidence.
"I could ensure that a client's constitutional rights were secured," Rifkah said. "It felt amazing."
Andrew Papa '19 also worked for the defenders' office, on the case of a client who had been charged with illegal possession of a firearm after being targeted in a drive-by shooting. Papa briefly pursued a self-defense justification and looked into a potential Miranda Rights violation, but neither of those lines of defense was sufficient.
"The final hope for our client was to gather more information from the witnesses," Papa said. Before leaving New Orleans, he wrote up an investigation report outlining further avenues.
Other volunteers worked in Virginia, North Carolina, Kentucky and Washington, D.C.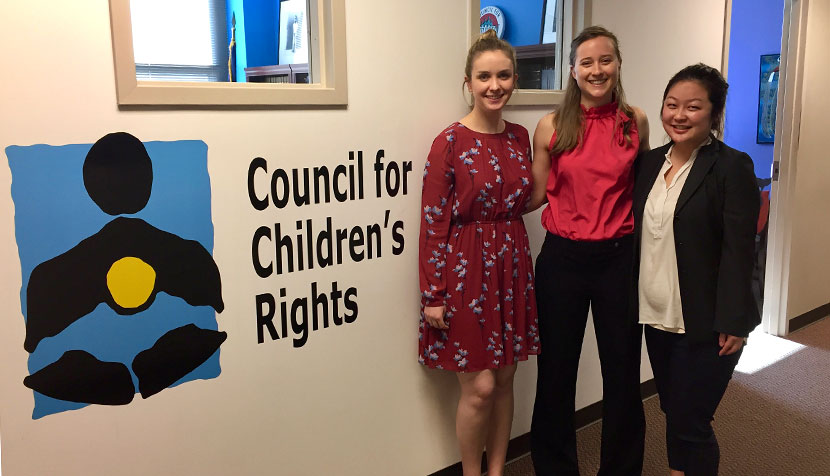 Christina Taylor '19, Catherine Thompson '18 and Gina Sato '19 worked with the Council for Children's Rights in Charlotte, North Carolina.
Shannon Lane '18, this year's alternative spring break coordinator, said the program is an "amazing way to have a major impact."
Lane volunteered at Catholic Charities Immigration Legal Services in D.C., an organization that helps recent immigrants navigate the immigration system. She said that most of her work involved researching Board of Immigration Appeals and U.S. Fourth Circuit Court of Appeals decisions regarding procedural, due process and jurisdictional issues. For an important brief in an unaccompanied minor deportation case, her goal was to help the child by exposing a procedural error by the government, she said.  
Another contingent of students found themselves immersed in family law after volunteering with the Council for Children's Rights, an advocacy organization that operates throughout Charlotte and broader Mecklenburg County, in North Carolina.
The volunteers observed delinquency and permanency hearings, toured a mental health facility, and researched litigation tactics for cases involving juvenile mental health and foster care placements.
Working with troubled children was an emotionally powerful experience, Catherine Thompson '18 said.
"More than once, eyes around the courtroom were teary as a child, parent or judge discussed the realities of the challenges of growing up in impoverished, urban and largely minority communities," Thompson said.
Where Students Volunteered:
Appalachian Citizens Law Center, Whitesburg, Ky.
Catholic Charities Immigration Legal Services, Washington, D.C.
Center for Children's Rights, Charlotte, N.C.
Central Virginia Legal Aid Society, Charlottesville, Va.
Church World Services, Greensboro, N.C.
DC Public Defenders, Washington, D.C.
Federal Public Defenders, Norfolk, Va.
Legal Aid Justice Center, Charlottesville, Va.
Orleans Public Defenders, New Orleans
Founded in 1819, the University of Virginia School of Law is the second-oldest continuously operating law school in the nation. Consistently ranked among the top law schools, Virginia is a world-renowned training ground for distinguished lawyers and public servants, instilling in them a commitment to leadership, integrity and community service.