Students' Trip to Zambia Marks 15 Years of the Human Rights Study Project
Students Learn About Women's Empowerment, Land Rights and More on Research Trip to Africa
The challenges facing Southern Africa are worlds away from Charlottesville, Virginia, but a recent trip to the region by eight University of Virginia School of Law students brought the everyday concerns facing Zambians to life.
Students in the Human Rights Study Project, called Cowan Fellows, research human rights in the field each winter break to learn about systemic issues facing a country or region, and sometimes propose solutions. The project, which celebrated its 15th anniversary trip this year has sponsored student trips to Colombia, Myanmar, and Ghana in recent years.
The students participating in the project this year explored women's and children's issues, refugee rights, HIV/AIDS and microfinance through two-week internships with organizations and by conducting independent research. Although the country has a stable democracy, according to Amnesty International, it has experienced increased unrest since the election of former President Michael Sata in 2011. Sata died in 2014. Recently, Zambia has been in the news over citizens' disputes about gay rights, a rise in killings of elderly people accused of witchcraft, and police officers being banned from marrying foreigners.
The Cowan Fellows will present a talk on their trip March 23 at 3:15 p.m. in the Law School's Purcell Reading Room.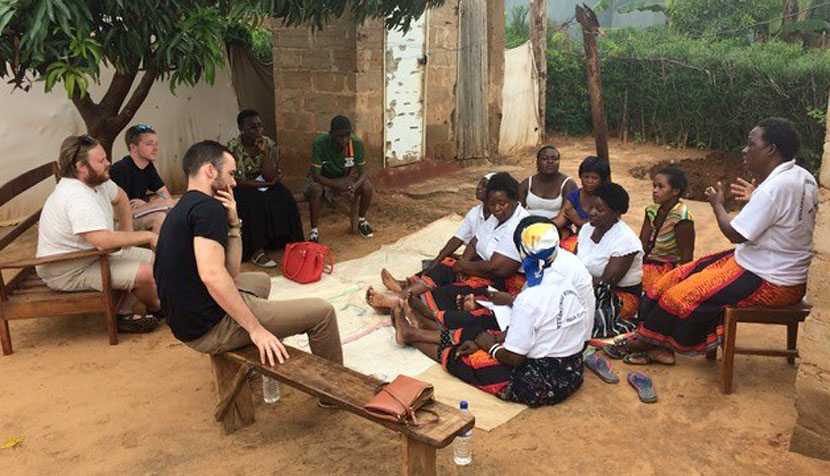 Students listen to women who received microfinancing funding from the Ministry of Community Development Mother Child and Health during a field visit to the suburbs of Livingstone, Zambia.
Two students offered an early look at their experiences:
3L Kristin Marshall:
Over Winter Break, I spent three weeks in Zambia.  The first week was packed with adventures in a small town in southern Zambia — visiting Victoria Falls, whitewater rafting the Zambezi River, swimming in a natural pool overlooking the falls, and safari tripping into neighboring countries. But this first week was about more than witnessing Africa's spectacular sights. Rather, we used these adventures to familiarize ourselves with the country and the people. We asked anyone who would listen about culture, language, property rights, gender empowerment, health issues and more, gathering information from multiple perspectives.
During one such conversation, we connected with the founder of a women's empowerment organization that provides skills-training in leather goods. She explained her motivation for starting the organization, her business model, legal issues facing her organization and the stories of the women she employs. Armed with an offer to visit her organization and to meet some of the women and other women's empowerment organizations, we decided to see where our research led. Over the next two weeks, we took a deep dive into the human rights and social issues facing the Southern Province, and Zambia generally, by meeting with nongovernmental organizations, government ministers and private businesses.
My research focused on barriers to accessing capital and microfinance loans as a possible solution. The most valuable interview, and my favorite moments of the entire trip, came from a field visit organized for us by the head of the local Ministry of Community Development. We visited with two women's groups — one that had received a microloan from the ministry and one that had not. After being welcomed with song, dance and sodas, we asked about the challenges of securing capital, growth plans for their organizations, and the application process.  Naturally, this interview provided more context and understanding of the challenges facing microfinance in Zambia. But perhaps more importantly, like all our conversations during the trip, it added a human element to my research and my analysis of the legal issues at hand, reminding me of the power of the law.
2L Kailey Mrosak:
I came to law school to pursue a career as a human rights lawyer, so this trip to Zambia was an exciting opportunity to explore an area of law relevant to a number of human rights issues: land rights. Land rights concerns the ability of individuals to access, own and control land. Rural poor communities and indigenous peoples are especially susceptible to land-grabbing (i.e. hostile acquisition and forced displacement) because land tenure is often governed under customary law, where there are no formal documents denoting title. This vulnerability is compounded even further for women, who are often the tillers of the land but have limited rights due to customary gender norms. Land-grabbing is usually conducted by state actors for large-scale investors, such as oil and mining companies, under the guise of "development." But in reality, the financial gains from these enterprises rarely benefit the community and typically leave its people with inadequate housing and sanitation, lesser access to education and healthcare, and little – if any – monetary compensation for the disruption of their economic activity.
I had the opportunity to investigate these issues first-hand during my trip to Zambia, primarily in assisting a lawyer from the Southern Africa Litigation Centre with one of his cases. For example, I was invited to visit one village where the government was illegally repossessing the land for a private residential development project. The village leaders showed us the vast area where the government's encroachment on their grazing land has led to significant overgrazing and a desperate need to reduce their cattle population. Not only does this cause food insecurity, but the ownership of cattle is fundamental to their social structure as both a status symbol and an important component of marriage practices. While some families have already been forcibly evicted from their homes, the rest are living in a state of limbo, not knowing to where they will be displaced and when. They are given no warning when state actors show up to designate new boundaries for repossession (literally placing markers in the middle of a family's home) or when they return to bulldoze their property, including graves, without remorse. It was a sobering experience listening to their story of fighting for the land that has sustained their livelihoods and their collective identity for generations. I'll never forget hearing one leader tell us that having his land taken from him makes him feel as though he is being treated like an animal, with no dignity and no voice.
After completing my work for the SALC lawyer, I spent two weeks interning for the country's leading land rights NGO, Zambia Land Alliance. Specifically, I drafted a brief report on the disproportionate impacts of large-scale, land-based investments on women in Zambia. In addition, I will prepare a substantial report on the gendered implications of land policy in Zambia for ZLA to employ in their strategic advocacy for women's land rights. I have learned that land rights is a critical, yet largely untapped, area of law for improving gender equality, food security, environmental sustainability and even economic development. I am grateful to have had this incredible experience and look forward to beginning my career as an advocate for pro-poor and gender-sensitive land rights.
Founded in 1819, the University of Virginia School of Law is the second-oldest continuously operating law school in the nation. Consistently ranked among the top law schools, Virginia is a world-renowned training ground for distinguished lawyers and public servants, instilling in them a commitment to leadership, integrity and community service.