Sibling Rivalry? Just the Opposite for These Graduating Law Students
Brothers and Sisters in Class of 2017 Bring Kinship — and Find It As Well
It's not unusual for members of the same family to attend law school at the same time.
But it's a rare event when three sets of siblings graduate at the University of Virginia School of Law in the same year — the Class of 2017 has only about 300 J.D. students — and even rarer when the class includes two sets of identical twins.
Alexander and Zachary Nemtzow
They came into this world as "A" and "Z." Identical twins separated in age by 13 minutes.
Those who know Zachary and Alexander Nemtzow would swear it's the longest they have ever been apart.
"He was stubborn," older brother Zach said of Alex's delayed arrival into the world.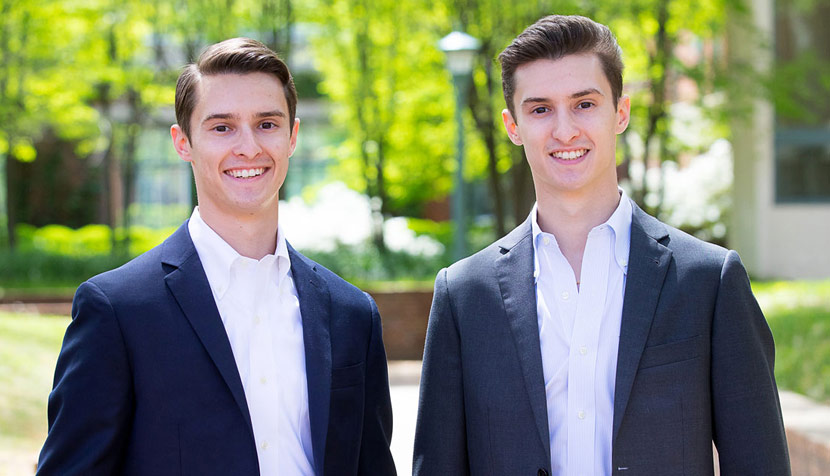 Alex and Zach Nemtzow
Zach explained the story of their names: "Originally, since I was the first-born, I was going to be named Alexander, and then Alex would be Zach. But our grandfather said it would be more equitable to have the first-born be Zachary, and the second-born be Alexander. So we each had a chance to be first."
The brothers from Needham, Massachusetts, have shared a lot of other things since. They have the same undergraduate alma mater, University of Massachusetts; the same degrees, B.S. in physics and B.A. in political science; the same undergraduate GPA and LSAT scores; and the same very specific interest in the law.
For two years before law school, they worked together as patent examiners in the U.S. Patent and Trademark Office in Alexandria, Virginia. Upon graduation, they'll work together as patent attorneys at the same Boston law firm, Wilmer Cutler Pickering Hale and Dorr.
"We didn't decide to go to law school together," Zach said. "We actively made sure that we were making our own decisions. It's just that UVA was such a fantastic place, it seemed like the right place for us each individually. We actually got the exact same admissions decisions everywhere."
Alex corrected him: "There was one school, actually, that accepted me and rejected Zach, and then two weeks later called up and said, 'There's been a terrible mistake. You're both supposed to be admitted.'"
The twins said a high point of their UVA Law experience has been involvement in the Law School's William Minor Lile Moot Court Competition, in which teams of students argue before three-judge panels, including real federal and state–supreme court judges at the final stages of the event. Zach was last year's moot court board treasurer and this year's problem writer for the second-year law students. Alex ran the competition for second-year law students this year.
It was coincidence, they said, that they also competed together on a team.
"Like everything else, it was unintentional," Zach said. "We both expected no team would be forming until all the [individual performance] scores were out. But by the time the scores were out, a lot of people we would have asked had already formed teams."
"I also asked some people, 'Like, oh, did you think about mentioning — you know, putting my name out as a possible teammate,'" Alex said. "And they said, 'Oh, I just assumed you'd be doing it with Zach.'"
The brothers ultimately lost in the semifinals to the team that would go on to win the entire competition. But they said the experience illustrated how they are different, and why they work so well together.
"One of the biggest differences between the two of us is that Zach is really, really detail-oriented — at least when it came to the moot court competition — and so he is really so thorough and so on-point about everything that he won't put something down on paper unless he's 100 percent sure it's accurate, and he's thought it down five levels," Alex said. "I'm much more of a high-level ideas person. So when Zach gets too deep in the weeds, he always comes to me for an answer about how to pull it up to a higher level. And at the same time if I'm having trouble figuring out how to phrase something or which avenue to follow for research, Zach is always the strong point there." 
The twins said another aspect of the UVA Law experience they've enjoyed is working on journals (believe it or not, they were on separate ones — Zach on the Virginia Journal of Law & Technology, Alex on the Virginia Law & Business Review).
When the twins are not focused on law, they perform with other students in the unofficial Law School cover band, Jefferson Clerkship. Alex plays the drums and Zach plays guitar and saxophone.
Their nicknames among some around the Law School are "Boardwalk" and "Park Place."
"No comment as to who's who," Alex said.
"Nope," Zach concurred. But he noted that the Monopoly properties aren't as prized for their individual value as much as how effective they are when paired.
"Together, that's where you can start building those hotels," he said.
Ari and Elie Feinstein
Like the Nemtzows, Ari and Elie Feinstein are also identical twins, also from Massachusetts and also musically talented (having played trumpet and jazz drums, respectively). Born a minute apart, they hail from Sharon, a Boston suburb.
Though they've taken different classes due to their differing legal interests, they still have managed to spend quality time together. In addition to living together, they have enjoyed working out at the North Grounds gym, where they have helped each other set personal records.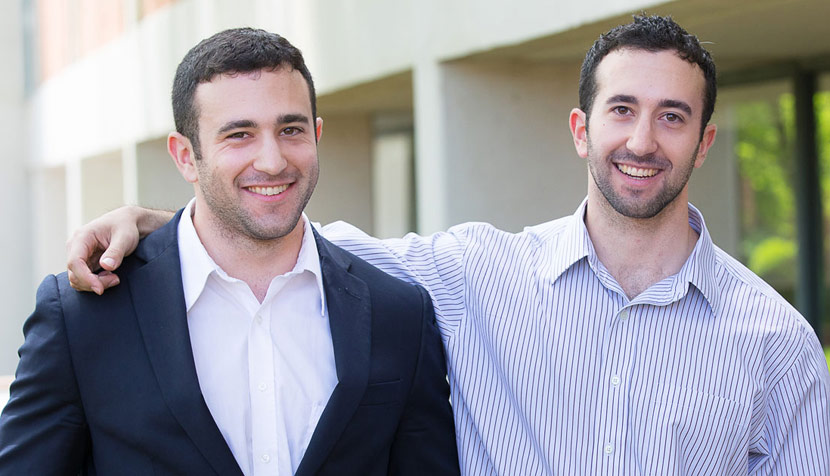 Elie and Ari Feinstein
"Going to the gym together has been a great way to not only to relieve the stress of law school but also to learn discipline," Elie said. "So while we have been drawn to different areas of the law, we share a common passion for health and fitness."
Despite their close relationship, the Feinstein brothers have each maintained a sense of independence. They went separate directions to earn their undergraduate degrees. Elie went to the University of Massachusetts at Amherst, majoring in English and philosophy, and Ari went to Case Western Reserve University in Cleveland, majoring in chemistry.
For a while it appeared that they would pursue entirely different careers. Elie considered pursuing a Ph.D. in philosophy or an MFA in creative writing, and Ari considered pursuing a Ph.D. in organic chemistry. 
But their career paths unexpectedly converged. Elie decided he wanted to have a career with real-world impact, one in which he could research and write. Ari, also drawn to research and writing, decided he wanted to pursue his interest in science and technology as a patent lawyer rather than in a research laboratory.
"Once we decided we were both going to law school, the decision to attend the same school was an easy one," Ari said.
"We missed each other during our college years," Elie added. "It was a good time to grow separately and figure out who we are independently, but we realized that we'd be happier going to school together."
Prior to UVA Law, the brothers worked at Washington, D.C., law firms — Ari as a legal assistant at a financial-services law firm and Elie as a legal assistant and an administrative assistant. While most of the young associates they encountered spoke of slogging through their law school days, UVA Law alumni "spoke glowingly about their experiences at UVA," Elie said.
Those endorsements, along with being able to avoid some of the distractions of a big city in order to concentrate on their studies, put UVA over the top for them.
Ari, who was managing editor of the Virginia Journal of Law & Technology this year and worked on a patent prosecution in Patent and Licensing Clinic I, said he intends to build on his chemistry degree by working for boutique intellectual property firm Knobbe, Martens, Olson & Bear in D.C. after graduation.
"Most of my work will probably consist of Hatch Waxman litigation," Ari said, referencing the law that influences drug patent terms and pricing, as well as generics' entry into the market.
Elie will work for at Richards, Layton & Finger, where he was a summer associate. He most likely will pursue corporate litigation. He graduates having also worked for the Office of the Public Defender in Fredricksburg and the Rutherford Institute, which defends clients on civil liberties grounds.
Although the brothers are excited to begin work at their respective firms, they said they'll miss not seeing each other every day. They'll also miss some of the more humorous moments that come with being in a shared environment. 
In one instance, they had to explain to Professor Anne Coughlin that what appeared to be a recurring hallway diss was anything but.
"Professor Coughlin didn't realize I was a twin and saw Ari walk past her in the hall on numerous occasions and ignore her," Elie said. "She thought I was upset or angry about something, or just didn't like her."
Elie's explanation was met with relief, and a good laugh.
Lena and Sami Al-Marzoog
Attending UVA Law together was not originally part of the plan for brother and sister Sami and Lena Al-Marzoog, natives of Saudi Arabia.
They got to Charlottesville by ping-ponging their thoughts off each other. The siblings had always wanted to attend law school. Sami looked into schools that might be a good fit for them both. It was Sami who suggested his sister apply to UVA Law.
"I didn't know much about it, but he did some research and said, 'Apply to UVA,'" Lena said. "Then after I visited I really liked the school. And it's funny, because I decided I was going to come here before he decided."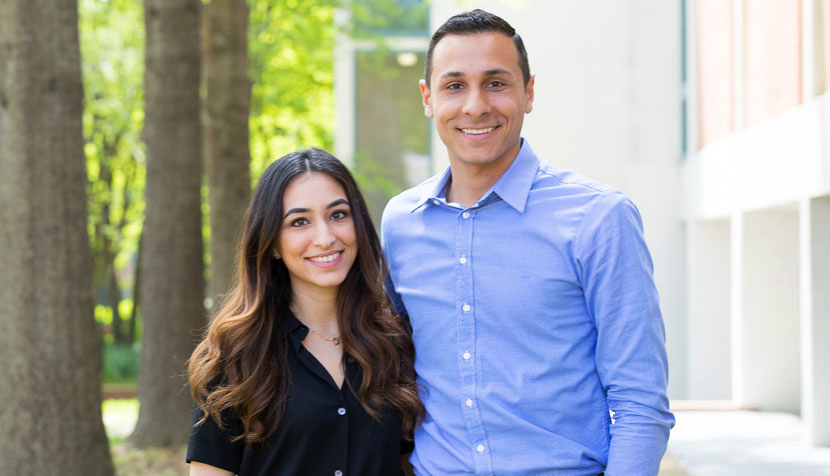 Lena and Sami Al-Marzoog
Coming to Charlottesville was less of a stretch considering the siblings had already spent considerable time in the U.S.
Lena graduated summa cum laude with a bachelor's in finance and international political economy from Georgetown University. Sami earned his bachelor's in chemical engineering from the University of Minnesota-Twin Cities, which he used for two years back home as an engineer for oil and energy company Saudi Aramco.
"Our mom is American, so we always knew we were going to study in the U.S.," Sami said.
Sami and Lena are not twins, although some people assume they are because of their close age, they said. Sami is a year older.
On the flip side, Lena said, "You can go three years in law school and sometimes people don't realize you're related. Even though our last name is not very common."
While they are close, other than living together, the siblings said they hardly see each other. They've only taken three classes together — all with Professor Michael Doran. ("We obviously really like Professor Doran!" Sami said.) The siblings have kept busy with their numerous individual law school involvements.
Lena was treasurer of Virginia Law Women for two years, managing editor of the Virginia Journal of International Law's online digest and a Cowan Fellow during the Human Rights Study Project's trip to Colombia. She also won Norton Rose Fulbright Best Memorandum Award during her first year.
Sami was vice president of the Student Bar Association (and is currently chair of the graduation committee), president of the Extramural Moot Court Team, captain of the Law School's soccer team Barrister's United, a managing board member of the Virginia Law & Business Review and a member of the Immigration Law Clinic.
Aside from both being members of the Innocence Project Pro Bono Clinic their first year, "We've led pretty different law school lives," Sami said.
After graduation, Sami will work for Faegre Baker Daniels in Minneapolis, focused on intellectual property litigation. Lena will work for Hogan Lovells in D.C., most likely specializing in corporate law.
Lena said she's looking forward to staying in touch with classmates, many of whom will also be working in D.C., and she hopes to be involved in her firm's recruitment efforts at UVA Law.
Sami said he's glad his involvement with the Law School Foundation's class giving efforts will keep him connected with the UVA Law family for many years to come.
 
Related News
Founded in 1819, the University of Virginia School of Law is the second-oldest continuously operating law school in the nation. Consistently ranked among the top law schools, Virginia is a world-renowned training ground for distinguished lawyers and public servants, instilling in them a commitment to leadership, integrity and community service.