Thomas Jefferson's Original Law Books Soon To Be One Click Away
UVA Law Library To Make Jefferson's 1828 Catalogue Available Online
Soon, an online library of 375 books hand-picked by the founder of both the University of Virginia and its School of Law will be one click away.
Thomas Jefferson's 1828 collection of law books, representing his vision for a holistic legal education at the Law School, will be digitized and curated on a special website that will be free to the public. The Jefferson Trust, which provides discretionary funding for projects in pursuit of Jeffersonian ideals, announced Friday that it will be earmarking nearly $30,000 for the Arthur J. Morris Library at UVA Law to execute the Digital 1828 Catalogue Collection Project.
The project was one of 19 approved proposals among the 67 grant applications the trust received during its annual deliberations.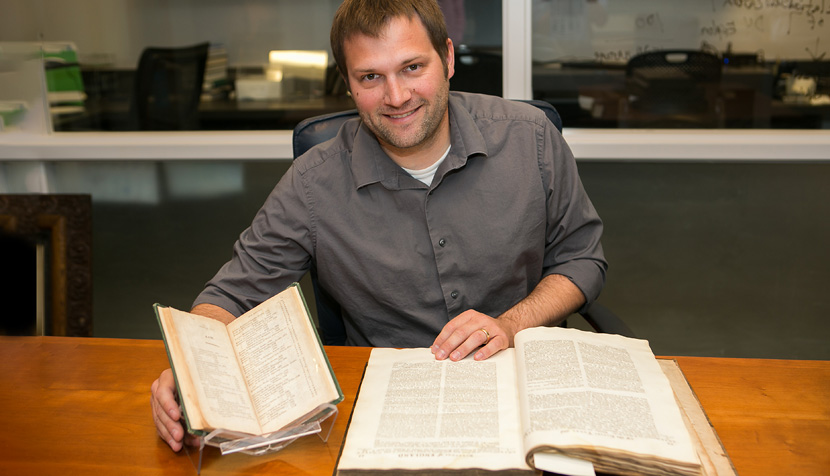 Digital Collections Librarian Loren Moulds shows a book from the catalogue, and the catalogue itself.
"The competition was very strong this year," said Wayne D. Cozart, executive director of the trust, in a letter congratulating Library Director Taylor Fitchett on the award.
Fitchett, who began her role at UVA Law in 2000, said the library has been collecting what it calls the 1828 Catalogue since the 1980s. The goal has been to fill in the gaps where Jefferson's originally owned books are unavailable, by purchasing corresponding titles and editions.
"It has been challenging to reassemble Jefferson's 1828 Catalogue of law books, because some of the books were published as early as the 16th century and the library purchases only the editions of the titles that were actually selected by Mr. Jefferson," Fitchett said.
Under the supervision of Digital Collections Librarian Loren Moulds and Postdoctoral Fellow for Digital Humanities James Ambuske, student workers will carefully scan and digitize the books using the library's Hasselblad overhead camera system and ATIZ dual‑camera book scanning system. The library will use most of its grant funds to pay the workers, including summer intern Melissa Gismondi, a UVA graduate student working through the UVA Institute for Public History.
In addition to serving as lead on the digitization, Gismondi will "expand our interpretive work on the collection, exploring further how the books Jefferson selected represented his vision of citizenship and education and, equally important, what the books he selected tell us about legal education in the early 19th century," Moulds said.
A portion of the funds will also be used to create a sophisticated virtual bookshelf for perusing the collection.
As the library works to acquire the remaining 49 books left in the physical collection, "we hope to collaborate with other libraries to digitize as many of the remaining titles as possible in order to build a complete digital collection," Fitchett added.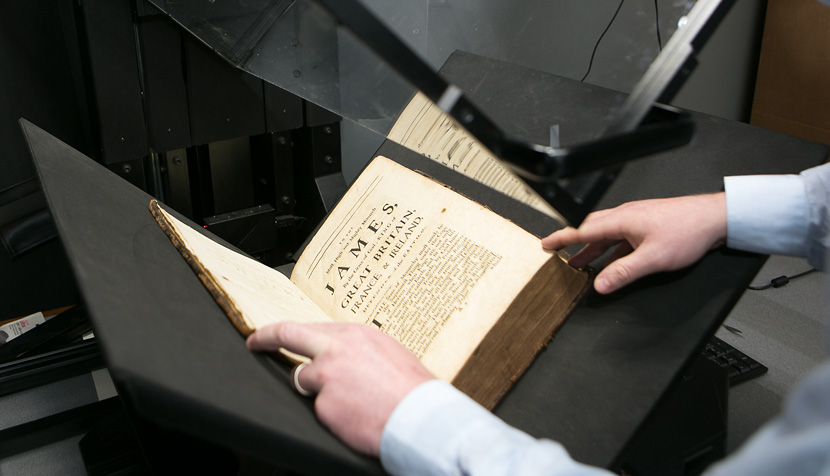 A book once owned by Scottish lord William Duff, now owned by UVA as part of the collection it's compiling, is prepared for scanning.
Related Story
UVA Law Library Hunts for Books Hand-picked by Thomas Jefferson
Associate Director of Communications and Senior Writer