A Seat at the Table
Adrienne Penta '03, Who Helps Women Manage Their Wealth, Offers Her Best Financial Advice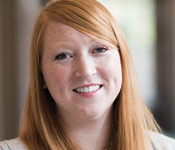 I was given the chance to interview Adrienne Penta, senior vice president and executive director of the Brown Brothers Harriman Center for Women & Wealth, and learned how a seemingly small observation about how women make financial decisions can change how an industry engages with its clients. As a woman building on her career in finance, I appreciate her initiative in creating the center.
During the interview, I also learned a little about how young lawyers should think about their personal finances. Because I'll be graduating this spring, her advice is truly appreciated!
The following is an edited transcript of our conversation, condensed for length.
Could you tell us about your career path and how you became interested in wealth management?
When I was a senior in college my father passed away suddenly and we had a significant probate contest in my family. Through that experience some good things happened. My mom found some wonderful trusts-and-estates attorneys that helped her through the process and were wonderful advisers to her over a number of years.
So when I went to law school I had an interest in estate planning and tax. I spent my second summer working at a Boston law firm, Choate Hall & Stewart, where one of the partners, Charles Cheever '95, became my mentor. He was a trusts-and-estates attorney, so I did a lot of interesting work that summer focused on tax and estate planning. In my third year, I took a number of classes focused on estate planning, income tax and estate tax. It was an area that was a good fit for me as I really enjoyed working with families and helping them solve their problems.
I came to Brown Brothers Harriman in 2008, and for the first seven years, I oversaw trust company operations in the Boston office and worked with our families and private business owners on estate planning, business-succession planning, philanthropic planning and all types of tax planning. In 2015, I launched the Center for Women & Wealth for BBH, and I'm now the executive director.
What's the purpose of the Center for Women & Wealth?
The CW&W was borne out of my experience working with families and individuals. I noticed that sometimes women are absent from these conversations. Oftentimes, women just aren't at the table. There are some issues that are too important to delegate completely to another family member. Your financial future and how you plan for your family is one of those issues. You don't necessarily have to understand all of the details, but it's really important for everybody to participate in the high-level planning and to understand the reasoning behind the plan.
A couple of years ago, I started formulating a plan that has now become the WE&W. Our mission is to support and engage women as they create and manage wealth for themselves and their families. It speaks to both the work that we do with women who are executives, owners or founders of private companies through our private bank and the women we work with through our private wealth management business. Oftentimes there is overlap between the two.
We host a series of events for women to get together and discuss issues that matter to them, such as business ownership, philanthropy or diversity in the workplace for women who are running companies. We also publish a quarterly magazine called Women and Wealth Magazine, which focuses on the issues at the intersection of wealth, family and values. The third part of what the CW&W does is focuses internally: on training and providing best practices for our teams of relationship managers who work directly with clients. We want to make sure that we're consciously having inclusive conversations with the families and clients we work with.
What are some of the wealth management issues that you see that are different or specific to women?
I get asked this question a lot — I don't think that women want anything different than what men want from financial advisers. Women want good service and customized advice, just like everybody else. The issue is that sometimes they don't get it because the industry has been focused on serving men for centuries. It's only within the last 50 years that women have become substantial financial decision-makers in control of family wealth or controlling their own wealth. In some ways the industry has not caught up to viewing women as decision-makers and as significant participants in financial decisions.
We all walk into client situations with our own assumptions on how we run a meeting or how we communicate with clients. Sometimes we just assume that if there is a wealth creator in the room that he's making the decisions or if there's somebody with a financial background in the room, she's making the decisions. It could be about men or women, but more often than not — for lots of different reasons — we assume that the men in the room are still financial decision-makers. What we see in our practice is that's not actually the case. Women are making decisions, either in real time or in the background, about how they invest, how they spend and how they plan for the future. We have to be careful that we're not letting our own assumptions color how we communicate with clients.
The one area that women are changing the way that financial advice is delivered is that they are focused on having holistic conversations around wealth — not just about investment performance and not about one issue at a time. They want to understand how their investment plan and their estate plan and their philanthropic plan and their plans for the next generation all come together into a cohesive wealth plan.
What financial tips would you have for young lawyers as they start their career?
Start planning early. It's never too early to start thinking about your financial future — start saving. Oftentimes we have more capacity to save when we're right out of school and don't yet have significant expenses like mortgages and children and tuition. The sooner that you can start thinking about your plan, the better. If you can do it, you should be maxing out your 401(k) contribution every year because those early investments into your retirement account will compound over the next 50 years of your career and provide the nest egg that you will need in retirement. Lastly, there is value in consulting experts for tax advice, investment recommendations, estate planning and financial planning.
What about as young lawyers mature and start to advance in their career? How do their financial concerns change? Would your advice change as they start to get more advanced in their career?
All of us who are working and busy building careers don't have a lot of time to think about our own plans. I'm at fault for sure. You should be proactive about seeking advice and not waiting until you have time to think about your own investment plan or your own financial plan. Having a good financial adviser to help you along the way as a partner who can grow with you and understand your concerns is worthwhile, even if you're only a few years out of school and start to have more complex considerations like paying for education for children or financing a purchase of a house.
In the fall, Christina Aylward will join the Boston office of Morgan, Lewis & Bockius, where she will work on securities litigation issues. Prior to law school, Christina interned at a wealth management firm and worked for the Financial Industry Regulatory Authority.

Founded in 1819, the University of Virginia School of Law is the second-oldest continuously operating law school in the nation. Consistently ranked among the top law schools, Virginia is a world-renowned training ground for distinguished lawyers and public servants, instilling in them a commitment to leadership, integrity and community service.