When Opera Influenced a Nation
Verdi's Operas Were More Than Operatic Masterpieces, Professor A. E. Dick Howard Says
In his time, composer Giuseppe Verdi had to navigate censorship. He also gave voice to a people's aspirations and helped shape a nation, said University of Virginia School of Law professor A. E. Dick Howard.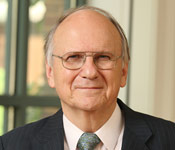 Howard recently took part in the Charlottesville Opera summer lecture series with his presentation, "In the Age of Rigoletto: Evading the Censors, Imagining a Nation."
The talk was given in conjunction with the opera's upcoming performances of "Rigoletto" on Friday, Sunday and Wednesday at the Paramount Theater.  The talk focused on Verdi and the idea of the Italian nation.
"The aspirations that animated Verdi and Italians in the 19th century resonate in our own time," Howard said. He cited the roles that Verdi's compositions played in influencing public life and the rise of Italian nationalism in Italy during that period.
Howard said the talk also related to a seminar he will be teaching in the fall, Constitutionalism: Nation, Culture and Constitutions. 
"The seminar is inspired by the rise of nationalism, populism, xenophobia and dislike of global arrangements — think Brexit," he said.  "I will use the seminar to explore what people mean when they talk about their 'nation' and how constitutions reflect a nation's history, culture, traditions and politics."
Widely acknowledged as an expert in the fields of constitutional law, comparative constitutionalism and the Supreme Court, Howard is the Warner-Booker Distinguished Professor of Law at the University of Virginia.
Founded in 1819, the University of Virginia School of Law is the second-oldest continuously operating law school in the nation. Consistently ranked among the top law schools, Virginia is a world-renowned training ground for distinguished lawyers and public servants, instilling in them a commitment to leadership, integrity and community service.