New Program Builds Fellowship Among First-Year Class
30 Students Participate in Community Fellows Program
If there's one thing University of Virginia School of Law students have in common when they start law school, it's that they're all pretty different.
The Office of Student Affairs recently launched a new community-building program for first-year students that emphasizes working together across differences. The Community Fellows Program is designed to cultivate engagement, a sense of belonging, and conflict-resolution and interpersonal skills in 30 members of the Class of 2020 chosen through an application process.
"Strengthening our community and developing a sense of belonging for all our students starts on day one," said Assistant Dean for Student Affairs Sarah Davies '91. "The program fosters these values in fellows, who can then serve as ambassadors to their peers throughout their time at the Law School, and later in the professional world."
The program began with three days of meetings on topics ranging from active listening to personal strength assessment to the psychology behind group decision-making. The orientation also included a variety of team-building activities, including dinners at the homes of Dean Risa Goluboff and Professor Toby Heytens '00, and a group trip to the Downtown Mall.
"I have always been excited about law school, and I wanted to be active in my role here," said fellow Rachel Barnes, a University of Georgia graduate. "The Community Fellows Program provided a chance for me to get involved as soon as possible and be someone who helps get other people involved. The fellows' class is very diverse, and everyone I have met embodies the collegiality that you always hear about UVA Law."
The program seeks to empower the Community Fellows to actively observe and address needs and promote unity within the Law School community.
During the three-day program, University of Virginia Dean of Students Allen Groves '90 led a seminar on "Talking Across Difference," where he underscored the importance of the peaceful exchange of ideas. Adjunct Professor Ben Sachs '09 taught negotiation techniques to help fellows navigate difficult conversations in work and life.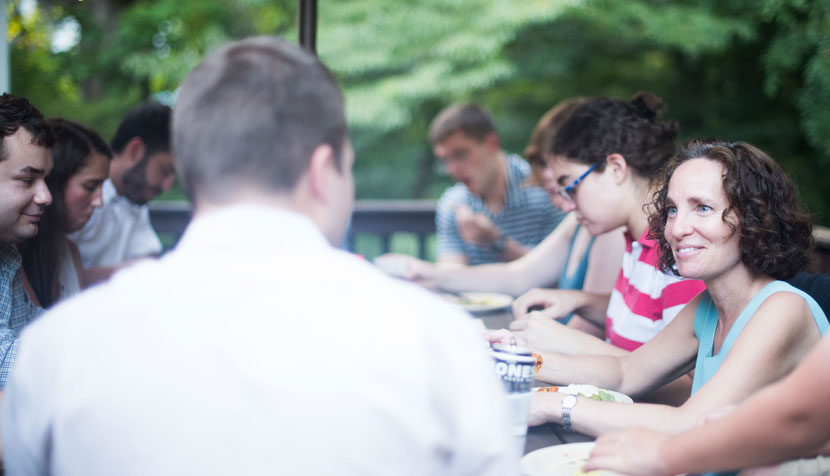 Dean Risa Goluboff hosted the fellows for dinner at her house.
Community Fellow Justin Aimonetti, a Columbia University graduate, said that Sachs' negotiation seminar shaped how he would interact with his peers.
"After learning about negotiation at length, I think I am going to be more engaged in what my classmates are interested in, what they want to learn in law school, and what they are seeking long-term. Their interests will help my interests," Aimonetti said. "It's about teamwork." 
During the school year, the fellows will work together on a project of their own choosing that will enable them to share the lessons they have learned with their classmates.
Aimonetti said the program was timely for what the UVA Law community needs now.
"We addressed the recent events in Charlottesville through our discussions on freedom of expression, and we have talked strategically about how we can come together as a community moving forward," he said. "This program can help address safety and emotional concerns, and I think we can also provide a mechanism to start the healing process."
Founded in 1819, the University of Virginia School of Law is the second-oldest continuously operating law school in the nation. Consistently ranked among the top law schools, Virginia is a world-renowned training ground for distinguished lawyers and public servants, instilling in them a commitment to leadership, integrity and community service.