Promise of Community Draws Class of 2020 to UVA Law
See the Stats and Meet 5 First-Year Students
Members of the Class of 2020 are starting their legal careers and looking forward to building a tight-knit community as they head into the classroom today at the University of Virginia School of Law.
"We chose each and every one of you to be here for your whole selves, who you are, and all the different ways that you exist in the world — all the different places you come from, all of your different hopes and dreams," said Dean Risa Goluboff during orientation on Monday in a speech that emphasized diversity and acceptance.
The diverse 319 members of the Class of 2020 were selected from a pool of 5,068 applicants. They earned a median undergraduate GPA of 3.87 and a median LSAT score of 169, and represent 154 undergraduate institutions.
Among the class, 47 percent are women, 24 percent identify themselves as people of color — including 7 percent as African-American, the highest in six years — and 7 percent self-identify as LGBT. They come from 38 states, the District of Columbia and Puerto Rico, with the most common states being Virginia, California, Florida, New York and Texas. (Full Class of 2020 Profile)
"The Class of 2020 brings our community a magnificent combination of intelligence, compassion and ability for action," Assistant Dean and Chief Admissions Officer Cordel Faulk '01 said. "It will be an honor to share a degree with these good people three years from now."
Members of the class include an exhibition researcher at the United States Holocaust Museum, a nuclear engineer, a patent agent and a Peace Corps volunteer. Many have worked, lived or studied abroad. They also include eight veterans representing the Marines, Air Force, Navy and Virginia National Guard. One active-duty member is serving in the Army.
Meet the Students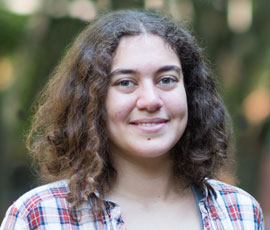 Judy Baho hails from Aleppo, Syria, and Memphis, Tennessee, though she recently spent 10 years in Saudi Arabia, where she attended the American International School of Jeddah. While abroad, Baho earned a President's Award for Educational Excellence, interned at Arab News, a national newspaper, and worked as an English tutor and substitute teacher.
She also volunteered extensively abroad, including working with Greenpeace, volunteering with organizations aiding women and children in Saudi Arabia and Lebanon, and creating a library for a Syrian refugee school in Turkey.
Baho hopes to apply her experience at law school and says she is inspired by "people and communities who work for equality and justice throughout the world."
Baho, a University of Maryland graduate, is also a candlemaker and beekeeper, and speaks Arabic, French and Turkish.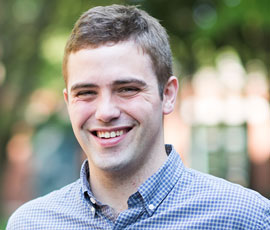 Before coming to UVA, Ben Cabranes of New Haven, Connecticut, attended Dartmouth College, where he earned his bachelor's degree in government in 2014. He said he looks forward to pushing himself intellectually in a new capacity.
Cabranes decided he wanted to attend law school after working as an investigative analyst for the Public Corruption Unit at the New York County District Attorney's Office, where he assisted in investigating crimes committed by New York City police officers and public officials and worked on a bribery trial from jury selection through the final verdict.
"As soon as the trial began, I knew law school was in my future," Cabranes said.
After that, the decision to attend UVA Law was an easy one.
"As soon as I set foot on North Grounds, I could feel a sense of community that I had not experienced on any other Law campus which I had visited," he said.
While at UVA Law, Cabranes said he is inspired to pursue "an equal playing field for all, regardless of socio-economic background or political affiliation," and to serve the public's interests.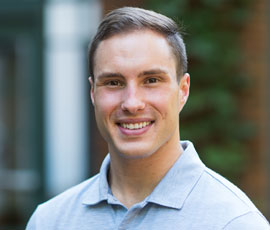 Timothy Sensenig, from Denver, Pennsylvania, most recently completed a 10-month-long Fulbright Grant to Hamburg, Germany, where he taught at a local high school, volunteered by teaching German lessons to refugees and sang in a community choir. While in Germany, Sensenig also attended Oktoberfest, proudly wearing his lederhosen.
Sensenig holds bachelor's degrees in English and German from Messiah College, where he served as student body president, studied abroad in Austria and Germany, and graduated magna cum laude.
Sensenig looks forward to joining his fellow J.D. candidates from the across the country and experiencing the "intimate community feeling" that UVA Law has becoming known for.
"This diversity introduces me to a wide range of people and perspectives and gives me great flexibility in employment," said Sensenig, who is excited for the challenge of law school. He hopes to become involved in several of UVA's many student organizations.
"I am looking forward to meeting my fellow students and encouraging one another as we embark on the adventure together," he said.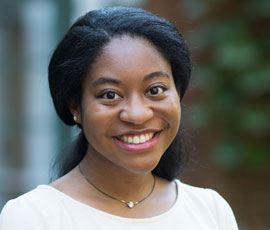 When Alexis Wallace began her law school search, she was looking for a place that would foster community, along with a legal education. Before applying to law school, Wallace, who hails from Jackson, Mississippi, recalled speaking to a local attorney.
 "He said, 'Law school is terrible. I don't know anyone who enjoyed it.' After a short pause, he corrected himself and added, 'Actually, one of my colleagues seemed to like his experience at UVA.'"
From that moment on, Wallace decided UVA Law was her focus.
Wallace came to the Law School "straight through" after graduating from Dartmouth this spring with a major in psychology and a minor in English. While at Dartmouth, she held campus leadership roles, was the associate editor of the Dartmouth Law Journal and studied abroad in London.
While attending law school, she hopes to "listen and learn from as many people as I can."
Wallace is also a member of the new Community Fellows Program, where she had the opportunity to experience law school culture before classes started. The program, in which 30 first-years participated, cultivates engagement, a sense of belonging and conflict-resolution and interpersonal skills.
"Each individual I've encountered has given me a different nugget of knowledge that I've appreciated and put into practice," Wallace said. "Our community is fortunate enough to have a space full of brilliant minds and warm hearts."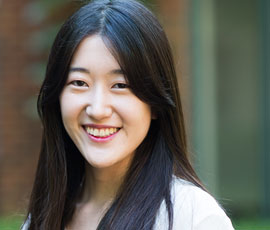 Laura Yang is from Cupertino, California, where she graduated from the University of Southern California and worked as a management consulting analyst in San Francisco. While at USC she was a member of student government and an associate editor of the USC Journal of Law and Society. Growing up, Yang spent eight years living abroad in Asia.
Yang has also worked as a legal aid, a research assistant and held an externship at the Los Angeles City Attorney's Office.
She made the decision to attend UVA Law after visiting the school last fall.
"I experienced first-hand the warmth and collegiality of the UVA Law community and could not help but be infected by the positive energy," she said.
As she embarks on the start of her legal journey, Yang draws inspiration from her mother.
"As a first-generation immigrant who came to this country with very little, she overcame incredible odds so that I could have a better future," Yang said. "From her, I learned to be hard-working, empathetic, and appreciative of the kindness of those around me."
Zane Memeger '91 Welcomes Students at Orientation
Zane D. Memeger '91, former U.S. attorney for the Eastern District of Pennsylvania and current partner at Morgan Lewis, delivered the orientation address on Monday.
"The person I am today is due in large part to the time I spent in Charlottesville," said Memeger. He recalled how his time leading the Post-Conviction Assistance Project in Law School sparked his interest in reducing recidivism.
Third-year law student and Student Bar Association President Steven Glendon also spoke at orientation on his experiences at UVA Law and gave advice for his new classmates.
Photos of Orientation, Aug. 21-22
Founded in 1819, the University of Virginia School of Law is the second-oldest continuously operating law school in the nation. Consistently ranked among the top law schools, Virginia is a world-renowned training ground for distinguished lawyers and public servants, instilling in them a commitment to leadership, integrity and community service.