Meet the New Leaders of the Virginia Law Review
Editor-in-Chief Campbell Haynes Explains His Goals and Offers Tips for the Journal Tryout Process
Campbell Haynes, a second-year student at the University of Virginia School of Law, is the new editor-in-chief of the Virginia Law Review.
Haynes and managing board were selected by the outgoing board after an application and interview process. The 28 second-year law students began their new role on Feb. 8.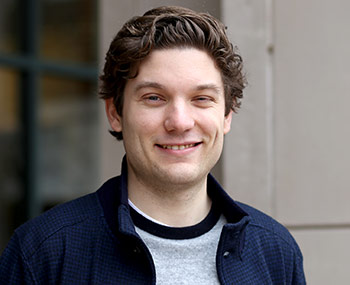 The journal, now in its 105th year of publication, is one of the nation's most prestigious academic publications.
Haynes answered a few questions about himself and offered tips for the journal tryout process, which starts Friday.
Hometown: Nashville, Tennessee
Prior education: B.A. in government, Dartmouth College
Prior work experience: Tennessee Governor's Management Fellow, 2014-16 (fellows work full-time for senior and top-ranking government officials in Tennessee)
Future career plans: This summer, I'll be working at Jenner & Block in D.C. and Kaplan & Company in New York. After graduation, I will be clerking for Judge Pamela A. Harris of the 4th Circuit Court of Appeals from 2020-21. 
Favorite law class or subject: I've most enjoyed classes about how we use the law — or don't use it — to build a just society: Constitutional Law, Criminal Investigations, The Law of the Police, Antitrust, Presidential Policymaking, and Implicit Bias and the Law. 
Other activities at the Law School: I serve as a Peer Advisor and I'm on the executive boards of the American Constitution Society, the Law Democrats and the Minority Rights Coalition. I'm also a fellow in the Program in Law and Public Service and a member of the North Grounds Softball League. 
Goals for the Virginia Law Review: We are lucky to follow an outstanding board. Over the next year, we plan to maintain VLR's excellent reputation in the field and publish cutting-edge legal scholarship in print and online. We plan to make diversity and inclusion a priority. Diverse institutions are better institutions. Finally, we look forward to engaging with the student body, our alumni, the administration and our community as a whole. 
Advice for 1Ls: One of my good friends is fond of saying that law school is a bunch of things you've done before, just with new names. Outlining is just taking and compiling notes, for instance. The journal tryout is no different: It's writing a paper in a weekend. You've done the hard part already. You got into UVA. Using the skills that got you here — hard work, organization and creative thinking — will help you most in the classroom and on the tryout. When taking the tryout itself, remember to make and support an argument, recognize counterarguments and be organized. 
Also, don't forget to write a personal statement and submit it for consideration under the Virginia Plan. The purpose of the Virginia Plan is to increase the opportunity for historically disadvantaged minorities and currently underrepresented populations to join the Virginia Law Review. We want to identify exceptional students who will bring a perspective not otherwise found or well-represented among current members of the Review. 
Finally — define success for yourself. Getting on the Law Review is one way to succeed here. So is leading a student group, doing original research or impactful pro bono work, making great friends or being good at softball. Don't let anyone else tell you what hoops you need to jump through to consider yourself successful. That's up to you.
Rounding out the remainder of the managing board are:
Managing Editor
Aparna Datta
Articles Development Editors
David N. Goldman
Derek A. Keaton
Articles Editors
Joseph M. Calder Jr.
A. Cameron Duncan
James Stephen Fritz Jr.
Thomas L. Howard III
Ashley A. Markson
Andrew A. Roberts
Libby A. Stropko
Isabel M. Tuz
Notes Development Editor
Victoria C. Granda
Assistant Managing Editor
Robert A. Pomeroy
Notes Editors
J. Hutton Marshall
Martin Jordan Minot
Spencer Ryan
Olivia L. Vaden
Online Development Editor
Chinmayi J. Sharma
Online Editors
Jacob B. Ruby
Michael Weisbuch
Executive Editors
William Hall
Caroline D. Kessler
Joshua T. Lefebvre
Michael S. McGuire
Sameera Ripley
Daniel Weltz
Brendan C. Woods
Founded in 1819, the University of Virginia School of Law is the second-oldest continuously operating law school in the nation. Consistently ranked among the top law schools, Virginia is a world-renowned training ground for distinguished lawyers and public servants, instilling in them a commitment to leadership, integrity and community service.