In Memoriam: Gordon Hylton '77, Legal Historian and North Grounds Softball League Co-Founder
Celebrated Professor Remembered by Community
Professor J. Gordon Hylton, a legal historian and property expert at the University of Virginia School of Law, died Wednesday morning from complications due to cancer treatment. He was 65.
Hylton, a 1977 Law School graduate who co-founded UVA's North Grounds Softball League, returned to his legal alma mater in 2015 to join the faculty full-time.
"We are heartbroken to lose one of our own," Dean Risa Goluboff said. "Gordon was a legend at the Law School for his tremendous knowledge of our history, for his love of sharing stories from the civil rights era, and for his warmth and generosity. Whether the conversation was about African-American lawyers or how softball influenced the social scene at UVA, I would inevitably walk away with a deeper understanding of our shared culture and history."
Hylton died surrounded by family and friends. He was able to witness and share in an important moment in his daughter's life before he died.
"In what one friend described as a joyous day yesterday, Gordon was able to participate in his daughter's wedding at the hospital," Goluboff said on Wednesday. "All of his children, several cousins, some close friends and the groom's parents were all present."
She added that Hylton was able to speak to several Law School classmates and to receive cards and well wishes from students, faculty and staff before his death.
Hylton was a beloved instructor celebrated for his teaching style, having won numerous awards during his two-decade career at Marquette University Law School, and before that, the Chicago-Kent College of Law at the Illinois Institute of Technology.
In addition to his law degree, Hylton earned a master's from UVA as one of the first graduates of the J.D.-M.A. program in history. He would later earn a Ph.D. in the history of American civilization from Harvard University. He majored in history and English literature as an undergraduate at Oberlin College.
Historical research — and sharing a good yarn with others — meant everything to him.
"I like the interchanges with students in class, and I like having the freedom to pursue topics that interest me," he once said in a Law School Q&A about why he loved his job.
Hylton's legal writing often focused on the history of lawyers, civil rights and sports. He had been at work on several projects, including a history of the Law School and research on Virginia's black lawyers, before his passing.
"Gordon was intellectually curious and committed to getting the facts and history right, no matter its complexity or controversial nature," said Professor Kim Forde-Mazrui, who recalled Hylton as "warm, genuine and kind" and one of his best friends at UVA. 
Hylton contributed to the placard hung with the portrait in the Law Library of Gregory Swanson, the first African-American student at UVA and UVA Law. The information "was influenced a great deal by Gordon's input, including by facts his research uncovered that did not align with stories passed down about Swanson's entry into and experience at the University," Forde-Mazrui said.
Hylton's research frequently crossed over into popular culture. In the past few years, he wrote an article about the probate issues caused by the musician Prince dying without a will, and an exploration of how Milwaukee lost the Braves baseball franchise.
He was also a co-author of "Property Law and the Public Interest: Cases and Materials," the latest edition of which was published in 2016, among other textbooks and articles.
Hylton grew up in Giles County, Virginia, and his law school years were among his most cherished. He considered it an honor to be on the faculty alongside professors whom he knew when he was a student and are still teaching.
"Gordon Hylton's death is a great loss to the Law School community and to me personally," said Professor G. Edward "Ted" White, a fellow legal and sports historian who joined the faculty in 1972.
"In the years since 1974, when I first encountered Gordon, he has been a memorable presence and a good friend. He was excessively modest about his scholarship, but his work in legal history will have a long shelf life. He was one of the most versatile and conspicuously successful law teachers I have encountered."
Hylton taught at the Law School first as a visiting professor for many years before joining the faculty full-time. White said Virginia was "fortunate to be able to attract him."
"He was an incomparable source of information about multiple subjects, including sports. Most of all, he was a good-natured, conscientious and admirable colleague. His legacy to the Law School will be a lasting one."
While at UVA, Hylton and a group of friends founded what would become the North Grounds Softball League. Today, in addition to regular-season play, NGSL hosts a popular charity softball tournament in which law schools from across the country compete.
"The impetus was a lack of things to do on North Grounds," Hylton said for an article on NGSL's 40th anniversary. Hylton would go on to write often about sports, including baseball, which fascinated him as a self-contained legal system.
Dan Vogus '77 met Hylton when the two lived across the hall from each other as first-year law students, stayed in touch over the years, and spent time together recently as their paths again intersected in Charlottesville, where Vogus retired.
"Gordon had an easy, affable manner and a wonderfully dry sense of humor," Vogus said. "He was relegated to playing Alex Trebek on the board game version of 'Jeopardy' because he was unbeatable as a contestant."
Vogus said Hylton's knowledge about sports history "could not be topped." The two participated in several intramural sports together as students.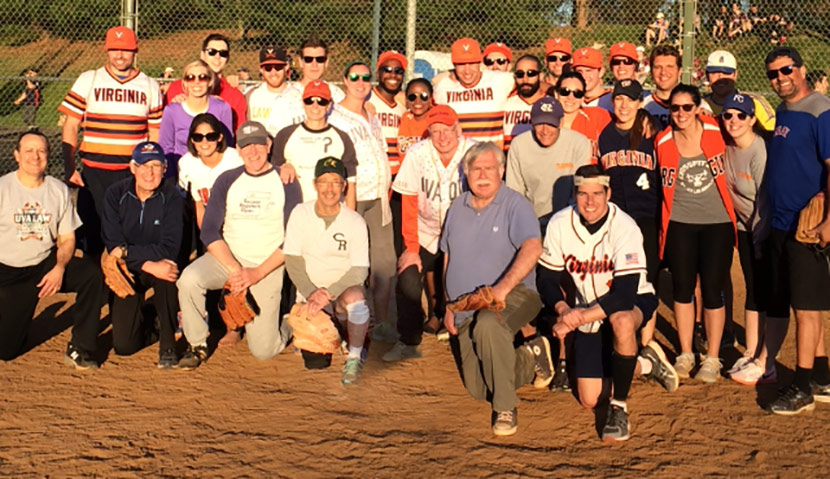 Hylton, front row and center, with 2017 NGSL invitational participants.
"In one intramural basketball game, Gordon hurt his leg, but after resting a while demanded to be put back in the game because the rest of us were such woeful players," he said. "A trip to the emergency room revealed that Gordon had a broken ankle."
Vogus added that Gordon adored his four children, and "he also loves UVA Law and his students."
"As attested by the number of friendships he made and maintained, he had a deep and genuine interest in other people. The world is diminished by his loss," he said.
Hylton also enjoyed his time as an editor on the Virginia Law Weekly staff. He was a fan of the authors Ernest Hemingway and Hunter S. Thompson, both of whom had careers as journalists.
He knew early on that a law firm path or another traditional lawyering job was not for him.
"I had pretty much decided by the time I finished law school that I wanted to be an academic," he said in the UVA Law article announcing his hire.
Following law school, Hylton clerked for Justice Albertis S. Harrison and Chief Justice Lawrence I'Anson of the Supreme Court of Virginia, and worked for the Massachusetts Commission Against Discrimination. He finished his master's thesis in history while clerking.
Hylton's devotion to teaching was recognized through several awards over the years.
He is a past recipient of the Gihardi Award for Excellence in Teaching at Marquette and the teaching award presented by the Marquette Chapter of Phi Delta Phi Legal Fraternity. Earlier in his career, he was named professor of the year at the Chicago-Kent Law School on three occasions, and was twice the recipient of the Illinois Institute of Technology's award for superior teaching. He was also the only visiting professor to be named professor of the year at Washington University Law School.
He also visited at Washington and Lee University. During the 2000-01 academic year he was the Fulbright Professor of Law at Kyiv-Mohyla Academy in Kiev, Ukraine.
Hylton was a former member of the Diversity Committee of the American Bar Association's Section on Legal Education and Admission to the Bar. He was also past chair of the Association of American Law School's Sections on Legal History and Sports Law, and was the Marquette representative to the American Society of Comparative Law and the International Association of Law Schools.
In a 2012 article published by Marquette, Hylton explained why he felt studying legal history was a valuable pursuit.
"Law can be, and is, studied from a variety of angles, including the historical," he said. "Historians try to explain why and how the present turned out the way it did. Studying how the law developed is an excellent way of understanding why the law is the way that it is and why that it sometimes needs to change. Lawyers who understand legal history have a much more comprehensive understanding of the system in which they operate."
Memorial and Remembrance
Hylton's funeral is at 2 p.m. Saturday, May 5, at the First United Methodist Church in Pearisburg, Virginia. There is visitation this Friday, May 4, from 6-8 p.m. at the church.
A memorial service will be held May 12 in Abbott Dining Room at the Inn at Darden at 3:30 p.m.
Condolences can be sent to The Hylton Family, 1601 Concord Drive, Charlottesville, VA 22901.
In memoriam donations can be sent to the J. Gordon Hylton Memorial Fund, c/o Dan Vogus, 113 Roades Court, Charlottesville, VA
Founded in 1819, the University of Virginia School of Law is the second-oldest continuously operating law school in the nation. Consistently ranked among the top law schools, Virginia is a world-renowned training ground for distinguished lawyers and public servants, instilling in them a commitment to leadership, integrity and community service.