Externs Share Experiences Learning the Law Firsthand
Jobs Range From Federal Agencies to Legal Aid Offices
This fall's group of University of Virginia School of Law externs are doing meaningful work in a variety of placements reflecting a range of public interest work: from prosecutors' offices and public defenders, to judges and federal agencies like the Department of Justice, to legal aid offices, Congress and nonprofit institutions.
"Not only are they gaining hands-on experience in practicing law, they're serving under lawyer-mentors who can help them develop their professional identities and network in their fields of interest," said Professor A. Sprightley Ryan, director of the externships program. "I'm proud to say that UVA Law externs are uniformly praised by their placement supervisors for their excellent work."
The program allows students to make connections between legal theory and practice during their second and third years of law school. Students can earn academic credit while working in the public sector under the supervision of a practicing lawyer.
"This is a student-directed experience in that the students choose where they would like to extern — and if they want to extern, there will be an organization that will want them," Ryan said. "We always have hundreds of potential externship placements eager to have UVA Law students."
The program includes four options: UVA Law in DC, part-time externships, full-time externships and January Term externships. The full-time spring externship application deadline is Monday.
Six third-year students currently externing nationwide shared their experiences.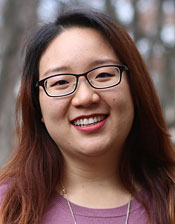 Michelle Chang
Education Law Center
Newark, New Jersey
"I'm at every meeting that the attorneys attend, so I feel like I'm a part of the team here. I've done investigative work where I compiled the factual and legal information to present a potential case to possible [pro bono] sponsors. I've also done extensive legal research on procedural questions that helped the attorneys identify a viable route to bring a case.
"I have learned so much since I started in late August. Frankly, working at a place like ELC was the reason I even chose law school at all. So it's been amazing seeing these passionate and talented professionals in action. I'm learning that making social change is not limited to 'court stuff.' They work intensively with other organizations to coordinate policy development, advance research and promote communication. I'm witnessing how the entire team, not just lawyers, work diligently and strategically. It's truly impressive how patient everyone is because education policy is so political, and it really takes a long time for everything, from litigation to legislative change."
Annie Chiang
U.S. Department of Justice, Office of Legal Policy
"The Office of Legal Policy does one of two tasks: It supports all Article III nominees during the nominations process, and it functions as the thinktank for the Department of Justice, setting policy for the entire department. While at OLP, I have had the opportunity to work on judicial nominations and DOJ policy. On the nominations side, I had the opportunity to work on a Supreme Court nomination. In that process, I produced work product to prepare the nominee for the Senate hearings and attended the hearings as well. I also supported the nominee's efforts to respond to questions for the record posed by various senators after the hearings. Working on and witnessing the nominations process gave me a very unique opportunity to observe our three branches working together to complete the significant task of confirming a Supreme Court justice.
"I have also worked on the department's national security policy. I researched and produced reports to support OLP's formulation of official DOJ policy in this area. Overall, it has been a very interesting experience to witness firsthand the unique functions of OLP and its interactions with other parts of the federal government."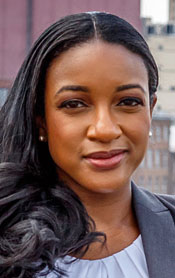 Jianne McDonald
Legal Aid Society of Middle Tennessee and the Cumberlands
Nashville, Tennessee
"I'm working with the Family Law division here at Legal Aid. We handle divorce cases that are considered high-risk, so there is usually severe physical abuse. I do a wide range of things, including drafting motions to be filed in court, meeting with clients, providing case updates, helping out with court strategy and writing briefs. I expect to be approved for my limited law practice certification sometime in the next couple of weeks, and then I will be able to make court appearances by myself.
"I've learned so much in the past two months that I've been at Legal Aid. Family law is a highly rewarding practice, because we are really making a difference in our clients' lives. However, the work is very stressful and some of the attorneys put in hours just as long as attorneys in Big Law. An average divorce at Legal Aid takes six to 18 months, and because there are so many control factors with abuse, there are some women who pull out of divorce proceedings due to fear. On average, it takes domestic violence victims seven times to actually leave their partner for good. I've also had the opportunity to dive deeper into how various organizations address the domestic violence problem in Nashville and the resources they provide. Here in Nashville, all individuals going to take out an order of protection are provided an advocate during the court proceeding, and the advocate continues to follow up with that individual throughout the process."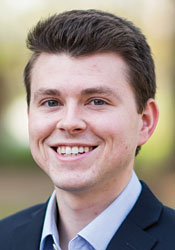 Liam O'Connor
San Francisco City Attorney's Office, and Associate Justice Ming Chin of the California Supreme Court, San Francisco
"This semester, I am spending my mornings in the chambers of Justice Ming Chin of the California Supreme Court, where I help prepare conference memoranda (recommending grant or denial of petitions for review), preliminary responses (concurring with or expressing concerns with draft opinions), and opinions of Justice Chin. In the afternoons, I walk across San Francisco's Civic Center to the City Attorney's Office, where I assist in investigations and enforcement actions related to misconduct by city officials, employees and contractors; unlawful business practices; and municipal code violations. Although I miss Charlottesville, I'm enjoying my front-row seat to the city's high-profile legal challenges to the Donald Trump administration and the Supreme Court's decisions that impact 40 million people and the world's fifth-largest economy."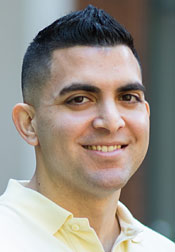 Eric Reissi
U.S. Department of Justice, Criminal Division, Public Integrity Section, Washington, D.C.
"The mission of PIN is to combat public corruption through the prosecution of elected and appointed officials at all levels of government. This is essential to maintaining the integrity of our representative form of government, and I am grateful for the opportunity to serve in this capacity. 
"As a legal intern with PIN, I work directly with federal prosecutors on a daily basis on various criminal matters related to public corruption. My responsibilities include conducting substantive legal research, writing legal memoranda and briefs, and drafting motions and responses. I also have the opportunity to attend court hearings and trials related to the cases I assist with.
"This has been a fantastic opportunity to hone my legal skills, develop as a professional, and network with professionals who value public service."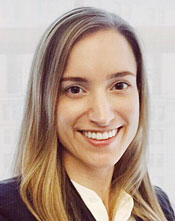 Kristen Ridgway
Judge Richard J. Sullivan of the Southern District of New York
New York
"I've had an opportunity to be present in court nearly every day, observing proceedings that range from early-phase conferences to a full jury trial. Drafting judicial opinions has already made me a more attentive writer and has given me insight into judicial decision-making that is likely otherwise unavailable outside of an actual judicial clerkship. Judge Sullivan takes his role as a mentor seriously and sets aside time to explain both how and why he arrives at his decisions, giving me a much broader 'real world' perspective of the practice of law."
Externship Placements, Fall 2018
Part-time Externships
Federal Public Defender's Office, Western District of Virginia, Charlottesville
Richmond Police Department General Counsel, Richmond, Va.
U.S. Department of Justice, Office of Legal Policy, Washington, D.C.
UVA Office of University Counsel
Virginia Capital Representation Resource Center, Charlottesville
Virginia Office of the Solicitor General, Richmond
Full-time Externships
Education Law Center, Newark, N.J.
Legal Aid Service of Broward County, Children's Advocacy Program, Plantation, Fla.
Legal Aid Society of Middle Tennessee and the Cumberlands, Nashville, Tenn.
Lone Star Legal Aid, Houston
New York Public Library General Counsel, New York
Phillips Black, Philadelphia
Richard J. Sullivan, U.S. District Judge for the Southern District of New York, New York
Richmond Public Defender's Office, Richmond, Va.
San Francisco City Attorney's Office; Associate Justice Ming Chin, California Supreme Court, San Francisco
U.S. District Judge Raymond Jackson, Eastern District of Virginia, Norfolk
UVA Law in DC Externships
Ayuda, Falls Church, Va.
District of Columbia Public Defender's Office
Institute for Justice, Arlington, Va.
Senate Judiciary Committee, Sen. Chuck Grassley's Staff
Senate Judiciary Committee, Sen. John Cornyn's Staff
Smithsonian Institution Office of General Counsel
U.S. Department of Justice, Criminal Division, Public Integrity Section
U.S. Securities and Exchange Commission Office of International Affairs
U.S. State Department Office of the Legal Adviser
White House Counsel's Office
Founded in 1819, the University of Virginia School of Law is the second-oldest continuously operating law school in the nation. Consistently ranked among the top law schools, Virginia is a world-renowned training ground for distinguished lawyers and public servants, instilling in them a commitment to leadership, integrity and community service.