Professors Edit, Publish New Book on 'Comparative International Law'
Book's Editors Define Evolving Field, While Asking New Questions
If two countries agree to an international treaty, is the law the same in both countries?
Starting from questions like this one, faculty at the University of Virginia School of Law collaborated on a recently published book that not only enlightens scholarly understanding of international law, but is among the first to open up the field to comparative study.
"Comparative International Law," edited by professors Paul B. Stephan '77, Pierre-Hugues Verdier and Mila Versteeg, along with Australian National University professor Anthea Roberts, appeared from Oxford University Press earlier this year.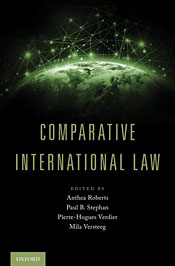 "The premise of the book is that, unlike what many international lawyers and international law scholars assume, international law is not as uniform as people have supposed," Verdier said.
In some circles, it might seem like heresy to suggest international law may not always be equally applied, and can therefore be subject to comparisons, contrasts and uncertainty.
But, Verdier said, "I think people have noticed that [discrepancy], informally, for a very long time. The same international law means something different in Russia than it means in Canada, because there is often no institutional vehicle to ensure uniformity."
International law can be created in various ways, but normally, nations have to decide if they agree to be bound.
The United Nations, a body perceived to have wide buy-in on such agreements as the U.N. Convention of the Law of the Sea, has had recent conflicts with one its signatories to the convention, China, on ocean-territorial rules.
Another nation might interpret a different international treaty through its own lens — which can be formed by culture, legal and legislative history, or current agendas.
In this way, international norms are continually being redefined. But a forum that can have the final say when interpretative conflicts occur doesn't always exist, the professors said.
"Unlike in domestic law, where we have a Supreme Court that has the final interpretation of what a law means, that's not always true in international law," Versteeg said. "So there may be additional arbiters in some areas of international law, but not others. And often states subject themselves to that voluntarily, and there might be multiple interpretations out there. It's not always easy to say who is right."
The book, in demonstrating that international law is "not a monolith," maps the cross-country similarities and differences in international legal norms in the different subfields.
The authors who contributed to the volume — including Professor Ashley Deeks, Research Assistant Professor Kevin Cope and visiting professor Tomer Broude of Hebrew University, among many others — review the application and interpretation of law, taking into account geographic differences, while also trying to explain why those differences exist.
The editors say nothing in international law should defy a critical look — except, perhaps, one thing.
"The criticism, that I think all three of us disagree with, is the claim that international law is not law because there's no international law supreme court," Stephan said. "Whatever it is that holds it together — I think we all believe it's held together — it's more a complex system than, you know, a gang of nine at the top wearing robes that tells you what it all means."
The professors said they look forward to continuing to build on this largely unexplored area of comparative study in future books and papers.
Founded in 1819, the University of Virginia School of Law is the second-oldest continuously operating law school in the nation. Consistently ranked among the top law schools, Virginia is a world-renowned training ground for distinguished lawyers and public servants, instilling in them a commitment to leadership, integrity and community service.