Service to Others Drives Class of 2022 to UVA Law
See Stats From the Class, Meet 5 First-Year Students Making a Difference
For many members of the Class of 2022 at the University of Virginia School of Law, a law degree is a tool to continue to help others.
"This is a class with a strong desire to be engaged with the world," said Assistant Dean and Chief Admissions Officer Cordel Faulk '01. "What's even more impressive than just the desire, though, is they know how to do it and how to do it with unusual excellence."
Members of the class, who start their coursework today, comprise 336 students selected from a pool of 5,657 applicants. They earned a median undergraduate GPA of 3.90 and a median LSAT score of 170, and represent 177 undergraduate institutions. (Full Class of 2022 profile)
Among the class, 45% are women, 25% are people of color, and 7% self-identify as LGBT. They come from 38 states and the District of Columbia, with the most common states being Virginia, California, New York, Texas, Georgia and North Carolina. J.D. candidates include citizens of China, Germany, India, Jamaica, Nepal, Ukraine and South Korea.
Meet the Students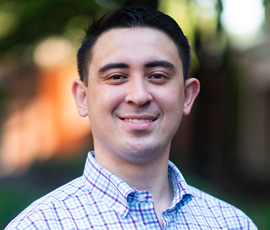 Mike Blochberger, of Alexandria, Virginia, earned a bachelor's in political science (international relations) from the U.S. Naval Academy and joined the Marine Corps as a combat engineer officer. He was twice awarded the Navy and Marine Corps Achievement Medal, and completed a three-year assignment to Okinawa, Japan.
"I knew that UVA Law had a stellar academic reputation," he said. "Based upon my interactions with UVA Law alumni, I knew the Law School fostered an environment that attracted leaders who desired to both serve and excel. The combination of receiving a world-class education in an atmosphere that promoted integrity and humility truly distinguished UVA Law in my mind."
He isn't sure what field of law he wants to practice in, but Blochberger sees his legal career as an extension of his service to and for others.
Blochberger is among 15 veterans and active-duty members in the class, representing the Air Force, Army, Marines and Navy.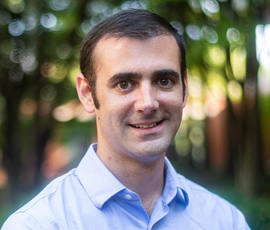 Chad Kenney, of Denver, earned a bachelor's in mathematics and master's in teaching from Johns Hopkins University. Before law school, the data analyst worked as director of development systems performance for the city of Denver and previously was the first chief performance officer for the city of Cincinnati.
He called UVA Law "a perfect fit."
"Two items that jumped out at me were the range of hands-on clinics offered to students, as well as UVA's success placing graduates in federal and Supreme Court clerkships," he said. "That indicated to me that there is a practical focus to UVA's academics that helps ensure students are quickly ready to be effective in the working world, which is important to me."
Kenney said he plans to use his law degree and experience in government to help shape policy and legislation that can improve citizens' quality of life.
"While improving operational effectiveness has a positive impact," he said, "it is not enough to have the dramatic impact needed for most Americans — particularly in cities — to feel it."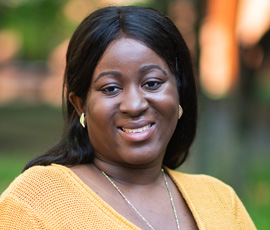 Trust Kupupika, of Queens, New York, earned an A.B. in anthropology from Princeton University. She completed a public service fellowship with International Schools Services and then worked at the Center for Supportive Schools, which academically assists at-risk students.
She said she was drawn to UVA Law because of its hospitable and collegial nature.
"I wanted to prioritize learning law with peers who were excited to both learn and collaborate with each other," Kupupika said. "Much of the work I've done throughout my life has been focused on enacting change through community-building. I've found that the camaraderie and kinship I've experienced within the African diaspora and the LGBTQ communities have proven to be powerful tools of progress."
She said her interest in law is motivated by a dedication to social issues such as civil rights and reproductive justice.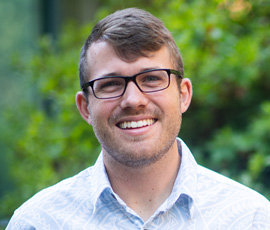 Jeffrey Stiles, who was born in Peru, earned a bachelor's in politics and Chinese studies from Messiah College. He spent over two years with the Peace Corps working as an English literacy volunteer in Samoa. He also studied Mandarin for a year at Shanghai International Studies University as a Boren Scholar with the Institute for International Education.
"I chose UVA because I wanted to attend a nationally recognized law school where a sense of community and cooperation dominate the learning environment," he said. "It seems like everyone I've talked to didn't just tolerate their law school years but actually enjoyed them."
He's keeping an open mind about where his law degree will take him, but Stiles hopes to be able to hone his skills in ways that line up with his international experiences and interests.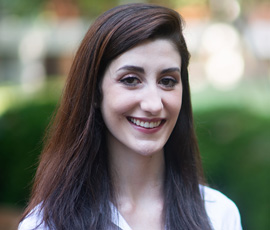 Dripping Springs, Texas, native Marlyse Vieira earned a bachelor's in politics from Princeton University and spent the past two years as a public service fellow working at Chicago Volunteer Legal Services, where she coordinated veterans and child representative programs, and provided support to staff and pro bono attorneys.
"From my time at the organization, I learned how impactful and rewarding it is to help provide legal representation to underserved members of the community," she said. "I would like to continue doing so through pro bono work at UVA and throughout my career."
Vieira plans to gain experience at a private law firm before transitioning to a role in government, preferably an international institution such as the United Nations.
"I am interested in public international law, particularly how nations can cooperate with each other while maintaining the integrity of their own constitutional systems," she said. "UVA has an impressive international law program that appealed to me. I'm excited about the opportunity to learn under the instruction of professors who are making a difference in their field while being accessible to students."
Other members of the class include a Fulbright Fellow who spent time in Central Asia, a senior software engineer with a top tech company, a former president of the Jesuit Volunteer Corps and an information officer for USAID Office of U.S. Foreign Disaster Assistance.
Related Stories
Founded in 1819, the University of Virginia School of Law is the second-oldest continuously operating law school in the nation. Consistently ranked among the top law schools, Virginia is a world-renowned training ground for distinguished lawyers and public servants, instilling in them a commitment to leadership, integrity and community service.