The Black Law Students Association at the University of Virginia School of Law has won national chapter of the year honors for the sixth time since 2002.
The organization, founded in 1970, picked up the top award for large-sized chapter on March 8 at the National Black Law Students Association convention in Cincinnati. There are more than 200 BLSA chapters in the United States.
Additionally, former chapter President Rachel Barnes J.D.-MBA '21 was elected to a full term as NBLSA national chair after assuming the position in the fall. She was elected vice chair last year.
"I am very excited to continue the work I started this past year," Barnes said. "I hope to diversify our membership offerings in terms of benefits and programming to make NBLSA accessible and appealing to a broader student population."
In February, BLSA was named mid-Atlantic chapter of the year.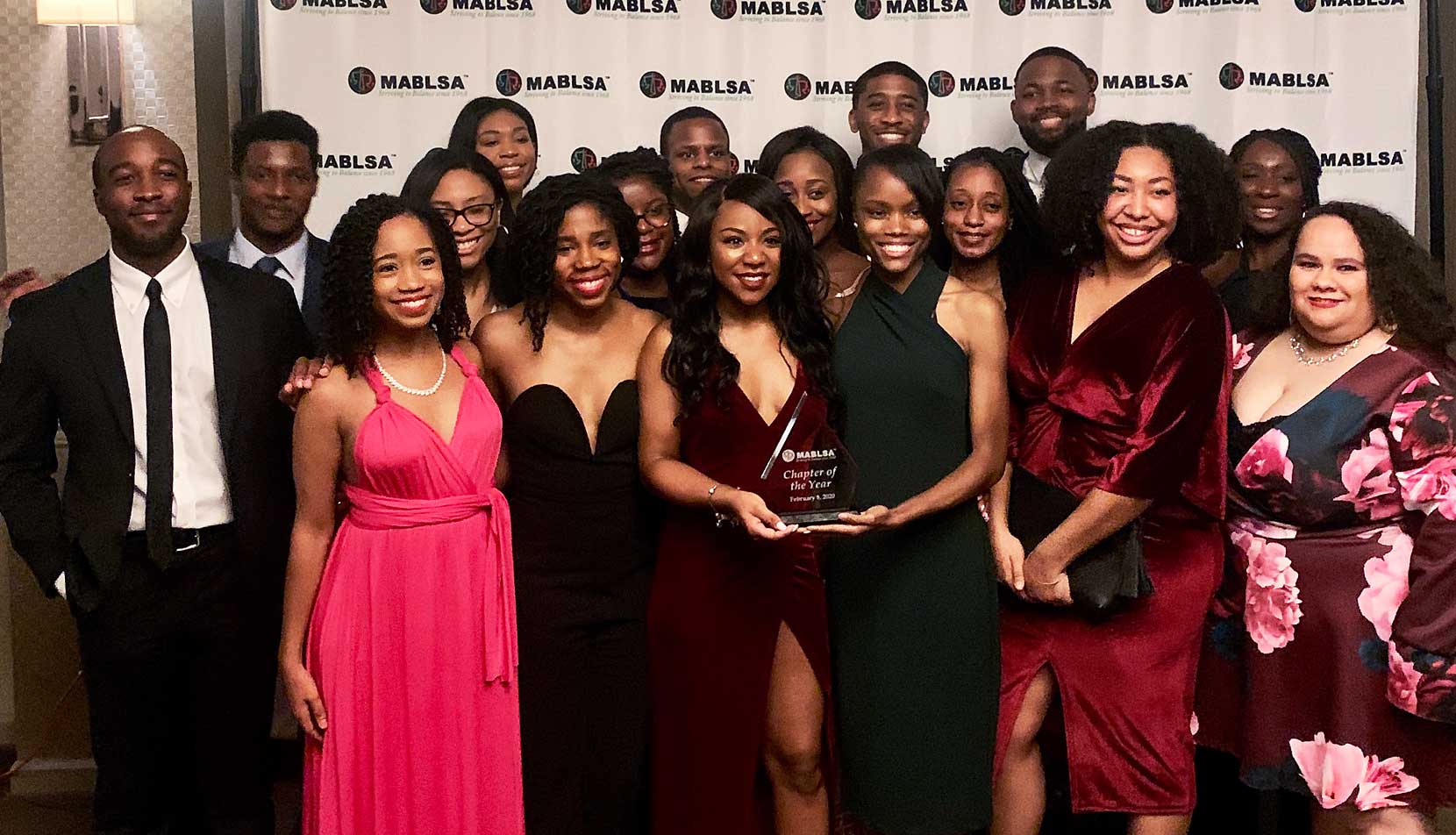 UVA Law BLSA members attended the Mid-Atlantic BLSA convention: Jordan LaPointe '22, Princelee Clesca '20, Nicole Banton '21, Melissa Privette '22, Niraje Medley-Bacon '22, Courtney Davis '20, Tiffany Mickel '22, David Kitchin '22, Natasha Halloran '21, Catherine Guerrier '21, Lillian Childress '21, Rambert Tyree '22, Michele St Julien '20, Michael Howell '21, Rachel Barnes J.D.-MBA '21, Lise Guerrier '20 and Morgan Palmiter '22. Photo courtesy Lillian Childress
"Just 50 years ago, UVA had its first black woman graduate, Ms. Elaine Jones," President Lillian Childress '21 said. "It is a remarkable feeling and an honor to have our national chapter of the year win coincide with such an important milestone in our school's history."
UVA Law students first organized the school's BLSA chapter (then known as the Black American Law Students Association) on Oct. 16, 1970.
The national chapter of the year is chosen, in part, by the type and creativity of the programming the chapter organizes during the year. Childress said one thing that sets UVA BLSA apart is consistent presence in national leadership positions.
"UVA BLSA has a beautiful legacy, and we are reminded every day that our work is bigger than our local chapter, we are helping to push a nationwide mission and we love what we do," she said.
Childress said she hopes UVA BLSA continues to feel like a "home away from home" for members, and the chapter is looking forward to building stronger bonds with the Charlottesville community, creating pipeline programs for prelaw students and becoming more innovative in programming.
Founded in 1819, the University of Virginia School of Law is the second-oldest continuously operating law school in the nation. Consistently ranked among the top law schools, Virginia is a world-renowned training ground for distinguished lawyers and public servants, instilling in them a commitment to leadership, integrity and community service.