Goal-Oriented Student Pivots as Paralympics Reschedule
Matt Simpson '20 Adapts to Adversity With Grace
Editor's note: Matt Simpson graduated from the Law School in 2020 and is now competing with the U.S. goalball team in the Paralympic Games in Tokyo.
If only the transition to online classes or the rescheduling of graduation exercises were the biggest problem for third-year University of Virginia School of Law student Matt Simpson: He was optimistic about earning a spot on the U.S. goalball team for the upcoming Paralympics in Tokyo, which now has been postponed for another year, along with the Olympics, because of the COVID-19 pandemic.  
His plans to compete in the sport for visually impaired athletes are now in question, as competition may conflict with the start of his legal career. But like any great athlete, he knows how to pivot.  
"I love representing the USA. I love getting to put on the red, white and blue and being an ambassador though sport," he said. "It's going to be a tight crunch this summer, including with trying to pass the bar. So maybe there's a silver lining, and it will turn out to be a good thing for me." 
Poised to graduate in May from UVA Law, Simpson, who has been blind since early childhood, is a study in handling life's challenges with grace.  
It's something that he's always done. His degenerative retinal condition was diagnosed when he was 4. The Smyrna, Georgia, native, who grew up a big fan of the Atlanta Braves, had yearned to play baseball as a child. Instead, he shifted to more individualistic sports. He ran. He swam.  
"As a kid, you don't really think about it. You don't dwell on it," he said in a recent interview about his athletic life.   
Then, a summer camp he attended at age 10 introduced him to goalball. The sport is played with a ball that contains bells, utilizing players' hand-ear coordination. Competitors are blindfolded to ensure that partially sighted players won't have an advantage over players with no vision. 
Although the sport is not widely known, Simpson is a standout player among those who follow the game, and has been extolled by his coach for being able to play any position well. He has even appeared in his own Uber advertisement.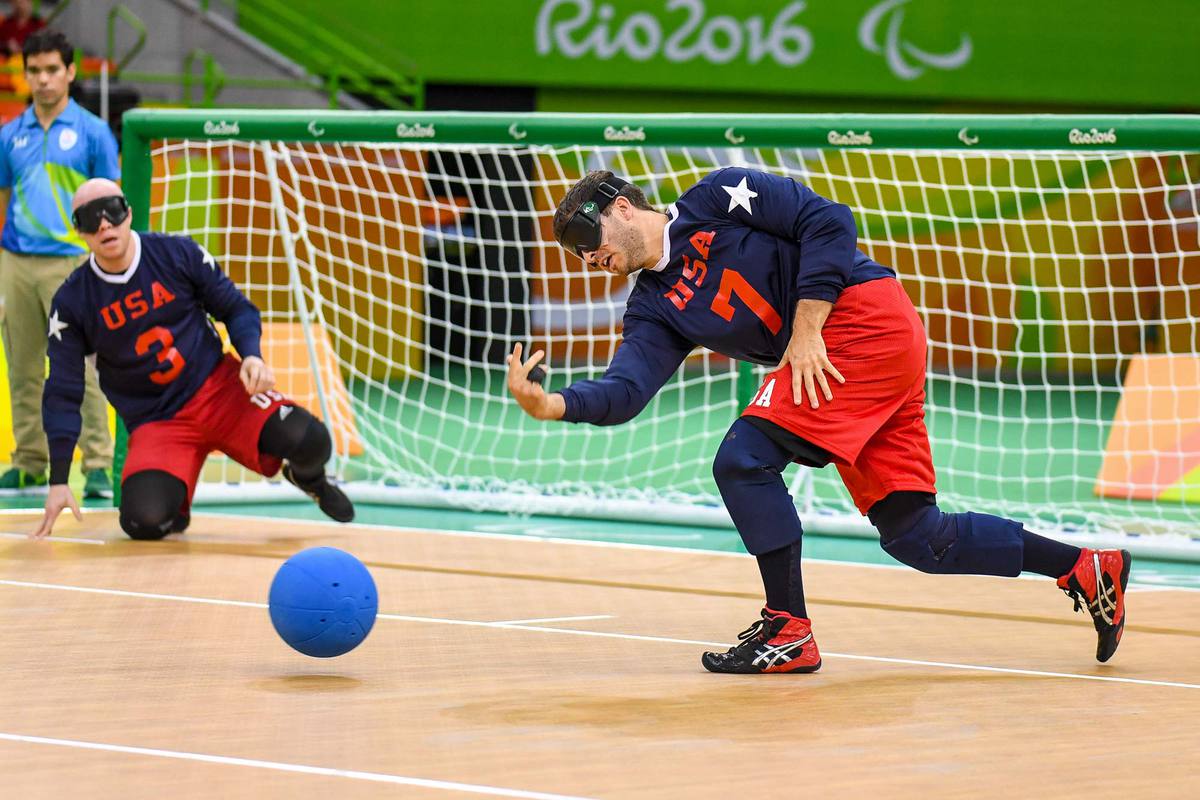 Simpson was part of the U.S. team that won a silver medal at the 2016 Paralympic Games in Rio de Janeiro. Photo by Loren Worthington
Before his chance seemed solid for making the 2020 team, Simpson thought perhaps he would never return to the Paralympics, where he and others on the U.S. team earned silver in the 2016 competition in Rio de Janeiro. His focus was on legal, not athletic, training. But he made the team cut for the Parapan American Games in Peru, where the U.S. qualified for Tokyo after a silver finish. The official lineup of who would go to Japan this summer was to be announced later this spring.  
As he was preparing to transition into law full time, he was hoping this summer would be a second bite at the golden apple — a final chance at glory.    
"The plan was to go to Tokyo and try again for that gold medal," Simpson said. "Now I'm definitely on hold. You know, there's a lot that's going to be happening in the next year, and obviously my family needs to come first, and my career." 
No matter what happens on the goalball court, Simpson's volunteer connections to sports will continue. He's on the Athlete Advisory Council for the U.S. Olympic and Paralympic Committee, and serves on the board of the U.S. Association of Blind Athletes, which is the governing body for competitive goalball.  
"It's a space that needs leadership, especially people with legal knowledge," he said. 
Simpson draws upon his athletic experience in the speeches he gives to organizations. Sometimes the talks are motivational in nature, while other times they focus on accessibility or other topics. He honed his speaking skills before law school by working for the Association of Blind Athletes, a job that required him to travel the country doing outreach. The nonprofit group facilitates participation for blind Americans in sports and recreation.  
A recurring theme in his presentations is the idea that a person with disability may have a limitation, but that it's all the more reason not to be self-limiting. That idea is integral to how he makes his own life decisions as well. 
"I knew law school was the long-term plan," he said. "Being someone with a disability, I think education is very important. Obviously education is great for everyone, but when you are limited in some way, and in particular when you are blind, you have to set yourself apart. You have to take your skills and hone them and seek to be as well educated and well credentialed as you can be. The law is the place where I can maximize my abilities and gifts." 
Given his preexisting commitments, Simpson decided to simplify his first two years of law school, which are formative, by not competing in goalball. He wanted to get the most out of his educational experience.  
One of the ways he did that was as a notes editor on the Virginia Sports & Entertainment Law Journal. For Simpson, it was one of the few times in his life that he has asked for special consideration. He participated fully in the journal tryouts weekend, and remained optimistic. But even with the adaptive software he uses, there was no way he could keep up with his peers on the citation-checking portion of the skills test. He later asked if he could be considered for a reading-only position.     
With the software, "I have the ability to check the text, and it tells me how it's formatted, what's the font, but it's a matter of going through each character," he said. "There are very few things that limit me, but doing cite checks is one of those things. Fortunately, they realized making a blind guy do cite checking wasn't the most humane thing."   
He said he enjoyed selecting articles alongside his fellow notes editor, Briana Echols '20. But at the end of the day, the position reaffirmed that he's more interested in being aware of legal issues in sports than in practicing sports law. He aspires to be in the courtroom.  
Simpson will join Sidley Austin in Washington, D.C., as a litigation associate this fall. He worked at the law firm as an intern last summer, having interned the previous summer at Troutman Sanders in Atlanta, also on the litigation side. 
"The ability to adapt and be highly flexible is valued in litigation," he said. "As an athlete spending a huge portion of my life training with the goal of being the best in the world, that doesn't just happen when you step on the court at the Paralympics. Every day you're in the weight room or running in the cold or doing drills or up early for a practice you don't want to be at, that's when you win the medals. And I think that discipline and that kind of mentality has transferred well to law school, and I think it will transfer well to the world of litigation." 
While Simpson's perseverance has served him, he has also found practicing his faith to be an invaluable part of navigating daily life. He is a member of the St. Thomas More Society, a Catholic affinity group for law students, as well as the Law Christian Fellowship.  
"My Christian faith has been a big part of my development as a student and a person," he said. "UVA is great among its peer schools because there are vibrant religious communities within its fabric. The religious groups engage with the nonreligious students and faculty, rather than being segmented away from one another."  
He added that the professors who had the greatest impact on him were either ones that taught classes about religious liberty, such as Micah Schwartzman '05, or who were willing to reveal aspects of living their faith, such as Barbara Armacost '89, his first-year Torts professor. 
"She's one of my great faculty mentors," he said of Armacost. "She's just such a compassionate and kind woman. She tries to make everyone comfortable, but she doesn't try to hide who she is or any particular part of her." 
Armacost said she was impressed with Simpson on a number of levels. 
"Matt is a wonderful student," she said. "He is smart, inquisitive and extremely hardworking. He explained to me once the extra steps it takes for him to study and be prepared. But there's never a complaint! [And] Matt's deep and vibrant faith is a huge part of who he is." 
As he moves on to new challenges, Simpson will graduate without the companion who began his law school journey with him: Lacrosse, his guide dog. The 12-year-old yellow Labrador retriever died in November, having been with Simpson throughout his 20s. The year before, Lacrosse won the annual Paw Review, a celebration of law students' pets. 
Simpson knew the day would come, and he's a resilient guy. Even so, the enormous showing of condolence that followed helped him a lot, he said.  
"He was my buddy and faithful companion," Simpson said. "The outpouring of support and love through that was really wonderful. It's never easy losing any sort of companion, especially one who is with you every day." 
Simpson will take some time before deciding on a new canine escort. In the meantime, he can navigate through his day just fine. 
"You need to be a functional traveler for a dog to be effective," Simpson said. "You can't tell a dog, 'Hey, take me to Torts class.' So it's not that I can't do what I did before. But it's wonderful having a dog there. Walking down the hallway, they can guide you around obstacles and people, rather than you smacking the trash can with your guide cane." 
Though he lost Lacrosse in the fall, there was good news as well. Simpson got married in October. He met Tricia King Simpson while they were both undergraduates at Washington and Lee University. They reconnected at their five-year reunion and decided to tie the knot. 
"That was definitely the best thing that happened during law school," he said. 
Despite his Paralympics setback, Simpson is eagerly anticipating his other summer plan — being a fellow with the Becket Fund for Religious Liberty, the pro bono law firm dedicated to religious liberty cases. The opportunity is funded by his new employer, Sidley.  
He plans to work in "big law" for the foreseeable future and is applying for clerkships. He is interested in eventually working as a prosecutor.
Related Stories
Founded in 1819, the University of Virginia School of Law is the second-oldest continuously operating law school in the nation. Consistently ranked among the top law schools, Virginia is a world-renowned training ground for distinguished lawyers and public servants, instilling in them a commitment to leadership, integrity and community service.