Tiffany Mickel, a second-year student at the University of Virginia School of Law, has been selected as the new editor-in-chief of the Virginia Law Review. She is the first Black person to hold the position.
Mickel and the managing board were chosen by the outgoing board after an application and interview process. The 30 second-year law students began their new roles Jan. 25.
The publication, now in its 108th year, is one of the nation's most prestigious law journals.
Mickel answered a few questions about herself, her goals for the journal and what this milestone achievement means to her.
Hometown: I spent my childhood in a few different military towns while my parents served in the U.S. Army. But, I consider my hometown to be right outside of the nation's capital in Northern Virginia.
Prior education: B.S. in materials science and engineering, Massachusetts Institute of Technology
Prior work experience: Before joining the UVA Law School community, I worked as a management consultant at Accenture helping organizations, ranging from federal agencies to nonprofits, improve their performance. Additionally, I co-founded The Heiritage game company, whose first product is a deck of playing cards featuring Black female trailblazers.
Future career plans: This summer I will be working at a large law firm in Washington, D.C. With this experience, I hope to get the chance to work with clients on technology and intellectual property transactions.
Favorite law class or subject: Because of my background in business and engineering, I have been pleasantly surprised at how much I enjoy courses in law and history. Legal history classes offer students interested in varied practice areas an opportunity to explore broadly the law and its relationship to social movements and other economic, political and technological changes. These courses encourage students to explore and reflect on the role of lawyers and legal institutions in broader society. My favorite class has been Cause Lawyers in American History with Professor Cynthia Nicoletti.  
Other activities at the Law School: I serve as membership chair of the UVA Black Law Students Association. I also serve as events co-chair for Virginia Law Women.
Goals for the Virginia Law Review:  We are fortunate to succeed an exceptional managing board that successfully implemented initiatives that benefited our publication, and we wish to maintain that momentum. Our managing board hopes to promote diverse authorship, provide a platform for a wide variety of scholarship and advance our membership experience.
In the upcoming year, our managing board has a dual goal of both honoring the Law Review's time-honored tradition of being an excellent print publication and offering both authors and readers an engaging experience on our online edition.
With the launch of our new and improved website, the Law Review plans on rapidly expanding our online presence. We want to respond to the ever-evolving digital ecosystem by continuing to expand and promote online publication opportunities.
As always, we are committed to fostering constructive legal discourse among students, professors, jurists and other academics. We aim to publish original scholarship that explores changing economic, political and technological conditions in society. And, in realizing this mission, we strive to value and promote the contribution of diverse viewpoints.
Advice for 1Ls: You'll find that your law school experience is emblematic of the acclaimed Arthur Ashe quote, "Success is a journey, not a destination. The doing is often more important than the outcome."
First, embrace opportunities to network with your peers and professors. Upper-year law students, professors and alumni are genuinely invested in your success and are happy and eager to help in any way that they can.
Second, trust yourself — meaning try new things without judging yourself too harshly on whether you fail or succeed the first time around. Speak up in class. Apply for that clinic, research position or judicial internship. Give your best in moot court, mock trial and, yes, the journal tryout.
Last, use your unique strengths to contribute to our law school community and greater society whether it be through oral advocacy, persuasive writing, event planning, mentorship through the Peer Advisor program or serving as a fellow in the Legal Research and Writing Program. Some of your fondest memories and most rewarding experiences during law school will be the times in which you were able to serve and contribute to your community while being your most authentic self.
How does it feel to be the first Black editor-in-chief? Being the first Black law student to serve as editor-in-chief, I am not only honored to contribute to a legal publication with such a rich history of advancing groundbreaking legal theories, but also extremely grateful to stand on the shoulders of the women and people of color who came before me, including the Law Review's first female editor-in-chief, Carol Stebbins ['80], and its first Black editorial board member, Dayna Bowen Matthew ['87].
As a publication led almost entirely by white cisgender men during the first 65 years of its existence, the Law Review has come a remarkably long way in honoring its commitment to inclusion. Mirroring our nation's complicated history with injustice, the journal's past demonstrates a series of both triumphs and missed opportunities in strengthening democratic institutions and helping expand access to justice for all.  Through acknowledging and learning from this past, the Law Review will continue opening its pages, membership and leadership to all voices, not just a few.
Finally, with the world in flux, the Law Review faces unprecedented challenges and an increased sense of responsibility to inform legal thought leadership. The path forward may not be easy, but I am encouraged that our commitment to the legacy of this auspicious publication will light our way.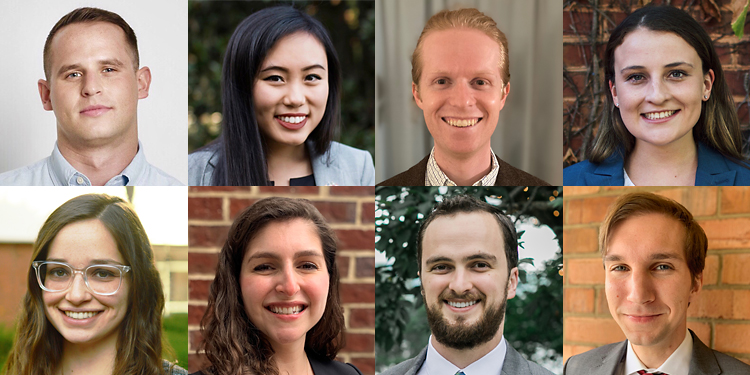 The 2021-22 Virginia Law Review's leadership includes: (from top left clockwise) Managing Editor Peter Kaplan, Assistant Managing Editor Amy Pan, Membership & Inclusion Editor Dave Johnson, Articles Development Editors Amanda Rutherford and Robert Frey, Notes & Comments Development Editor Jack Hoover, Online Development Editor Elizabeth Adler and Lead Executive Editor Kimberly Veklerov.
The other members of the managing board are:
Managing Editor
Peter Kaplan
Assistant Managing Editor
Amy Pan
Membership & Inclusion Editor
Dave Johnson
Articles Development Editors
Amanda Rutherford
Robert Frey
Articles Editors
Rachel T. Anderson
Christopher J. Baldacci
Niccolo A. Beltramo
Chloe S. Fife
Janessa Blythe Mackenzie
Sam Mirzai
J. Michael Patton
Abby M. Porter
Notes & Comments Development Editor
Jack Hoover
Notes & Comments Editors
Patrick C. Dever
Matthew J. Kincaid
Megan Ong
Tallulah R. Tepper
Online Development Editor
Elizabeth Adler
Online Editors
Barrett L. Anderson
Allison M. Burns
Tyler Demetriou
Lead Executive Editor
Kimberly Veklerov
Executive Editors
Katherine E. Graves
Meaghan J. Haley
Rebecca Pan
J. Bolton Smith
Caleb H. Theriot
C. Paige Whitaker
Founded in 1819, the University of Virginia School of Law is the second-oldest continuously operating law school in the nation. Consistently ranked among the top law schools, Virginia is a world-renowned training ground for distinguished lawyers and public servants, instilling in them a commitment to leadership, integrity and community service.