LL.M. Program Attracts Accomplished Attorneys
Meet 4 Members of the Class of 2022
Some students at the University of Virginia School of Law have illustrious legal careers before they even start their classes here.
This year, 43 students from 18 countries are in the Graduate Studies Program to work toward their master of laws, or LL.M. degree, after already earning their undergraduate degree in law, typically from abroad. The one-year LL.M. program at UVA, which is small and highly selective, allows candidates to take courses alongside J.D. students. LL.M. students can pursue their own program of study in consultation with faculty mentors, while also being part of the UVA Law community.
This year's class includes two Fulbright scholars, a banking executive and a high-profile firm lawyer.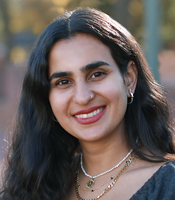 Marwa El-Shaarawy
El-Shaarawy, who is supported by the Fulbright Foreign Student Program, joined one of Egypt's leading law firms, Sharkawy and Sarhan, following graduation from Cairo University, and worked as a corporate lawyer in the energy sector.
Hometown: Cairo
Education: LL.B., Cairo University Faculty of Law (English Section), Cairo
What are some of the highlights of your career?
I advised several international financial institutions, including the European Bank for Reconstruction and Development and International Finance Corporation, on aspects of Egyptian law for financing the Benban Solar Park, which is the first Egyptian Feed-in Tariffs (FiT) program for solar projects. The Benban Solar Park is currently the fourth-largest solar power plant in the world.
I advised [energy corporation] Eni on Egyptian law for its operations in the Zohr field, which is the largest natural gas discovery in the Mediterranean.
Why did you decide to pursue an LL.M.?
I decided to pursue an LL.M. because I believe it will deepen my understanding of the application of law and policy in the United States and make me think of how that may be effectively tailored to address different local and global conditions.
I also believe the interaction with world-renowned professors and students from all corners of the world, and the experience of living in the United States, would enhance both my academic and interpersonal skills, which will definitely enable me to realize my professional and academic endeavors.
Why did you choose to study at UVA Law?
UVA is one of the top law schools in the U.S.; it offers a variety of different courses and has great professors with great backgrounds and expertise.
What do you like about your experience at UVA Law so far?
I like the diversity brought by the several international programs offered by UVA Law, whether the LL.M. program, the S.J.D. program or the exchange students program. I have met and gotten to know people from all over the world. This was exactly the kind of experience I was looking for. I am having a great time, and I am looking forward to the second semester. Although I am already sad that my LL.M. experience is ending soon, I believe I made long-term friendships that I will always cherish. Charlottesville is also a really great place to live and study.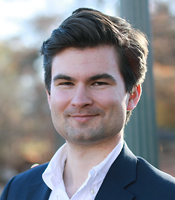 Fritz Maya Kainz
Kainz, who is also a Fulbright scholar, is the Wallace M. McClure Graduate Fellow in International Human Rights Law and Practice at UVA Law.
Hometown: Vienna
Education: Magister iuris (legal studies), University of Vienna; B.A. (history), University of Vienna
What are some of the highlights of your career?
When I studied for my law degree, I competed in the Philip C. Jessup International Law Moot Court Competition, which is a unique event that brings together students interested in public international law from around the world and with backgrounds in different legal cultures and systems. Drafting and presenting persuasive arguments in another language was a big challenge and an important step in my development as a lawyer with an international focus. I have since returned to this competition several times as a judge and I look forward to it every year.
Another highlight for me was my work for the international department of the Austrian Ombudsman Board. This was an entry-level position in which I started after I finished my clerkship and deferred my studies at UVA due to COVID-19. Contrary to my expectations, I was immediately involved in tasks that involved complex legal questions and significant responsibility. The Ombudsman Board monitors the enforcement of a range of human rights treaties in Austria, so a lot of my tasks involved drafting reports to U.N. and regional bodies on the implementation of these international norms in Austria's national law and practice.
Why did you decide to pursue an LL.M.? Why did you choose to study at UVA Law?
Since the curriculum in Vienna was rather rigid, I wanted to pursue an LL.M. to have the freedom to deepen my studies in public international law, but also to learn more about the U.S. Constitution and its history, especially from a comparative perspective. UVA seemed to be a good choice for any of these subjects, and especially for a combination of them. I remember reading a paper about "The Exceptional First Amendment" by Professor Frederick Schauer when I first became interested in how the American Constitution relates to international human rights law. Obviously, this inquiry sparked many questions, some of which I can now ask Professor Schauer in class.
What do you like about your experience at UVA Law so far?
The LL.M.s are overall well integrated in the Law School, and the community of students is very open and friendly.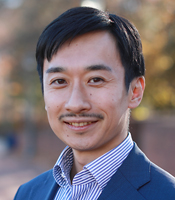 Mizuo Kimiya
Kimiya has worked at TMI Associates, one of the largest law firms in Japan, for more than seven years.
Hometown: Tokyo
Education: B.A. in law, Waseda University, School of Law; J.D., Waseda University, Waseda Law School
What are some of the highlights of your career?
At TMI Associates, I have worked on many domestic and international mergers and acquisitions, venture capital financings and other corporate matters. I also belonged to the autonomous vehicles team and fintech desk. I have published some books and articles on corporate law, legal due diligence, IT law and autonomous vehicles law.
I also worked as a seconded legal counsel at Daiwa Corporate Investment Co. Ltd., Daiwa PI Partners Co. Ltd. and Daiwa Energy & Infrastructure Co. Ltd., which are principal investment firms and venture capital firms, and group companies of Daiwa Securities Group in Japan.
Why did you decide to pursue an LL.M.?
Firstly, I wanted to develop my expertise in VC law and corporate law by learning cutting-edge topics in the United States.
Secondly, when I was working in Japan, I have sometimes felt challenged handling cross-border projects as smoothly and properly as domestic projects due to differences in legal systems, practices and cultures. So I wanted to fill that gap.
Why did you choose to study at UVA Law?
I chose UVA Law mostly from three points: offered classes and good professors, the LL.M. program and the environment.
UVA Law offers a lot of great classes, including VC law and corporate law.
The LL.M. program at UVA is good because we have a relatively small class of 40 to 50 students, and we are not separated from J.D. students.
Charlottesville offers a great learning environment. I am here with my wife and four little kids (ages 1, 2, 3 and 5), so the living environment and safety around the apartment was a really important factor for us.
What do you like about your experience at UVA Law so far?
I definitely love learning at UVA Law and living in Charlottesville. This is exactly what I was looking for!
Regarding the classes, I fulfilled almost every credit with classes in those areas in the fall. Also, the professors — including Darden [School of Business] professors — are offering business-school-style courses like Corporate Strategy by Professor Jim Donovan, which I am taking this fall, and I love this class. In the spring, I will also take the accounting class.
Regarding the LL.M. program, as I mentioned, we are not separated from J.D. students. LL.M. students can take almost every class literally together with J.D. students and can become good friends with them both inside and outside the classes. Almost all the student organizations are open to LL.M. students, and I belong to three. I made friends with a lot of J.D. students, which is exactly what I was hoping for!
Regarding the environment, I and all of my family members love this environment. I am living in an apartment close to the Law School, so I can walk to school every day. UVA provides child care service for faculty and students at the Child Development Center. Two of my kids go there and they love it. We have everything we need within a 10-minute drive. I believe Charlottesville is the best place for those studying abroad with their family.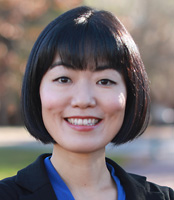 Shoko Uehara
Uehara has served as vice president in the Wholesale Compliance Department of Nomura Securities Co. Ltd., Japan's largest securities and investment banking company.
Hometown: Kurashiki city, Okayama prefecture, Japan
Education: Bachelor of law, University of Tokyo, 2008
What are some of the highlights of your career?
Over the past 13 years, I have worked in the compliance division of Nomura Securities Co. Ltd., the largest investment bank in Japan.
For the last seven years, as a member of the Investment Banking Advisory and Control Room team, where we manage material non-public information within the company, I experienced many challenging roles. For example, I provided legal and compliance advice to investment bankers and sales representatives in terms of insider trading regulations, takeover bid regulations, fair disclosure rules and large shareholding reports rules, etc., on a daily basis. For cross-border deals, I liaised with overseas compliance officers in New York, London, Hong Kong, and Powai, India.
In addition, as project manager, I led a project to integrate old compliance systems into one new innovative platform in order to improve business efficiency and mitigate compliance risks.
Why did you decide to pursue an LL.M.?
I decided to pursue an LL.M. because I would like to learn more about U.S. corporate/business law and securities regulations.
Cross-border deals are increasing, and U.S. law and regulations have significant effects on those in other countries, including Japan, so I would like to have a better understanding of U.S. law and regulations.
I hope to utilize what I learn at UVA Law in assisting clients and maintaining a sound market when I go back to my employer.
Why did you choose to study at UVA Law?
I chose UVA Law because it offers a variety of the courses, taught by outstanding faculty, related to business and financial regulations.
Additionally, I chose UVA Law because it has a smaller number (about 50) of LL.M. students than the other law schools, which means LL.M. students can know each other better and have more opportunities to know and study with J.D. students.
Also, Charlottesville is beautiful, rich in nature, and a great place to live in, so I decided to attend UVA Law.
What do you like about your experience at UVA Law so far?
I really enjoy studying at UVA Law very much.
Before I came here, I thought UVA Law was an ideal place and it turned out to be true, but now I realize the Law School is much more wonderful than I expected.
Every course is interesting, but for example, I am happy to take Corporations (Law and Business) with Professor George Geis.
Professor Geis is passionate and supportive, and I learned a lot from his amazing lectures, lively class discussions and team assignments. I often visited his office hours and he answered all of my questions, which enabled me to deepen my understanding. He also encouraged me to speak up in class, which encouraged me to jump in during class discussions.
Next semester, I look forward to taking Securities Regulations, Mergers and Acquisitions, and Legal Issues in Corporate Finance, in addition to independent research on securities regulations under the supervision of Professor Geis.
Also, I am pleased to study with my classmates from all over the world. They have various backgrounds and expertise. Outside of class, we had study meetings and enjoyed playing softball together. On weekends, I like to go hiking and enjoy picturesque scenery in the mountains.
Founded in 1819, the University of Virginia School of Law is the second-oldest continuously operating law school in the nation. Consistently ranked among the top law schools, Virginia is a world-renowned training ground for distinguished lawyers and public servants, instilling in them a commitment to leadership, integrity and community service.