Professor's New Book Represents Diversity of Global Legal, Political Systems
A new book edited by University of Virginia School of Law professor David S. Law is designed to help scholars and students alike understand constitutional law around the world by conveying the full diversity of the world's legal and political systems.
"Constitutionalism in Context," published by Cambridge University Press, covers legal systems frequently overlooked by comparative constitutional law books, including systems in Asia, the Global South and the Muslim world.
Law was inspired to assemble a constitutional law book that better represented the world's legal and political diversity after teaching at National Taiwan University and Seoul National University.
"One of the things that became obvious is that the materials that people usually use to teach comparative constitutional law don't have much to say about Asia, even though it's half the world's population," Law said. "A focus of this book is exposing people to the full diversity of constitutionalism around the world."
He added that comparative constitutional law books typically emphasize the same dozen or so countries — including Canada, South Africa, Israel, India and parts of Western Europe.
"When you cover these countries, you cover the usual topics like of expression, freedom of religion, with a lot of emphasis on civil and political liberties," he said. "You focus more specifically on liberal constitutional democracies with judicial review. Frankly, that doesn't describe a lot of the world."
The professor noted that about a quarter of the world is Muslim, for example, which leads some countries to experiment with Islamic versions of constitutional law.
Law, an expert on courts and constitutions around the globe and a pioneer in the application of empirical social science methods to the study of legal texts, is one of the most cited law and social science scholars in the U.S. His works have been translated into Japanese, Chinese, Spanish and Romanian.
The new book doesn't shy away from discussing jurisdictions that may be controversial.
"This book makes a point of covering problematic jurisdictions like mainland China and Iran," he added, "not because the book is implying that we should copy them or that these are systems that we should emulate — far from it. But rather it does no one any good if we simply do not understand these systems. And so far, the field has essentially ignored these jurisdictions, even though they're tremendously important."
Pointing to Taiwan and South Korea's proximity to mainland China and North Korea, he noted, "We're [currently] not giving students the tools even to understand what's going on in neighboring countries that pose an existential threat to their own countries."
Law highlighted several features offered by the unique design of the book, which combines the depth and rigor of a research handbook with teaching resources, such as primary material excerpts and an online supplement.
"The chapters are modular, meaning that each chapter covers both a topic and a jurisdiction then does a case study of the topic in the jurisdiction," he said. "I think it's the first book to do this. And what this means is that instead of having a book that's organized by topic or by jurisdiction, it's organized both ways at the same time."
Law noted that scholarly analysis is particularly helpful since many countries have much shorter judicial opinions, unlike common law jurisdictions such as the United States, where judges offer lengthy explanations of the law.
"In a lot of countries, for instance, countries in the civil law tradition, judicial opinions are very short. And so if you want to understand what's going on, you really need scholarly commentary. And in other countries, even some liberal democracies like the Netherlands or most of Scandinavia, there's no judicial review at all."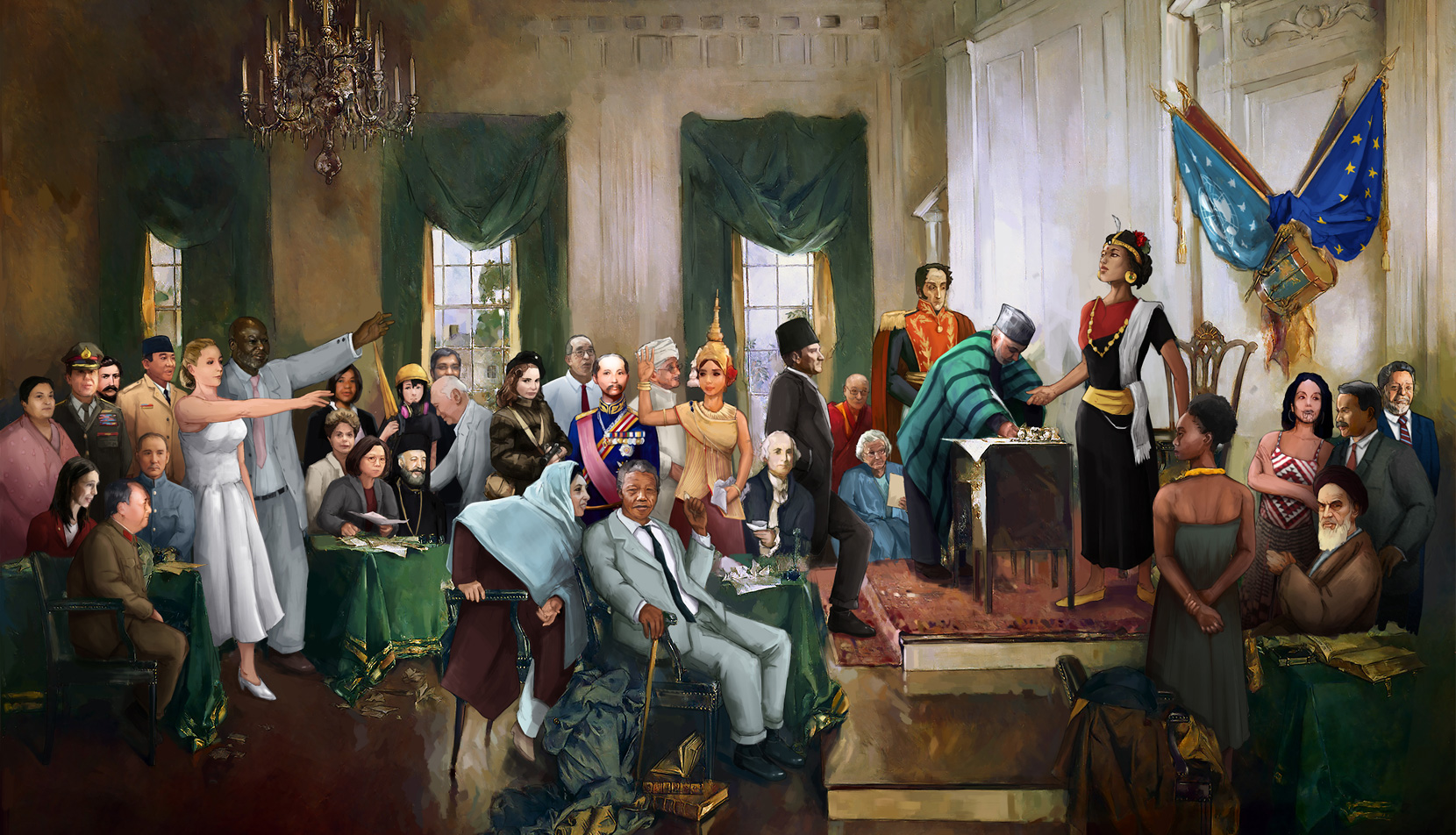 For the cover of his book, Law commissioned an original painting from an artist based in Islamabad who wishes to be credited as "Ibraheem S." Law said the concept was to show a modern take on an 18th-century gathering in the style of Howard Chandler Christy's iconic "Scene at the Signing of the Constitution of the United States" (1940). In his preface, Law notes, "By design, all but one of the original figures have been replaced with figures — some historical, others not — representing all of the jurisdictions covered in this book. The result is an Easter egg hunt for comparative constitutional law aficionados."
Founded in 1819, the University of Virginia School of Law is the second-oldest continuously operating law school in the nation. Consistently ranked among the top law schools, Virginia is a world-renowned training ground for distinguished lawyers and public servants, instilling in them a commitment to leadership, integrity and community service.