Members of the University of Virginia School of Law community have recently been singled out for excellence. Among the accolades, Professor Saikrishna Prakash was part of an American Law Institute project exploring reforms to the Electoral Count Act.
The group, co-chaired by New York University law professor Bob Bauer '76, unanimously agreed that Congress should reform the ECA, passed in 1887, in time for the 2024 election. The project proposed principles "in an effort to contribute to a constitutionally sound bipartisan consensus in Congress." Among the suggestions were limiting objections to electoral votes grounded in explicit constitutional requirements; moving the Electoral College meeting date to account for recounts and legal challenges; and affirming that states cannot disregard votes or electors contrary to laws in place on Election Day.
"This group shares our commitment to focus on correcting the deep and serious structural problems in our system of counting and certifying ballots for President and Vice President, and we are pleased to note that many of the areas the American Law Institute members have selected parallel our group's efforts," U.S. Sens. Susan Collins and Joe Manchin said in a joint statement.
Prakash is the James Monroe Distinguished Professor of Law and Albert Clark Tate, Jr., Professor of Law.
Riley Joins Miller Center Initiative
Professor Margaret Foster Riley is co-directing the new Health Care Policy Initiative at UVA's Miller Center with presidential history professor Guian McKee. The initiative focuses on domestic health policy and global health security. Riley, McKee and J. Stephen Morrison, senior vice president at the Center for Strategic and International Studies, discussed the rapidly shifting public health approach to the pandemic at the initiative's debut event, "The Fight Against COVID: Has the U.S. Entered a New Normal?," on March 30.
Riley is the Dorothy Danforth Compton Professor at the Miller Center, Professor of Public Health Sciences at the School of Medicine, Professor of Public Policy at the Batten School of Leadership and Public Policy, and director of the Law School's Animal Law Program.
Journal Taps Cahn as Editor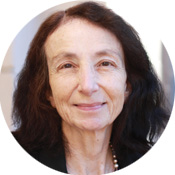 The American College of Trust and Estate Counsel named Professor Naomi Cahn editor of the ACTEC Law Journal on March 29. According to a press release, the ACTEC, comprised of 2,400 lawyers and law professors worldwide, strives for the improvement and reform of probate, trust and tax laws, and procedures and professional practice standards, and offers technical comments with regard to legislation and regulations.
Cahn, co-director of the Law School's Family Law Center, is the Justice Anthony M. Kennedy Distinguished Professor of Law and Nancy L. Buc '69 Research Professor in Democracy and Equity.
Team Reaches Trial Advocacy Finals
Second-year students Natalia Heguaburo, Daniel Liu, Katrina Meyer and Daniel Richardson placed second in the eighth annual Estrella Trial Advocacy Competition, which culminated April 3. Richardson said this was the furthest a UVA team has ever advanced in the 14-team competition. The tournament, co-hosted by George Washington University and Estrella law firm, was held in the U.S. District Court for the District of Puerto Rico. The case was a fictional civil wrongful death and deceptive trade practice action.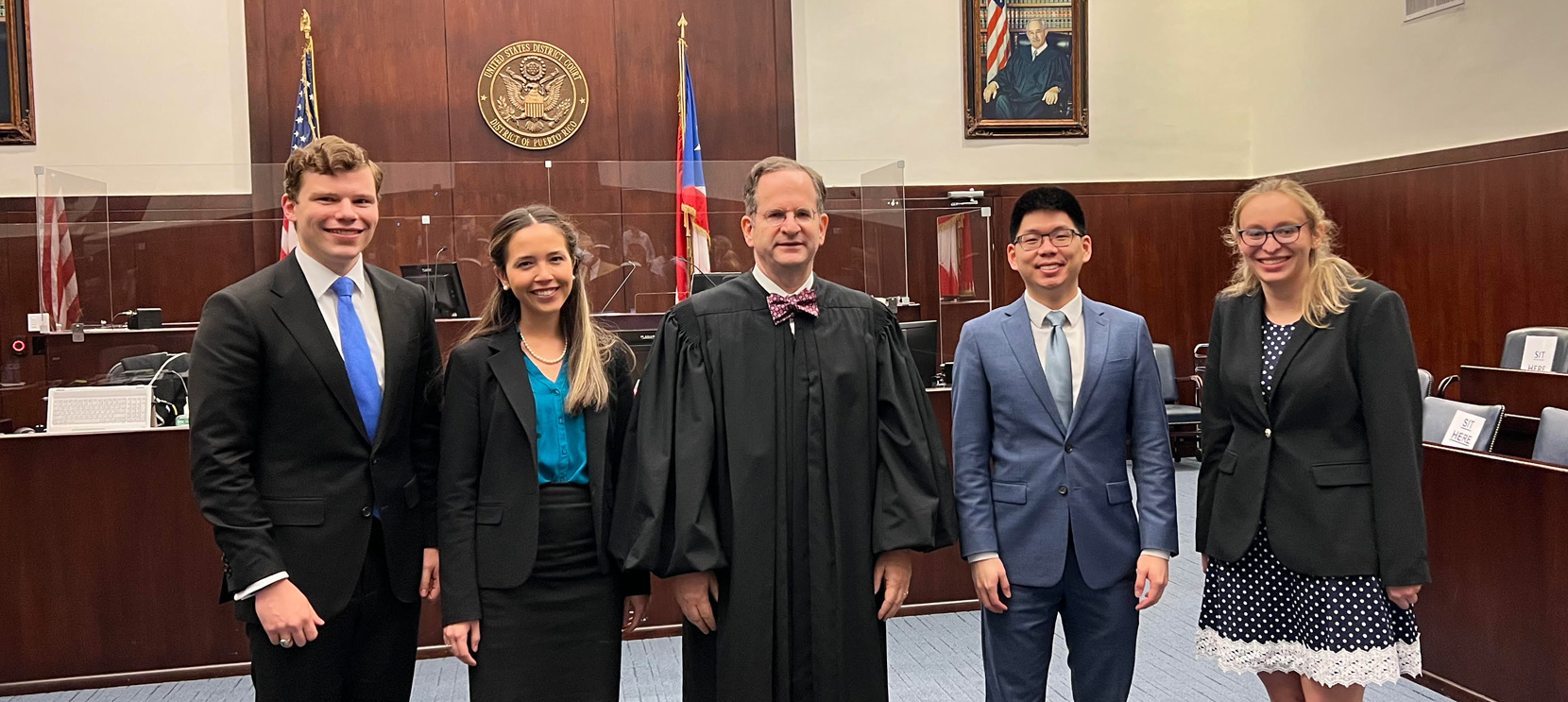 Daniel Richardson, Natalia Heguaburo, Daniel Liu and Katrina Meyer pose with Chief Judge Raúl Manuel Arias-Marxuach, who presided over the final round. Courtesy photo
1L Breaks Cavalier Record
Ashley Anumba '24 broke a UVA record in the discus with her throw of 56.50 meters in the track and field outdoor season opener March 19, topping the previous record set at 56.06 meters by Billie-Jo Grant in 2008. Anumba's personal best is 57.36 meters. She is competing for the Cavaliers during her two final years of collegiate eligibility and hopes to compete at the Paris Olympics in 2024.
Thoughts from Ashley Anumba after breaking the Virginia discus record #GoHoos pic.twitter.com/nZFteiN5FZ

— Virginia Track & Field and Cross Country (@UVATFCC) March 19, 2022
Common Law Grounds Branches Out
Common Law Grounds, a nonpartisan student organization founded in 2016 that brings together students and faculty across the ideological spectrum for conversations about controversial topics, worked with students to help found a chapter at Albany Law School, the first outside of UVA. "It's been part of our long-term plan to expand to other law schools, and we're thrilled at how things have turned out," President Connor Kurtz '22 said. The UVA group recently held a discussion on the right balance between criminal justice reform and public safety.
1L Named Diversity Fellow
Zain Imam '24 will work as a summer associate at Baker Bott's Houston office as a 2022 Diversity Fellow. The fellowship recipients, announced March 30, were selected by a panel comprised of members of the firm's Diversity & Inclusion Committee. In addition to their academic achievements, fellows have demonstrated strong leadership attributes and a commitment to promoting diversity in the legal profession, according to the firm.
Founded in 1819, the University of Virginia School of Law is the second-oldest continuously operating law school in the nation. Consistently ranked among the top law schools, Virginia is a world-renowned training ground for distinguished lawyers and public servants, instilling in them a commitment to leadership, integrity and community service.