Farewell to Linda Blacke, Longtime Head of UVA Law Café
Forty-one years is a long time to spend at any one place these days, but retiring University of Virginia School of Law café manager Linda Blacke has loved almost every minute of it — and can recall much of it.
On Monday, she was feted by staff at a goodbye party in Purcell Garden, with remarks from Dean Risa Goluboff and Stephen Parr, senior associate dean and chief operating officer.
Goluboff said the dining hall is often the first place alumni want to visit when they come back to UVA Law, thanks to the "tone of joy and welcome and warmth" that Blacke has fostered in her 13 years there.
"That's the center of the life of the Law School. It's where people start their days, and where they end their day. That's where people meet; it's where people are nourished," Goluboff said. "It's where people talk and get together, and you and your whole team just set the tone there."
"It's the human place, and you have given us that," Goluboff added.
To set the stage for each day at the Sidley Austin Café, Blacke usually beat the sun to work at 5:30 a.m. She finished at 5 p.m., and often worked games and special events on weekends. Although this Saturday's reunion festivities are her last official task, with her near-perfect attendance record, her banked paid time off will keep her formally employed by UVA through September.
Blacke started her University career in Newcomb Hall's dining services in 1981, but the more raucous memories involved supervising a bar and lounge in The Pav — a bar that has long since been replaced by Subway, Chick-fil-A and other nonalcoholic food court fare.
But The Pav was, apparently, the place to be in those days.
"We had open mic nights for the kids to get up and sing, and we had live entertainment," Blacke recalled. "I used to bounce the kids out if they got too drunk, because I could run across the tabletops and bounce them out of there."
Blacke once packed 3,000 students into The Pav for a gig by a fairly popular jazz, Motown and hip-hop traveling group called The Voltage Brothers.
She's discreet enough not to write the book she says she could.
Those days, Blacke often worked from 3 in the afternoons to 3 in the morning, and she notes with some pride that she could flip five or six plates into a dishwasher at once. She wasn't afraid to use her own cache to help improve working conditions for her colleagues, from correcting racist language and behavior in the 1980s and 1990s to lobbying UVA for salary and benefits for other dining staff.
As she has aged — quite gracefully — she's moved to quieter and more serene dining settings. From The Pav she moved on to open an athletic dining facility in Bryant Hall. After Bryant, she spent some time back at Newcomb, The Pav and the Observatory Hill Dining Room before joining the Law School in 2009.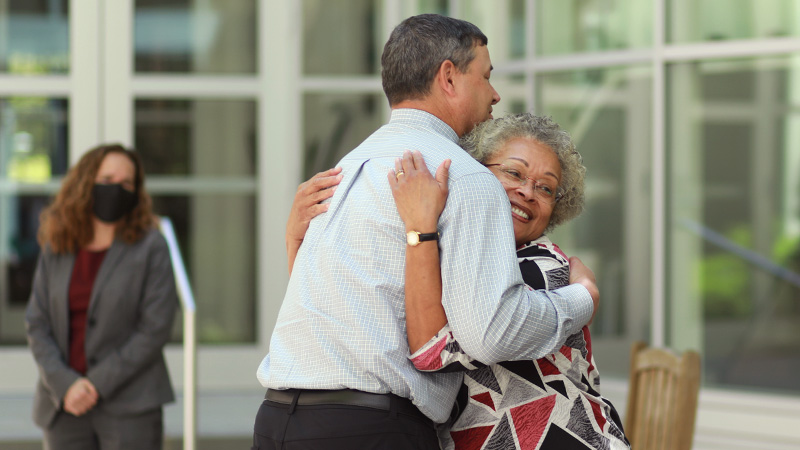 At Blacke's retirement gathering, Blacke hugs Senior Assistant Dean Troy Dunaway as Dean Risa Goluboff looks on.
"This is my last stop, and it's been my best stop," she laughed. "It's calm over here."
Blacke said working in the hospitality industry takes a willingness to work hard.
"You have to want to do this," she said. "I like serving and I want to make people feel comfortable, and if they want something, I'll go and get it."
What has set Blacke apart is that the "something" could truly be anything, from an allergy-friendly food to a bag of vegetables from her prolific home garden.
Cornering her at her retirement party, deans ribbed her about her hospitality.
"I thought I was special, but it turns out you treat everybody that way," teased Troy Dunaway, senior assistant dean for business and finance.
For Blacke's own staff, almost no request was off-limits. Using her own money, she kept them fueled with pancakes, Klondike bars and other ice cream treats, and she brought slabs of T-bone steaks to celebrate staff appreciation days, according to Amanda "Mandy" Brock, the sunny face at the Law School's coffee station.
Doing some quick calculations, Brock noted that Blacke has been at UVA longer than Brock has been alive.
"She's been like a second mother to me; I'm just lost for words right now," Brock said. "She really is the sweetest person you'll ever meet on this entire Earth. She would literally give you the clothes off her own back."
Fortunately for all those who take meals in Scott Commons, Blacke's kindness is contagious. And she plans to "leave a bible on my desk with everything that I do and what they need to do," she said. "You can't just come in here with anybody, because these folks are very special to me — and I have spoiled them. I have."
After she retires on Saturday, Blacke plans to keep those vegetables growing, and to stay active in her Louisa County community, perhaps by packing meals at the food bank or visiting with elderly neighbors and patients.
As she accepted a small parting gift, a framed and signed picture of the Law School, she made a promise that is certainly mutual: "I will never forget you all."
Founded in 1819, the University of Virginia School of Law is the second-oldest continuously operating law school in the nation. Consistently ranked among the top law schools, Virginia is a world-renowned training ground for distinguished lawyers and public servants, instilling in them a commitment to leadership, integrity and community service.
Associate Director of Communications and Senior Writer