In Memoriam: David H. Ibbeken '71, Longtime Leader of UVA Law School Foundation
David H. Ibbeken '71, who led the Law School Foundation for 28 years and continued to work there as president emeritus, died Monday after a battle with cancer. He was 80.
Ibbeken retired as president and CEO in 2007, but in all spent more than 40 years working at the foundation.
"In his many years of service, Dave turned the Law School Foundation into a professional fundraising effort. We are still building on his legacy in its remarkable success today," Dean Risa Goluboff said. "He also led with a gentle spirit that touched colleagues and the many other people he connected with over the years. I am so grateful for his friendship and leadership. He was one of a kind, and he will be missed."
Under Ibbeken's watch as president, the foundation's endowment grew from $5 million in 1979 to more than $300 million when he stepped down. Begun as a trust in 1952 and incorporated in 1968, the foundation receives and manages private gifts from alumni and friends for the benefit of the Law School, providing more than $30 million each year to the school's operating budget.
Raised in Haddon Heights, New Jersey, Ibbeken played on the football team as a student at Princeton. After college he served as a lieutenant in the Army Field Artillery during two years of active duty and later as a captain in the New Jersey National Guard. He coached football and taught at Mercersburg Academy in Pennsylvania, and married and started a family with his childhood sweetheart, Sunny, before turning to law school.
"I think my thought was that a law degree could be helpful in any direction you would go. And that in the end, it has proven to be so," he said in an interview in August for a story marking his 80th birthday for UVA Lawyer.
To help make ends meet in law school, he worked as a student assistant for Admissions Associate Dean Al Turnbull '62 and as a research assistant for Professor Mason Willrich.
"I developed friendships in law school that go on today and are almost as strong as they were back then," he said in the interview. 
After law school he worked as general counsel for a title insurance company while also teaching a night course to real estate agents at Rutgers University. Then, in 1979, UVA Law Dean Emerson Spies made a job offer that appealed to all of Ibbeken's interests — leading the still-new Law School Foundation, teaching real estate law (which he would do for 13 years), and helping the Admissions Office.
At the foundation, Ibbeken built a new reunions program and volunteer structure by convincing the foundation's Board of Trustees that staff, rather than alumni volunteers, should be primarily responsible for fundraising and the affairs of the Alumni Association.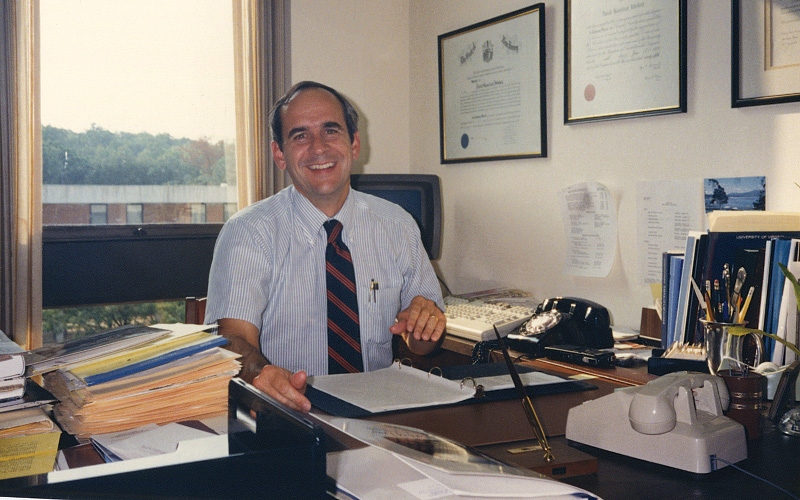 Ibbeken sits at his desk during his time as president of the Law School Foundation. Courtesy UVA Law Archives/Law School Foundation
Ibbeken was particularly proud of the capital campaign in the 1990s that exceeded expectations. The initial campaign goal was $50 million, but the foundation raised $202 million — more than any other law school had raised at the time.
"For a short period of time, and I'm guessing that this could be the highlight of my career, we stood above all the other law schools," Ibbeken said in the UVA Lawyer interview.
In 2002, his Law School classmates gathered gifts and pledges to establish the David H. Ibbeken '71 Research Professorship, which was announced at the class's 30th reunion as a surprise to Ibbeken. The gesture was meant to recognize his role in the classroom from 1980-1993 in addition to his work at the foundation.
Ibbeken is co-founder and past president of the Association of American Law Schools' Section on Institutional Advancement. He is a former member of the Planning Committee for the American Bar Association Section on Legal Education, Law School Development Conferences.
He received the J. William Elwin, Jr. Award, given by the Development Committee of the ABA Section on Legal Education to recognize outstanding lifetime achievement in law school development, in 2005. In celebrating Ibbeken, the committee said he is "known for his humility, lack of ego, and gentlemanly comportment" and is "a consummate professional [who] guided the Law School through the largest, completed Capital Campaign in the history of legal education thereby setting a standard for all."
In the UVA Lawyer interview, Ibbeken said when he looked back on his work, he most remembered the people he worked with and the graduates with whom he engaged.
"It gives me great pleasure to reach out to alumni and to be in periodic contact with them, either in person or through email or by phone," Ibbeken said. "My work revolves around building and maintaining relationships." 
Ibbeken took care to pass on his knowledge to others, particularly foundation staff. Luis Alvarez Jr. '88, who succeeded Ibbeken as president and CEO, said, "Dave set the tone for how we do business. Service, integrity and civility were Dave's values, and they remain ours."
Ibbeken is survived by his wife, Sunny, and their children, G. David Ibbeken '00 and Suzanne E. Ibbeken, among other family and friends. A service will be held at the Monticello Gardens cemetery on Friday, July 15 at 10:30 a.m., followed by a celebration of life at Farmington from noon-2 p.m. The event is open to the public.  
Founded in 1819, the University of Virginia School of Law is the second-oldest continuously operating law school in the nation. Consistently ranked among the top law schools, Virginia is a world-renowned training ground for distinguished lawyers and public servants, instilling in them a commitment to leadership, integrity and community service.