Accolades: UVA Law No. 2 in Employment Outcomes
Faculty, Student Scholarship Recognized
The University of Virginia was ranked No. 2 in Above the Law's annual law school rankings, among other accolades for the UVA Law community.
The ATL rankings, which focus on employment outcomes, draw from the latest American Bar Association employment data for the Class of 2021. The online blog also factored in law school debt and costs, and regional cost of living adjustments. Duke University School of Law topped the list.
At nine months after graduation, when the ABA collects its data, 98.1% of UVA Law's 2021 graduates were employed, earning a median salary of $210,000.
Rhodes Trust Recognizes Howard
The Rhodes Trust, which bestows the Rhodes Scholarships, in June presented Professor A. E. Dick Howard '61 with the George Parkin Service Award for outstanding contributions by members of the Rhodes Scholar community. In conferring the award, the trust noted that Howard served as Virginia secretary of the Rhodes Trust for 29 years and has been a member of the board of directors of the American Association of Rhodes Scholars for 40 years.
Howard is widely acknowledged as an expert in the fields of constitutional law, comparative constitutionalism and the U.S. Supreme Court. He is the Warner-Booker Distinguished Professor of International Law. He was a Rhodes Scholar out of the University of Richmond. During his Rhodes time at Oxford University, he studied philosophy, politics and economics.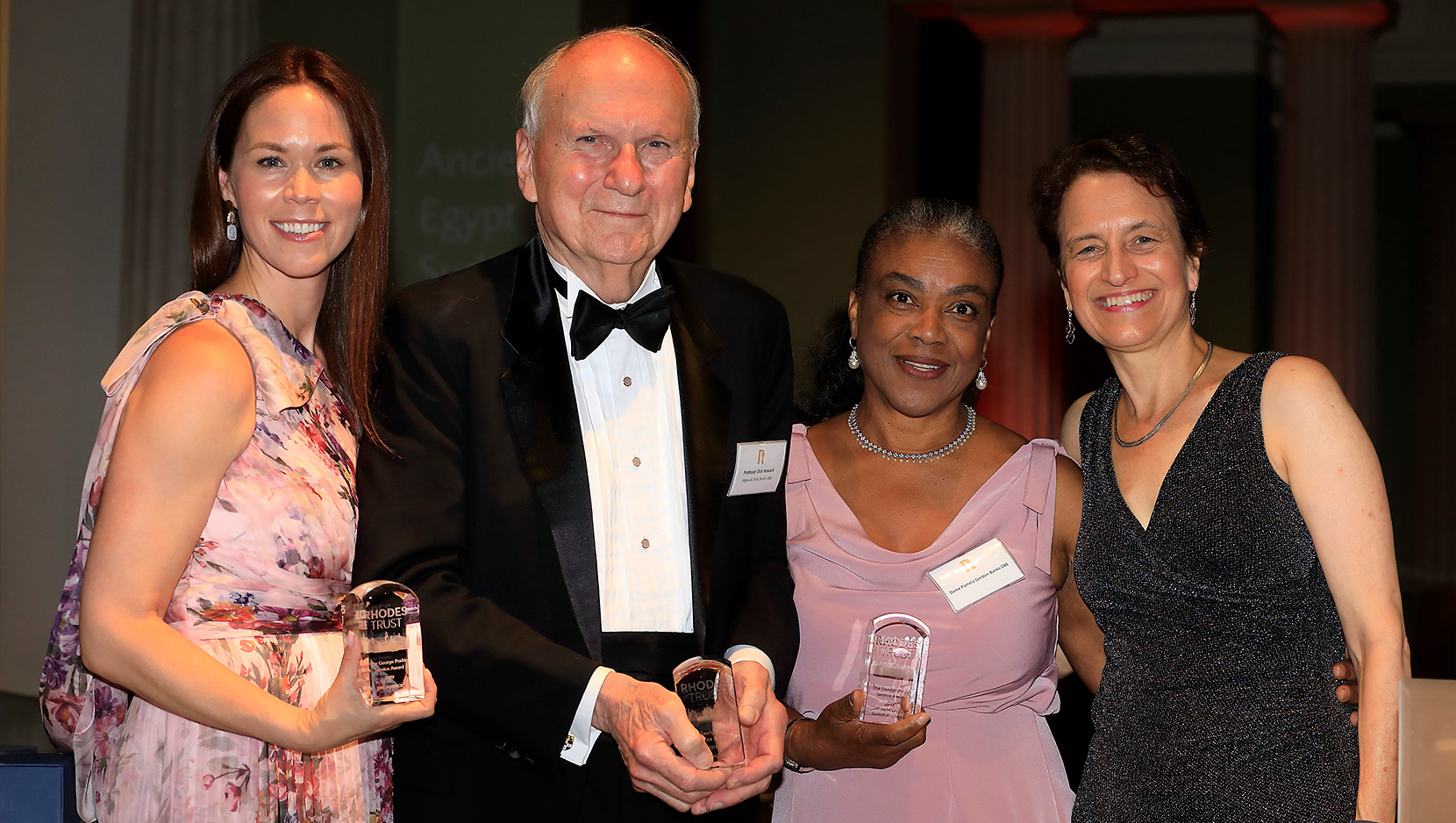 A. E. Dick Howard '61 was presented the George Parkin Service Award in June. He is pictured with, from left, Ericka Mirick, former Rhodes Trust U.S. development director; former Bermudian Premier Dame Pamela Banks; and Rhodes Trust CEO Elizabeth Kiss, warden of Rhodes House, Oxford University. Courtesy photo
Nicoletti Wins Award for Article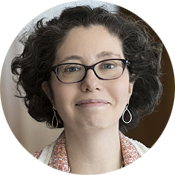 Professor Cynthia Nicoletti, a legal historian, won the George and Ann Richards Prize for the best article published in The Journal of the Civil War Era in 2021, the journal announced July 19. Her essay, "William Henry Trescot: Pardon Broker," appeared in the December issue. She details the efforts of Trescot, "executive agent" for South Carolina, to secure pardons in order to facilitate the restoration of land the federal government had seized from low country planters during the war.
Nicoletti has received numerous awards and fellowships, including the William Nelson Cromwell Prize for the best dissertation in legal history, awarded by the American Society for Legal History in 2011. Her book, "Secession on Trial: The Treason Prosecution of Jefferson Davis," won the 2018 Cromwell Book Prize. In 2020, she won the Supreme Court Historical Society's Hughes-Gossett Award for Best Journal Article for "Chief Justice Salmon P. Chase and the Permanency of the Union," published in the Journal of Supreme Court History.
Citron Joins Spotify Council
Professor Danielle Citron will help Spotify improve policies and products while respecting creator expression as a founding member of the media services provider's Safety Advisory Council. "Our council members will advise our teams in key areas like policy and safety-feature development as well as guide our approach to equity, impact and academic research," the company said in a statement June 13.
Citron was also named a 2022 Fastcase 50 award honoree for her advocacy and innovation in cyberlaw on July 12.
Citron, director of the school's LawTech Center, writes and teaches about privacy, free expression and civil rights. Her next book, to be published this fall, is "The Fight for Privacy: Protecting Dignity, Identity, and Love in the Digital Age." She is the Jefferson Scholars Foundation Schenck Distinguished Professor in Law, and the Caddell and Chapman Professor of Law.
So honored!! Thanks for including me. @UVALaw @UVALawTech https://t.co/puypcIn3IM

— Danielle Citron (@daniellecitron) July 12, 2022
Paper by Gilbert, Alums Honored
The International Society of Public Law recognized a paper co-authored by Vice Dean Michael Gilbert, Mauricio Guim S.J.D. '18 and Michael Weisbuch '19. "Constitutional Locks," which analyzes forced waiting periods for constitutional amendments worldwide, received a special mention prize.
Gilbert is co-author of the forthcoming book "Public Law and Economics" and a member of the Democracy Initiative's Corruption Lab for Ethics, Accountability, and the Rule of Law. He is the Martha Lubin Karsh and Bruce A. Karsh Bicentennial Professor of Law.
Many thanks @ICON__S for this honor! https://t.co/uxk7ELkdKC

— Michael Gilbert (@profmikegilbert) July 11, 2022
Ahdout, Stephan Testify Before Congress
Two faculty members recently testified at congressional hearings. Professor Payvand Ahdout spoke June 9 to the House Judiciary Committee about how lawmakers can abrogate state sovereign immunity in the context of civil rights litigation. Professor Paul B. Stephan '77 discussed aiding Ukraine through forfeiture of Russian oligarchs' assets before the Senate Judiciary Committee on July 19.
Ahdout, who won The Yale Law Journal's inaugural Emerging Scholar of the Year Award in March, studies modern uses of judicial power. Stephan has served as counselor on international law in the U.S. State Department and as special counsel to the general counsel in the U.S. Department of Defense. He is the John C. Jeffries, Jr., Distinguished Professor of Law and David H. Ibbeken '71 Research Professor of Law.
Law School Contributes to Jim Crow Project
Arthur J. Morris Law Library director Amy Wharton and Professor Andrew Block are part of a 16-month Mellon Foundation-funded UVA Library project that will create a legal text collection identifying Jim Crow language in Virginia laws from 1865-1968. Wharton is co-principal investigator for the project, "Modeling a Racial Caste System: Algorithmic Exposure of Virginia's Jim Crow Laws."
Block is director of the State and Local Government Law Clinic, which contributed to reports in 2021 and 2022 recommending policy changes to reduce racial inequity in Virginia.
2L Named All-American in Discus
Ashley Anumba '24 earned second team All-American honors in the discus on June 11 with the Virginia women's track and field program. Anumba placed 15th overall with a mark of 52.24 meters to earn second team All-American honors for the first time in her career. She is the fourth female Cavalier to record All-American status in the discus and holds the UVA discus record, with 57.53 meters.
Ashley Anumba's season concludes with second team All-American honors in the discus

Anumba becomes just the fourth female Cavalier to achieve All-American status in the event#GoHoospic.twitter.com/ULBHPclTew

— Virginia Track & Field and Cross Country (@UVATFCC) June 11, 2022
3Ls Place in Writing Competitions
Elana Oser '23 won second place in the American Indian Law Review National Writing Competition for her paper "Compelling the Federal Government to Preserve American Indian Treaty Reserved Natural Resources Threatened by Climate Change." Julia Eger '23 won second place in the inaugural Virginia State Bar Family Law Section Writing Competition for her paper "Improving Outcomes for System-Involved Children by Facilitating Kinship Placements."
Founded in 1819, the University of Virginia School of Law is the second-oldest continuously operating law school in the nation. Consistently ranked among the top law schools, Virginia is a world-renowned training ground for distinguished lawyers and public servants, instilling in them a commitment to leadership, integrity and community service.