Clinic Wins Decision in Novel Workplace Discrimination Case
Students' Appeal Sets a New Precedent
University of Virginia Law School students in the Appellate Litigation Clinic had the challenge of tackling a seemingly unprecedented set of facts in a Title VII workplace harassment case — and won a decision Aug. 30 in the U.S. Court of Appeals for the Fourth Circuit after more than two years of work.
The case, Chapman v. Oakland Living Center, was particularly interesting to Professor Scott Ballenger '96, who leads the clinic, because it was not a typical case of employer harassment.
"It's probably now the leading precedent nationwide about how you analyze the situation when a supervisor's kid does something bad in the workplace," Ballenger said.
While Tonya Chapman was an employee at the Oakland Living Center, a nursing home in Rutherford, North Carolina, she claimed to have experienced several forms of harassment and discrimination at work. The case specifically highlights two instances where the 6-year-old child of one of her supervisors used racial slurs when addressing her. In the first incident the child said that her father had used a racially derogatory slur while complaining that she had not come to work. The second time the child taunted her repeatedly with the word. After the supervisor discovered what the child had said to Chapman, he ordered the child to apologize; when the child failed to do so, he simply walked away.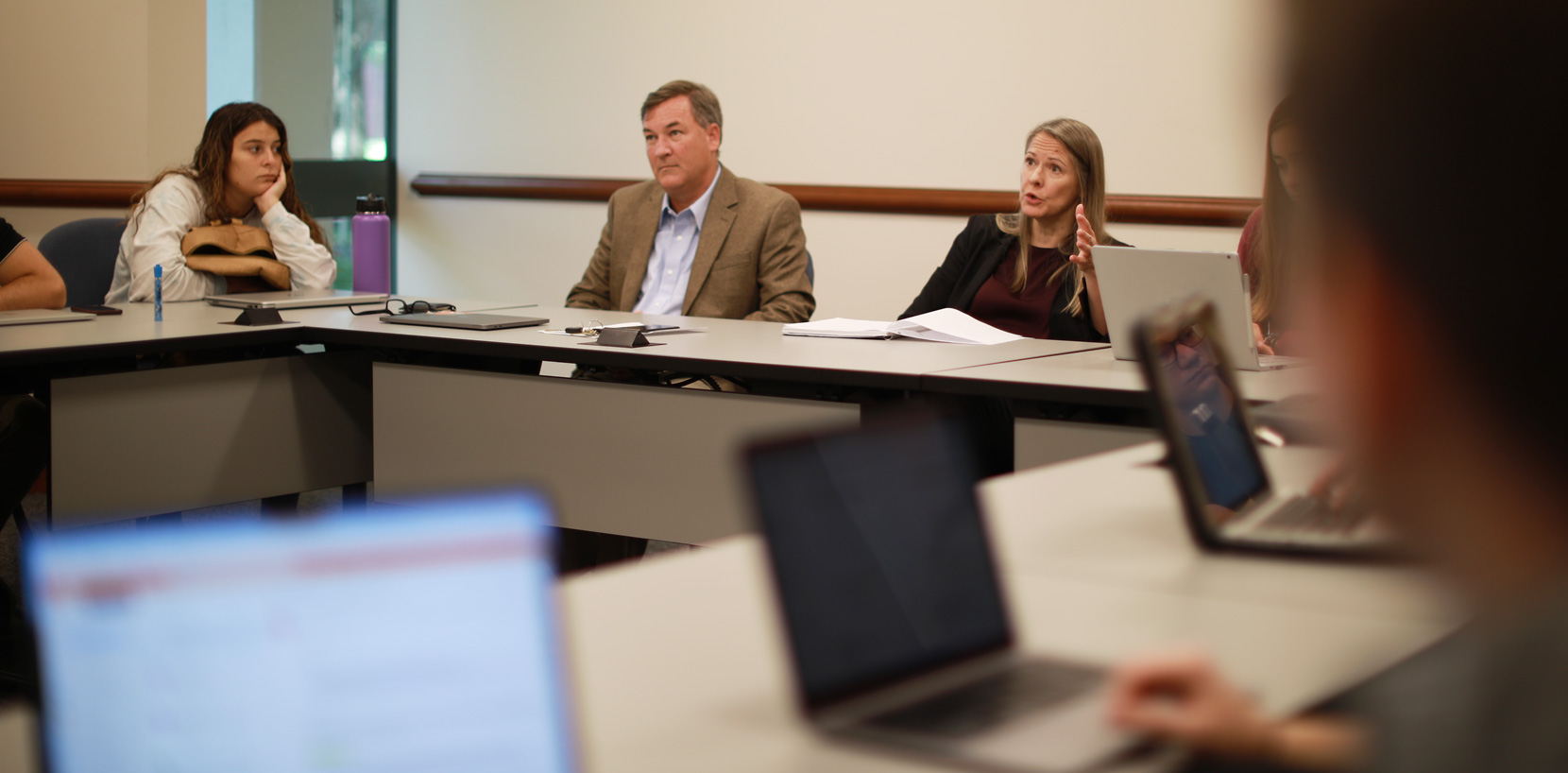 Ballenger is teaching the course this year with Cate Stetson '94, co-director of Hogan Lovells' appellate practice group.
The child said the slur again and she resigned immediately, believing the work environment would not improve, Ballenger said.
The clinic appealed a decision from the lower court, which had granted summary judgment in favor of the nursing home without a jury trial.
This was a particularly gray area with Title VII, Ballenger said, because it was not the supervisor directing slurs at Chapman, but his child. The child was also the grandchild of the nursing home's owner.
"Title VII law makes employers strictly liable for harassment by supervisors, but only liable in negligence for harassment by co-workers or customers," Ballenger said.
The challenge for the clinic, he explained, was that the minor child of a supervisor has attributes of both categories. So, the clinic's opening brief argued the case from multiple angles.
"If a supervisor left a tape recorder on his desk blaring out racial insults, we would have no difficulty recognizing that as supervisor harassment," Ballenger said. The father also exploited his role as a supervisor to force Chapman to supervise the child.
"But even if you just think of the child like a customer, the employer is still responsible if the supervisor did not take reasonable steps to prevent and correct the harassment," Ballenger explained. "Treating this incident solely as a parenting issue, rather than as a serious workplace incident that needed to be fixed with Ms. Chapman, was not reasonable."
After the students who had worked on the brief graduated, it became then-first-year student Jacob Smith's responsibility to draft Chapman's reply brief. Smith, now a third-year enrolled in the Appellate Litigation Clinic, was Ballenger's research assistant over the summer of 2021.
Smith said there was little useful precedent for Chapman's case. There had never been a federal case where a supervisor was held liable for their child's harassment of an employee.
"It is a little bit discouraging when the case law doesn't really put the case in the bucket you want it to be in," Smith said, but as he learned more about the facts of the case, he became excited to work on these novel issues.
As a 3L, Kimberly Veklerov '22 said she jumped at the opportunity to help argue the case, her first in court. After months of researching and pacing back and forth in her room while practicing, Veklerov and classmate Gregory Eng '22, who handled the rebuttal argument, stepped into the Fourth Circuit courtroom in Richmond, Virginia, on Dec. 9.
Chapman was one of the first cases to be argued in person since the COVID-19 pandemic began — and a moment Veklerov had been waiting for. Leading up to the court date, she had practiced her opening argument on countless peers, professors and friends, and used their feedback to prepare for questions from the three-judge panel.
But the first question she received was not one she had practiced; instead, the judge compared the case to an older federal anti-discrimination law. She took a breath and thought back to her employment discrimination law class with Professor George Rutherglen — and found her answer.
"You can't always predict what issues judges are going to be interested in," she said. "You have to be able to improvise and think on your feet."
Veklerov later felt a wave of relief as she walked out of the courtroom. She had just presented an opening argument as a law student and was humbly confident their argument would prevail.
So, 10 months after walking out of court, she was happy — but not shocked — when she saw the written opinion granting the clinic's request that Chapman's case be sent back to the District Court for a full trial.
"It wasn't a total surprise because I thought based on the judges' questions that they understood our argument and they were very attuned to all the issues," she said. "I was really happy to see how thoroughly the opinion grappled with all of the issues and explained the factual predicate for its holdings."
Smith said he was glad to see his work defending Chapman's claims pay off since there was no precedent to reference.
"It was by no means a clear victory or a clear mistake the court had to correct [on appeal]," he said. "I thought that was a real accomplishment."
Before joining UVA Law's clinical programs, Ballenger previously was a partner in Latham & Watkins' Supreme Court and appellate practice and worked as senior counsel in the Department of Justice. He said that he did not have an opportunity to argue before a court of appeals until seven years after graduation.
Not only did his students have an opportunity that few young lawyers will ever get, but it was an interesting one, to boot. "One thing that has been sort of a surprise to me," Ballenger said, "is that the cases that we get in the clinic are every bit as complicated and conceptually interesting as anything I did for 20 years representing corporate clients."
Founded in 1819, the University of Virginia School of Law is the second-oldest continuously operating law school in the nation. Consistently ranked among the top law schools, Virginia is a world-renowned training ground for distinguished lawyers and public servants, instilling in them a commitment to leadership, integrity and community service.