Each year, accomplished lawyers from around the world join the University of Virginia School of Law's Graduate Studies Program to obtain an American legal education and advance their careers in their home countries or pursue a career in the United States.
This year, a total of 40 students from nine countries enrolled in the Law School's master of laws, or LL.M., program. After earning an LL.M. in the United States, internationally educated attorneys may become eligible to take the bar exam in some U.S. states. In addition to attorneys from abroad, the Graduate Studies Program also welcomes U.S. military lawyers who aim to specialize in an area of law for their careers in various branches of the Judge Advocate General Corps. Attorneys who already have a LL.M. join the program to pursue a doctor of juridical science, or S.J.D., which opens up opportunities to work in academia and research.
By maintaining a small and highly selective program, in which LL.M. students take classes alongside J.D. students, the Law School gives international attorneys the opportunity to fully engage in the school and Charlottesville communities.
Among this year's students are a former Taiwanese police officer and two Brazilian practitioners.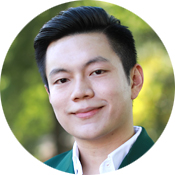 Chuck Huang
Tzu-Chin "Chuck" Huang does not brook the words "can't" or "no."
After a middling high school career, Huang followed his parents' footsteps into law enforcement. He attended Taiwan Police college and worked as a police officer for three years before becoming a lawyer in a country where only 6% to 8% of law graduates pass the bar.
"A lot of people tell me that it is so hard for foreign students to get a job here with an LL.M., so I figure I'm going to try," Huang said, with a playful smile. "What do I have to lose?"
Indeed, Huang walked away from a well-respected and secure career as a police officer when he became disillusioned by being responsible for tamping down students' pro-democracy Sunflower Movement.
"Why do I have to stop them, when they're doing the right thing?" Huang said he asked himself.
When he decided to attend law school at National Taipei University, one of the top law schools in Taiwan, he knew his parents — both police officers themselves — would not approve of the sudden career shift. So he just didn't tell them.
"After six months passed, I let them know," Huang said. "But now they are satisfied with everything."
In fact, when Huang told them he had passed the bar exam, his mother cried tears of joy for days and couldn't sleep. She was that happy.
Before starting the Charles Law Firm, Huang passed Taiwan's elite senior civil service exam — which has a 1% passage rate — and became a senior legal officer for the country's Mainland Affairs Council. His job entailed drafting legislation, which is what piqued his interest in pursuing an LL.M. degree in the U.S. Some parts of the Taiwanese legal system are based on U.S. law, he said.
Huang paused Ph.D. studies in law at National Taipei to come to Virginia, and his colleagues are holding down the legal fort on the island republic in his absence.
By now, Huang's parents know enough to trust their rebel child's career planning. At the moment, his "Plan A" is to seek a job in corporate law, white-collar crime or intellectual property with a major U.S. law firm.
"Plan B," he said, is to return to his private practice and complete his Ph.D. in Taiwan.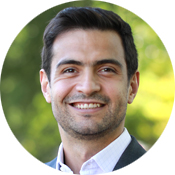 Matheus Cruz
Matheus Cruz is taking a two-year hiatus from Pinheiro Neto Advogados, one of the largest law firms in Brazil, to pursue an LL.M. degree and gain work experience in the United States.
With seven years of law practice experience advising Brazilian and foreign banks, financial institutions and fintechs in structuring of products, project finance, mergers and acquisitions, and other regulation-related issues, Cruz plans to join a New York law firm for a year before returning to Pinheiro Neto, where he is an associate with the financial institutions group.
An LL.M. from an elite American law school is virtually a requirement to continue the career path at Pinheiro Neto, Cruz said, and one of the seven partners he works with in the firm's financial institutions group earned his LL.M. at UVA Law.
After visiting Charlottesville, New York and Chicago, he knew he'd found the right program for him at UVA.
"I'm in love with Charlottesville," he said. "The city I live in, São Paulo, is more a New York-style city — everyone minds their own business. Then I got here, and everyone cares about you."
Cruz is concentrating on banking and corporate courses to complement his banking and fintech career. The firm requires English-language skills and an American LL.M. because 70% of its clients are American companies looking to invest in Brazil to capitalize on its favorable market environment and high interest rates, he said.
He learned English and U.S. history when he attended an American school in Mexico for eight years as a child, and he also speaks some German. His law degree is from Pontifícia Universidade Católica de São Paulo, one of the top law schools in the country.
Cruz is the first lawyer in his family, and fell in love with banking when he realized that his fintech work was helping create low-cost accessible banking opportunities for a segment of the population that has until now been unbanked.
"Look at all these banked people and how their lives are changing because of foreign investment — and that's what we do," Cruz said. "That's what I really like about working long hours."
When he's not working late into the night, Cruz enjoys playing basketball and the São Paulo nightlife.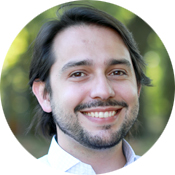 Augusto Nicolau
Like Cruz, LL.M. student Augusto Nicolau attended a top law school in Brazil; in their friendly rivalry, they agree to disagree on which is better.
However, Nicolau, who graduated from the University of São Paulo, could be a client Cruz might like to partner with someday, as Nicolau has built his nine-year career working in financial institutions and is now the vice president and assistant general counsel for JPMorgan Chase & Co.
Before joining JPMorgan, he worked six years for Itaú BBA, Latin America's largest corporate and investment bank, where he structured derivatives products and created structured notes. After his LL.M. graduation, Nicolau plans to join JPMorgan in New York for four months before returning to Brazil.
At UVA Law, like all of his international LL.M. classmates, Nicolau is essentially a first-year contracts student trying to learn the language of the law.
"We don't have this requirement of 'consideration' in Brazil and in many civil law countries," Nicolau said. "I really didn't understand what it was to have 'consideration' in the agreement. Coming here is a way to learn American lawyers' language to be able to work effectively with them."
By nature, Nicolau tends to be a broad and holistic thinker, whether he's thinking about derivatives or his friends' personal problems.
"Derivatives are used in different contexts, so if they are used in a [mergers and acquisitions] context, I have to know the antitrust rules that apply; if we are structuring something for a specific client, I have to know almost everything about their business and the laws that relate to their business," Nicolau said. "Friends and family will come to us with different types of problems — they may be legal, but they may not be legal, but since you are a lawyer, you are into this way of thinking."
Nicolau chose UVA for his LL.M. in part because its location in a smaller city makes it easier for him to focus on his studies, connect with his classmates and pick up on the nuances of living in a different country.
He likes to explore Charlottesville by bike and try out the cuisines that differ (sometimes dramatically) from Brazilian food.
"It's not easy to find the same ingredients here, but I really enjoy the food here and there are so many different options," he said. "This is silly, but I eat a lot of salmon, and the salmon here is so much better than in Brazil."
Founded in 1819, the University of Virginia School of Law is the second-oldest continuously operating law school in the nation. Consistently ranked among the top law schools, Virginia is a world-renowned training ground for distinguished lawyers and public servants, instilling in them a commitment to leadership, integrity and community service.