Sarah Walsh is a former competitive cheerleader and current third-year student at the University of Virginia School of Law. She was commuting to work over the summer when she learned of a new course being offered in the fall and she, naturally, jumped at the chance to tell her friends all about it.
"We're taking this, right?!?" Walsh texted immediately to classmates Jack Brown and Parker Kelly.
"This" wasn't Torts or Legal Research or Contracts or any traditional law course. Rather, it had terms like "make-up calls" and "swallow the whistle" and "competitive hot dog eating" in its description.
"I was so excited," said Walsh, an Atlanta native and huge baseball fan.
Since late August, Professor Richard Re has been teaching "Sports and Games" in front of a packed second-floor classroom in the Slaughter Hall section of the Law School. Brown and Kelly are in that crowd. It didn't take much convincing from Walsh to register.
The trio hasn't been disappointed.
"This course has helped me think a lot about adjudicating decisions in the real world, in a mundane context," said Brown, a third-year law student from Alexandria. "I'm getting practical experience doing something I would never get otherwise. It's helped me with decision-making and has me thinking more clearly about what rules I'm creating, what rules I'm enforcing."
The course is based on "The Jurisprudence of Sport: Sports and Games as Legal Systems," a casebook co-written by law professors Mitchell Berman of the University of Pennsylvania and Richard Friedman of the University of Michigan. Re, a friend of Berman's, was sent the book, sparking his interest in creating a course.
"You can make a lot of the same points about discretion and the value of rules or the role society plays in managing adjudication in both sports and games, and law," Re said. "What's great about approaching it from the sports-and-games angle is we naturally shed a lot of the preconceptions that we bring with ourselves to the discussion of law. And we take on new preconceptions.
"So it's interesting to do a deep dive on these questions in a sports or games context and, then at the end of it, step back and say, 'OK, how does that compare with similar questions in law?'"
A recent Sports and Games class focused on a case close to Re's heart: the 2019 National Football Conference championship game, when an infamous no-call toward the game's end benefited the Los Angeles Rams and might have cost the New Orleans Saints a shot at the Super Bowl.
Re, a New Orleans native and lifelong Saints fan, opened the class by promising to try to stay impartial and to hold back tears as he played the clip of Rams defensive back Nickell Robey-Coleman leveling Saints receiver Tommylee Lewis before a pass arrived. The third-down play occurred with the game tied at 20 and under two minutes left in the game. Had officials called a pass interference penalty, there's a good chance the Saints could have run down the clock before kicking a game-winning field goal.
Instead, there was enough time in the game for both teams to trade field goals. The Rams eventually won in overtime, ending the Saints' season. Reacting to public outcry, the National Football League made all forms of pass interference and non-calls subject to video reviews the following season. That experiment, considered a failure, was discontinued after a year.
The breakdown of the play – and its fallout – led to a class discussion with several analogies to law.
Re said Rucho v. Common Cause, the landmark Supreme Court case in 2019 that ruled partisan gerrymandering is beyond the reach of the federal courts, would typically be analyzed in legal education through a federal courts or election law course. But Sports and Games provided the platform for Emma McLaughlin, a second-year law student, to bring it up in a perhaps more relatable context.
What McLaughlin "saw as one of the main issues of debate in that case was the exact same issue that we're talking about in instant replay," Re said. "One of the main issues that was at stake in this very divisive case was if the federal courts get involved a little bit, what will happen the next time? Where do we draw the line for when we get involved and we don't get involved? If we dip our toe in, do we end up going all the way in the pool? If we give the mouse a cookie, will the mouse come back for more a thousand times?"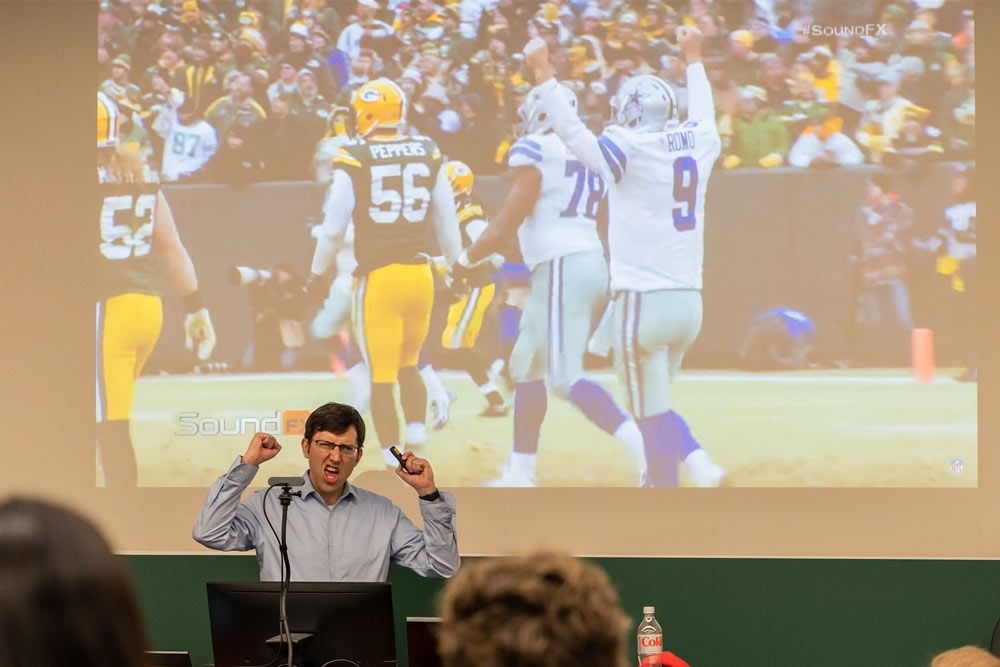 In other words, the NFL, in the role of the Supreme Court in this situation, risked a slippery slope with its knee-jerk reaction to the no-call in New Orleans.
Jonathan Peterson, a third-year law student from Charlottesville, said his main takeaway from the Rams-Saints presentation was the issue of the NFL's legitimacy.
"If you're hearing out requests for exceptions all the time and you're re-reviewing the calls that you've made and whatnot, you open yourself up to a lot of potential for dissatisfaction and distrust from the people who see themselves as existing properly within those rules," Peterson said.
"I'm not a huge fan of the idea that finality is super important for judicial legitimacy, because I think the main goal should be we get the right call, and not have that focus. But I think it does show how important it is, especially today where I think judicial legitimacy is one of the biggest issues facing the court."
Re has been able to spark these kinds of discussions through several real-life sports examples. The list of clips he's played for the class include the controversial no-catch involving the Dallas Cowboys' Dez Bryant in the 2014 NFL playoffs, tennis player Serena Williams' foot fault in the 2009 United States Open and even Anthony Poindexter's goal line stop of Warrick Dunn to cement UVA football's upset of Florida State University in 1995.
The course began with an August class that centered around the age-old question: Is competitive hot dog eating a sport?
A sampling of students produced different arguments.
Walsh: "The best take was it's not a sport, but (15-time Nathan's Hot Dog Eating Contest champion) Joey Chestnut is an athlete."
Kelly: "Absolutely a sport."
Brown: "There was an alternate option that it was a degenerate sport – that it's close to a sport, but it's lacking something. One of the things we talked about was that sports need to have some high aspiration to them. Like, when you see the best athletes in the NBA or NFL or soccer, and you're like, 'Wow, these people are in incredible shape.' You see the best chess players and you're like, 'That's unbelievable intellectual ability.' And maybe you're not inspiring to get to that insane level, but like, 'Oh, I want to play basketball now because I'll be in better shape.'
"But there's the degenerate aspect of hot dog eating where you're not watching this and thinking you're going to be able to shove that down. Maybe there's the whole training and dedication side of it, but there's something quite missing there."
Don't worry, there's a law lesson here.
"We talked a lot about the idea of family resemblances as the way to understand whether something is a sport and how there aren't these strict categories, in the same way that everybody in the same family isn't going to look identical," Kelly said.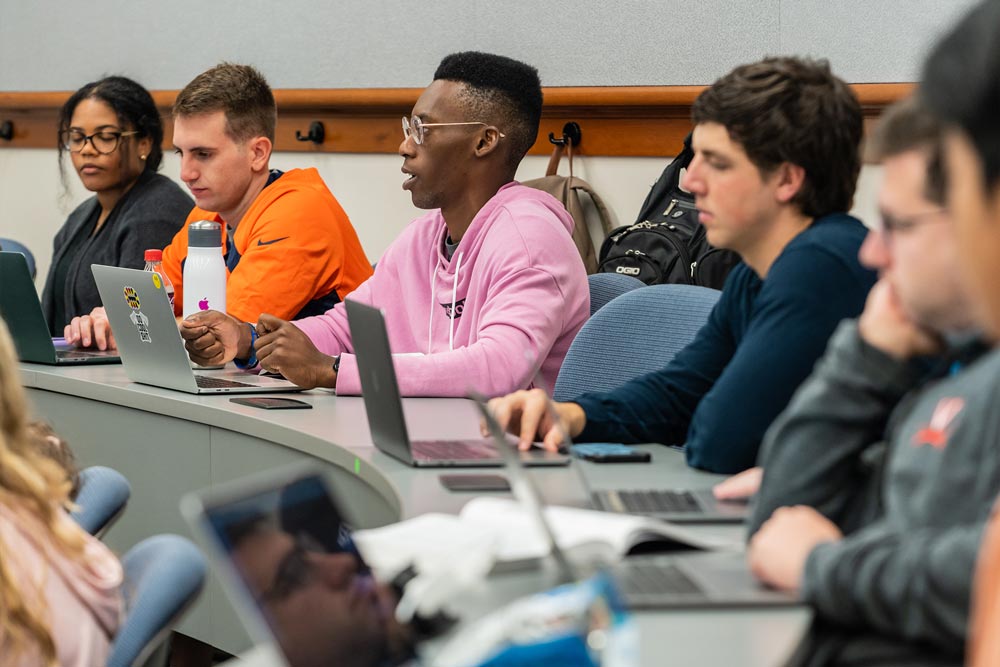 Sean Onwualu '24 (center in pink shirt) adds to the discussion during a recent Sports and Games class.
And in law, Brown said, "It's common to say, 'Is this case similar enough that this other case should bear on it?' It's similar to, 'Is this a sport and should it be evaluated in the same way?'"
Walsh, who was eager to get her friends involved in this course, is now calling Sports and Games "easily my favorite class I've taken at the Law School."
Re, a Yale Law alumnus, is well aware of the rigorous law school curriculum, loaded in an overwhelming amount of reading and studying of dense topics. All he's tried to do this semester is offer a fresh – yet still worthy – break from the norm.
"One of the challenges in legal education sometimes – that I think UVA does a great job of overcoming – is you can have a problem where the student feels like they're getting kind of bogged down in rule, rule, rule," Re said. "There are huge books of these things, like hundreds of pages of these rules. That's great and it's important to learn these rules, but it's also important to step back and understand what we're doing here. And what is animating the rules and so forth.
"I think that's part of the theoretical perspective of what this course naturally lends itself to."
Founded in 1819, the University of Virginia School of Law is the second-oldest continuously operating law school in the nation. Consistently ranked among the top law schools, Virginia is a world-renowned training ground for distinguished lawyers and public servants, instilling in them a commitment to leadership, integrity and community service.