As Classes Resume, Dean Goluboff Emphasizes Compassion and Community
Classes resumed Wednesday at the University of Virginia School of Law and across UVA, after a tragic shooting on Main Grounds that left three students dead and two others hospitalized.
To welcome students back to North Grounds and give them space to process their grief together, the school hosted a communitywide breakfast in Caplin Pavilion, organized by the Student Affairs Office. The school also hosted two drop-in gatherings while observing the University's Day of Reflection on Tuesday.
Nearly 100 students, faculty and staff filed into the pavilion, where three small candles lit the jersey numbers of the three football players killed on Sunday night.
Dean Risa Goluboff delivered brief remarks but emphasized that official words were not the point of the event; rather, the focus should be on talking to one another and granting grace and compassion while recognizing the complexity of our relationships and different lived experiences.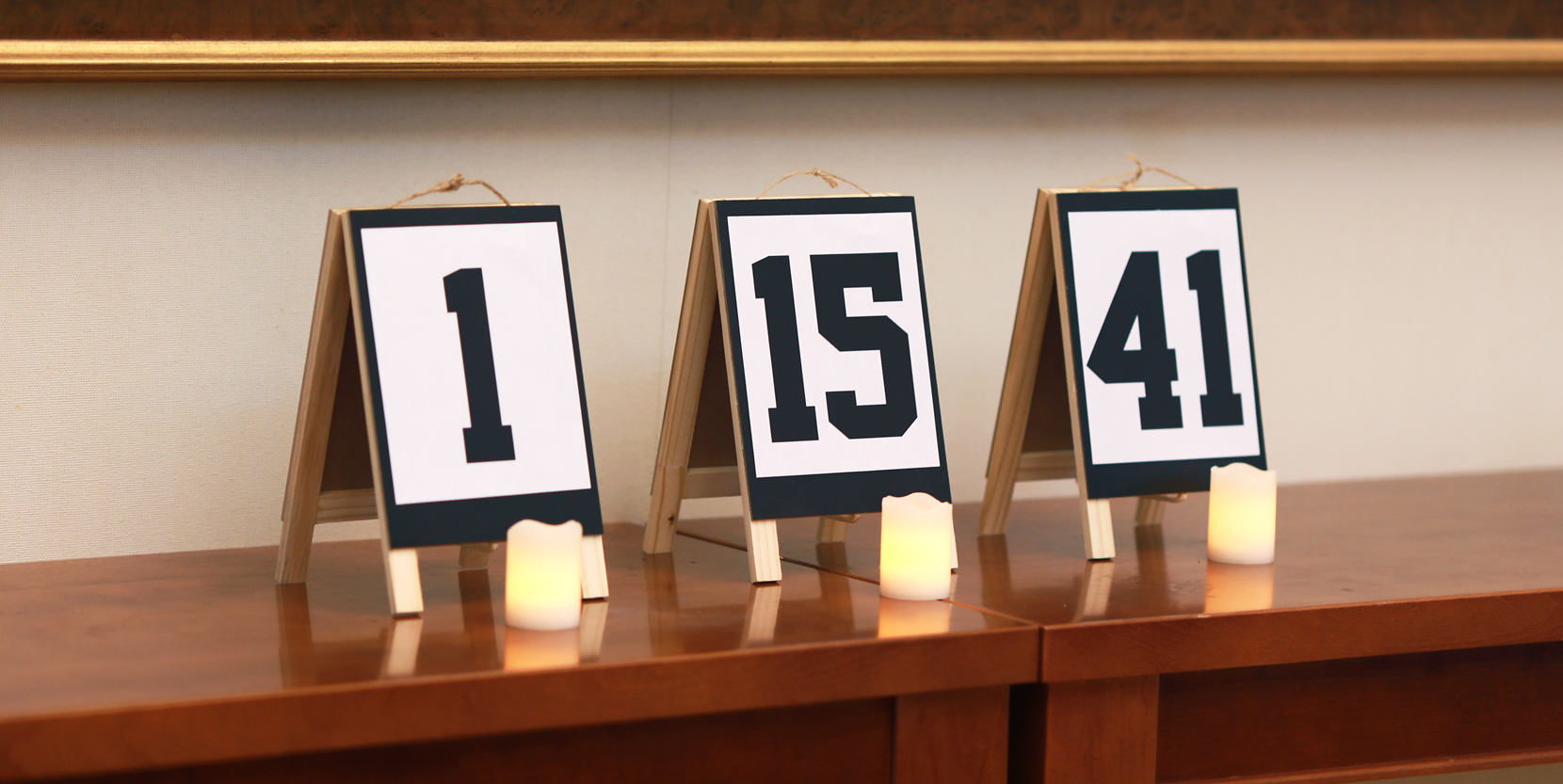 Candles in Caplin Pavilion commemorate the three UVA football players who died — Lavel Davis Jr. (whose jersey number was 1), Devin Chandler (15) and D'Sean Perry (41).
"We're related to [these events] in different ways. We've had different experiences in our past that make us see them in different ways. And that means people are going to [have] different levels of grieving, different levels of anger, different levels of loss and mourning," Goluboff said.
Goluboff called herself an "optimist at heart," but acknowledged that it's difficult to find glimmers of hope in this moment. "I will tell you that the [glimmers] I find are all about community — community on a number of different levels," Goluboff said, citing the outpouring of support the University and its members have received from alumni, from Charlottesville and beyond.
"I just want you to feel like you're part not only of this community, but of this very big community who all have our backs," Goluboff said.
She connected the Law School community to the broader University community that came together at Monday night's student-sponsored candlelight vigil.
"I was there and it was really powerful and moving to be in the comfort of so many people and to share love with those who were most in pain," Goluboff said.
In addition to a list of mental health resources the school provided, Goluboff emphasized that "literally every person who works in this building is here to support you and each other and your peers."
"I hope that today and in the days to come, you'll find the ways you need to process," Goluboff said. "Some of this we have to do alone, ourselves, but I hope you'll also take the opportunities to do them together, which is what you're doing here today."
Students in need of support are encouraged to reach out to Dean Davies, Dean Jefferson, Megan Durkee or Dr. Kate Gibson. Students can also access the TalkNow and TimelyCare online resources offered by CAPS.
Faculty or staff members in need of support should call the University Faculty and Employee Assistance Program at 434-243-2643. Staff members Nicole Robinson and Diddy Morris are also available to talk in person, by phone or by Zoom/Teams Chat.
Founded in 1819, the University of Virginia School of Law is the second-oldest continuously operating law school in the nation. Consistently ranked among the top law schools, Virginia is a world-renowned training ground for distinguished lawyers and public servants, instilling in them a commitment to leadership, integrity and community service.
Associate Director of Communications and Senior Writer