Postcard From Peru: Clinic Students Witness Tense Dialogue at OAS General Assembly
Students Report on Their Experience Attending Annual Dialogue Among NGOs
Students in the International Human Rights Clinic at the University of Virginia School of Law attended the Organization of American States' 52nd General Assembly in Lima, Peru, in October. The students — Salwa Ahmad '24, Layla Khalid '23 and Sabrina Surgil '24 — recently recounted some of what they experienced there.
As part of the clinic, we had partnered with the OAS to conduct research on participation in the formal OAS Dialogue between civil society organizations, social actors and heads of member-state delegations. Under the OAS charter, "civil society organizations" are nongovernmental groups that are generally nonprofits with a common humanitarian interest. Recognized organizations may attend OAS meetings to bring attention to their group's issues.
We were tasked with discovering barriers to participation civil society organizations face at the OAS Dialogue and suggesting ways to improve the structure of the meeting to ensure all voices are heard equally. In recent years, this dialogue has become more contentious as polarizing issues such as abortion, women's rights and LGBTQ+ rights have dominated the discussions among certain coalitions.
Leading up to the trip, we researched and reviewed videos from prior Civil Society Dialogues, but seeing it firsthand captured for us how diplomacy and human rights advocacy are conducted in multilateral spaces. 
The theme of the 52nd General Assembly was "Juntos contra la desigualidad y la discriminacion" — meaning "Together against inequality and discrimination" — and the phrase was emblazoned on the stage backdrop behind the heads of the member-states. The stage was surrounded by the flags of all 35 OAS member-states.
On day one, we had the pleasure of attending this year's official Civil Society Dialogue, where we watched representatives of 31 coalitions present three-minute speeches about pressing human rights issues affecting their region.
At the start of the dialogue, Peruvian President Pedro Castillo emphasized that decisions cannot be made without input from civil society. Emphasizing the purpose of the dialogue — listening to one another — OAS Secretary General Luis Almagro spoke about the importance of being tolerant of those who think differently.
Yet, instead of a constructive dialogue among the coalitions and the state representatives, we witnessed a tense atmosphere between conservative and liberal organizations and audience members. We noted the obstacles that can occur even in an open platform designed for dialogue, such as inflammatory statements that provoked loud cheering or booing from the audience. We also saw the frustration that civil society organizations experience when they feel their human rights concerns are not actively being heard or considered by member states.
During the plenary sessions on the second day, we heard U.S. Secretary of State Antony Blinken speak on behalf of the United States regarding inequities that prevent our communities from reaching their full potential. We also had the opportunity to witness negotiations between member-states over several resolutions in progress.
Because most speakers delivered their speeches in Spanish, we had access to headsets where we could hear interpreters delivering English and French translations. It was fascinating to listen to seamless conversations occurring in multiple languages simultaneously.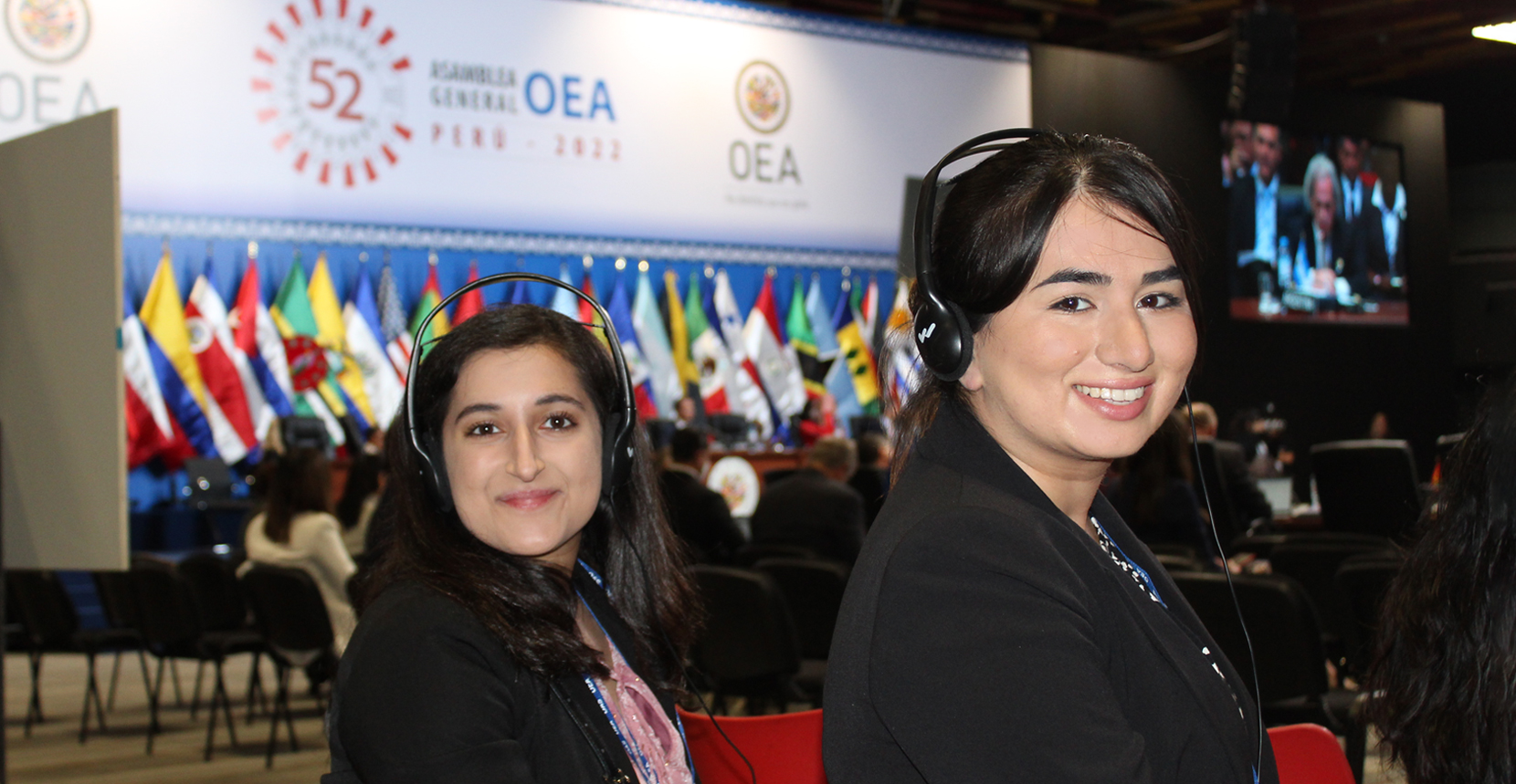 Salwa Ahmad and Layla Khalid listen to the OAS meeting in translation.
After the dialogue, we interviewed coalition members about their thoughts on how the dialogue is conducted and whether they feel their voices are heard. Throughout our time in Lima, we met with a range of coalitions representing communities of indigenous groups, Afro-descendants, women, LGBTQ+, and religious and spiritual groups. They provided insight into the history of these coalitions and how the dialogue has transformed over time.
Similar to the increased polarization in U.S. domestic politics in recent years, the OAS dialogue demonstrated what the breakdown of mutual understanding and communication can look like on an international scale, among sovereign nations. Despite these challenges, witnessing the passion that civil society organizations bring to their advocacy efforts made us hopeful that, with improvements, the dialogue can progress into a meaningful and productive platform for all participants.
Outside of the official OAS proceedings, it was beautiful to experience the culture and geography of Peru. On our first evening in Lima, we found ourselves surrounded by garúa, a coastal fog, and learned that this is part of Lima's climate as a rainless city.
As we explored parts of the city, we got to put our rusty Spanish-speaking skills into practice. We found that we could understand the language better than we could speak it, but by the end of our trip, we were having flowing conversations with shop owners, servers and other locals.
From Miraflores to Barranco, the coastal views, vibrant street art and delicious cuisine were incredible. We ate potatoes in more forms than you can imagine and drank the most flavorful cups of coffee. The people we met gave us a warm welcome as they introduced us to their history, culture and cuisine.
We are so grateful to have had the opportunity to attend the OAS General Assembly and to see diplomacy in action in another country. It was the first time any of us had visited a South American country. While this certainly won't be the last of our travels to that continent, our experience in Peru will remain unforgettable.
Founded in 1819, the University of Virginia School of Law is the second-oldest continuously operating law school in the nation. Consistently ranked among the top law schools, Virginia is a world-renowned training ground for distinguished lawyers and public servants, instilling in them a commitment to leadership, integrity and community service.