Resilience Gained in the Marines Serves UVA Law Student Well
Bryan Blaylock '23 Pivoted in His Career After Injury in Service
If 10 years in military service prepares you for anything, it's practice in rolling with the punches.
In August 2020, Bryan Blaylock, a Marine veteran, drove to St. Paul to start law school at the University of Minnesota, though he still hoped to receive good news from his first choice, the University of Virginia School of Law.
"I had sent an email to UVA to let them know if you find an extra seat, I will pack up my truck and come as fast as I can — obeying posted speed limits, of course," he said.
He had just signed a lease on an apartment when a UVA Law Admissions official called on a Friday asking if he was still interested. Orientation was Monday.
"I broke my lease and packed up my truck," Blaylock said, giving up a $25,000 a year scholarship in the process. In the military, "I got sent to Oklahoma, California, Japan — for me it's about fit and a place I want to be at. I have no problems being dropped into a new place and being able to function and find a way."
He had no place to live in Charlottesville, so initially he stayed with a cousin in Annapolis. When he eventually moved into a townhouse, he managed with a camp stool, an air mattress and a chair borrowed from another student. "I didn't have a desk until 2L," he said.
The early going was difficult.
"My first class, I thought, 'There are some real smart kids here. Maybe I made a mistake,'" he recalled. "My grades weren't that good. It was enough to keep my head above water."
Now on track to graduate in 2023 and with a job lined up, he can look back and see how the resourcefulness and resilience he learned in the Marines helped him through.
A Decision To Serve
Blaylock began his undergraduate studies before joining the military, but was derailed by some family issues. During that time, he watched the news coming from the wars in Iraq and Afghanistan.
"I would see these young kids fighting and dying over there to protect my family," he said. "I was physically capable, and I saw no reason not to enlist."
Along with two tours in Afghanistan and one in Iraq, he was trained as an artillery operations chief, got attached to a ship-based Marine Expeditionary Unit and was ordered to Okinawa for two years.
A back problem flared up while he was in Japan. After surgery and several stints of limited duty, he was medically retired from the service with an honorable discharge as a staff sergeant.
Thanks to the GI Bill, Blaylock earned his bachelor's degree in criminology in 2019 from the University of Texas at Dallas, 2½ years after his discharge. It was suggested to him that he should pursue a master's or a Ph.D. in the field.
"But I didn't want to be in academia, writing articles that go into some obscure journal," he said. "I would rather be more involved in the process of law."
He took the LSAT in the fall of 2019 and applied to UVA the following spring.
The skills he gained in the service have stuck with him.
"I know how to push myself to the limit and I know how to decompress, going from red and orange zones to yellow and green," he said. As a 39-year-old, he added, "I think I look at things a little bit differently" than a typical student.
Sometimes he is able to pass on lessons learned to his classmates. "I just make sure I engage in thoughtful conversation with my peers and give them a little life advice sometimes," he said.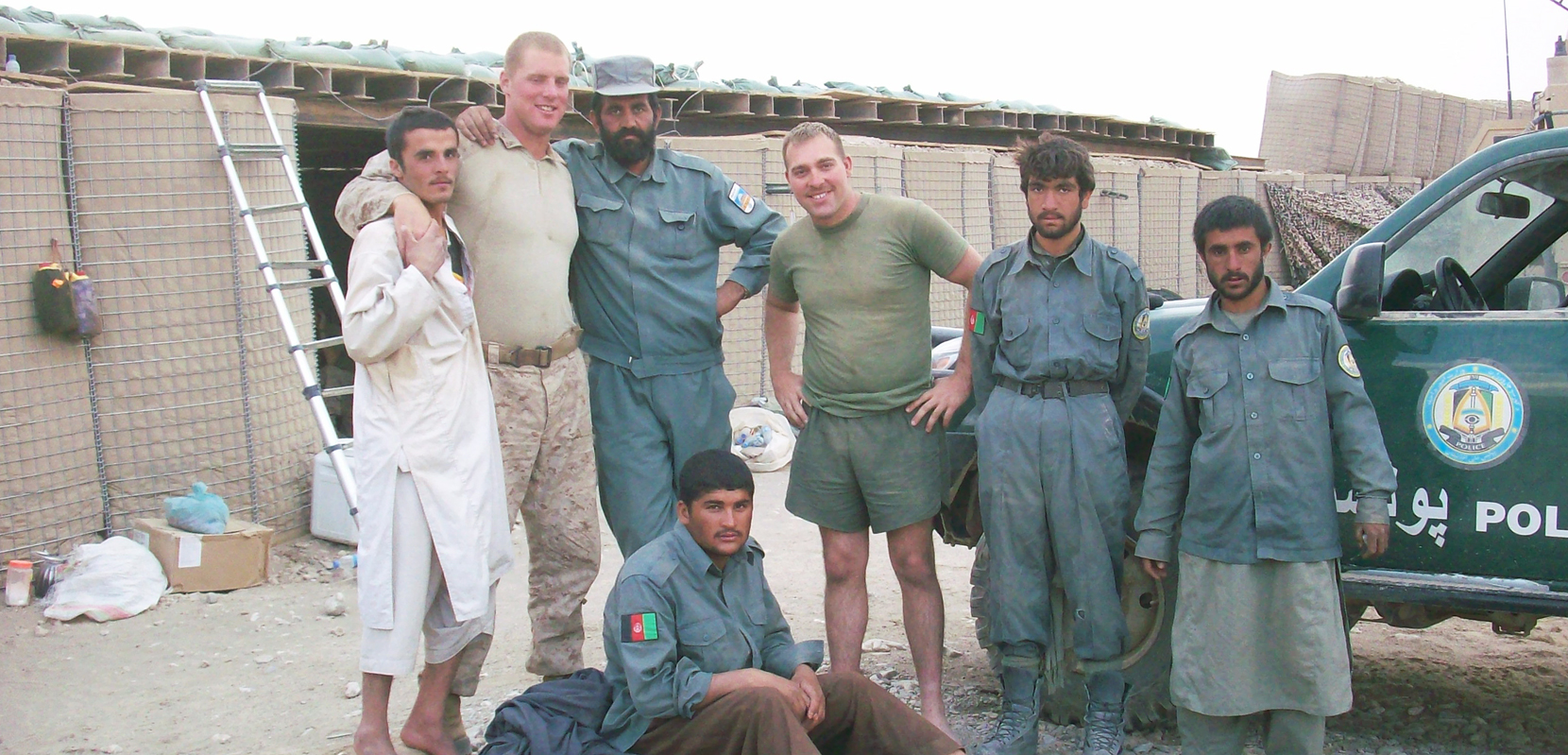 Blaylock, center, poses with his lieutenant and the Afghan National Police squad that lived with his infantry unit at Patrol Base Salaam Bazaar in the Now Zad region of Helmand Province in Afghanistan. "The area was too dangerous for them to live in their own compound," Blaylock reported. Courtesy photos
Dogged Support
When Blaylock walks the Lawn at UVA next spring, he hopes to have a friend walking alongside him: a 3-year-old yellow lab named Ronga, a PTSD service dog who became his study buddy after that hectic first semester.
"He does things that really help me, like nightmare interruption," he said. "He's come with me to so many classes, he should get an honorary degree."
More support came from  Virginia Law Veterans, an organization that is open to anyone, but aims to support vets, spouses and dependents.
"My best friends are in Virginia Law Veterans — they were the biggest help when I first got here. As a training [noncommissioned officer] in the Marines, I was used to doing things in the community, making visits to senior living facilities, helping to build things with Habitat for Humanity, giving speeches about how much it means to get care packages when you're overseas. We do the same here."
VLV participates in the annual Rake-a-Thon organized by Habitat for Humanity of Greater Charlottesville (their slogan: "Remember, a vet is more energy-efficient than a leaf blower and not much louder") and sent a contingent to a 9/11 run in Richmond. They also encourage vets to apply to the Law School and are involved in pro bono work on behalf of veterans.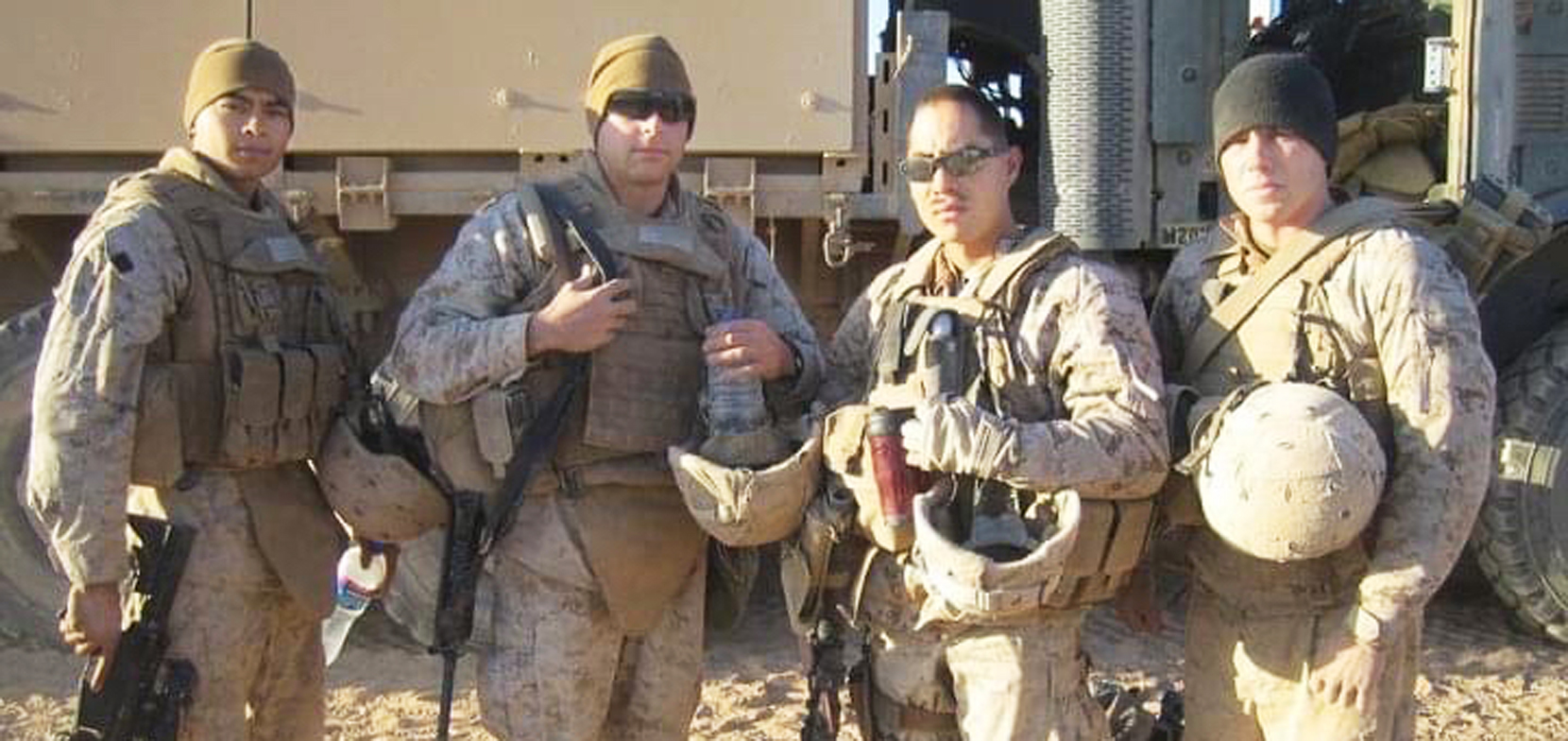 Blaylock, second from left, is pictured with his squad before they set up a "Snap VCP," which is a hasty vehicle checkpoint, in Afghanistan's Helmand Province.
Continuing To Serve at UVA Law
Blaylock's determination to attend UVA arose from his interest in the Innocence Project, which recently helped gain pardons for six clients and obtain more than $6 million in compensation for them from the Virginia General Assembly.
"I love the work they do," he said. "UVA is one of the few top schools with an Innocence Project clinic, and I wanted to be a part of that."
He completed nearly 100 hours of pro bono work for the Innocence Project, in addition to hours on behalf of veterans.
Blaylock's ability to drop into new situations and adapt has served him well. He had never been to Wilmington, Delaware, but interned there last summer with Abrams & Bayliss, a boutique firm that offered him a job after graduation. "I love the people there; it just feels right," he said.
He took Corporations with Professor Kevin Kordana just before starting at the firm, and credited Kordana with helping him truly understand the material and preparing him for the internship.
Kordana returned the compliment.
"Bryan has a very lively and curious mind and is deeply engaged with the law," he said. "He would frequently look at cases or articles that were key citations in the assigned cases, which expanded his knowledge of the relevant issues and sharpened his questions. He should be a great addition to the Delaware corporate bar."
Though Blaylock is pursuing a career in corporate law, he won't be leaving his fellow veterans behind. He's taking Advanced Crimes and Defenses at the Judge Advocate General's Legal Center and School, next door to UVA Law, in the spring.
"I want to do pro bono work that benefits veterans," he said. "My heart is still in pro bono work."
Blaylock's mom back in Texas was a little shocked that her son would end up on the East Coast, away from most of his family, he said, but added, "I could not be happier about the place I'm going. It felt good to be there this summer, and I can't wait to get back up there and get to work.
"I'll go anywhere by myself. Wherever I need to go."
Founded in 1819, the University of Virginia School of Law is the second-oldest continuously operating law school in the nation. Consistently ranked among the top law schools, Virginia is a world-renowned training ground for distinguished lawyers and public servants, instilling in them a commitment to leadership, integrity and community service.