The January Term — or J-Term for those in the know — culminates this week at the University of Virginia School of Law, including three courses that have been reintroduced after taking a hiatus during the pandemic.
January term classes typically meet the last week of winter break and are designed to foster interest in topics students might find useful as they build their careers. The faculty-led explorations often incorporate top legal practitioners and timely subject matter.
For the first time since 2020, UVA Law students had the opportunity to study abroad for the J-Term. Earlier this month, students journeyed to France, and others are wrapping up a course in Israel.
Studying abroad was not the only thing that has reappeared this J-Term cycle. Trial Advocacy College hosted its first weeklong conference since January 2020.
Here's more about the courses offered this month:
French Public and Private Law
In this six-day course taught by Marie Goré and Malik Laazouzi, 15 students spent six days immersed in French culture pondering questions like "Is French law still French-made law?" and "Why does France want to be at the cutting edge of modern trends?" while considering France's trending tactics for international litigation and arbitration. 
Goré, a law professor at the University of Panthéon-Assas (Paris 2), said the experience was enriching for her as well because students' questions "obliged me to try to find out the deep roots of French modern law." 
Israeli Business Law and Innovation
UVA Law professor Dotan Oliar, an intellectual property expert, took 11 students to Israel this month to experience "the Israeli entrepreneurial culture."
The trip included a visit to the global headquarters of website company Wix, where they met the chief operating officer, and a meeting at the Israeli Ministry of Defense.
"We met with a director in the Economic Division of the ministry and learned about the country's efforts to build diplomatic relations through economic partnerships around the world," student Josh Goldstein '24 said. "I was surprised to learn what an outsized role climate-oriented partnerships are a part of the ministry's diplomacy."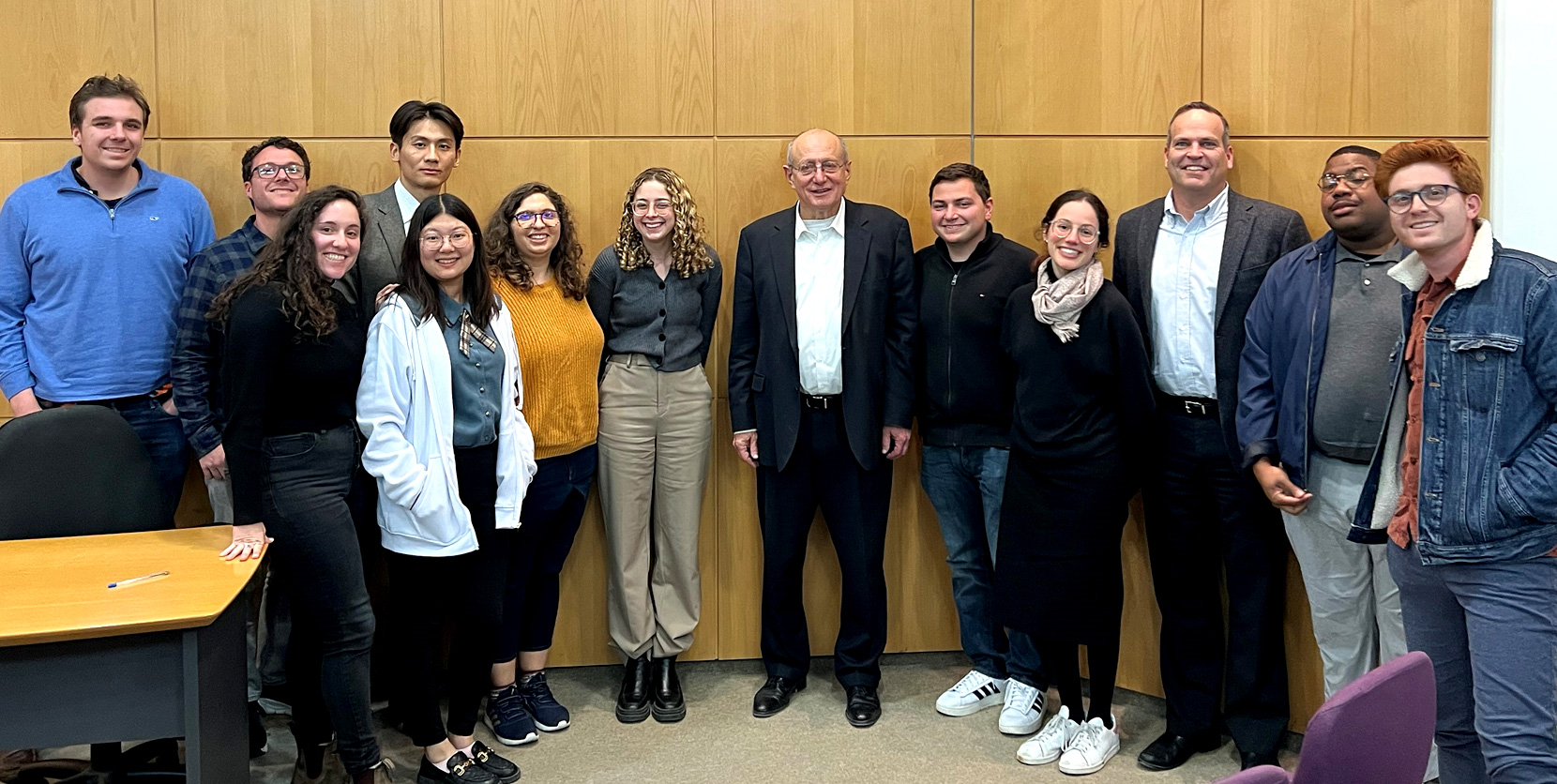 Oliar and his students met with Justice Alex Stein at the Israeli Supreme Court. 
Trial Advocacy College
This program, which is known for its elite advocacy training for lawyers across the U.S., returned to UVA Law on Jan. 7. Stephen A. Saltzburg, a former UVA Law professor and current professor of law at George Washington University Law School, directs the program, which attracts more than 100 lawyers outside of UVA Law and up to 50 students.
Co-founded in 1981 by Saltzburg and Herbert Stern (who was a federal district court judge in Newark, New Jersey at the time), the 41st annual event brought dozens of lawyers from across the U.S. to the law school this month.
The college "represents the most advanced advocacy training available through the Law School and has been widely regarded as one of the best programs in the country for more than 30 years," according to the course description.
All 2023 J-Term Courses
Founded in 1819, the University of Virginia School of Law is the second-oldest continuously operating law school in the nation. Consistently ranked among the top law schools, Virginia is a world-renowned training ground for distinguished lawyers and public servants, instilling in them a commitment to leadership, integrity and community service.