Megan Strand '08 Marks 15 Years as Jessup Moot Court Coach
Team Heading to Super Regionals of Moot Court Competition on Feb. 24
Last spring, first-year University of Virginia School of Law students Bo Hiett and Camille Blum were holed up in the Arthur J. Morris Law Library's Mason Room. In 24 hours, they would dial in to their first-ever oral argument as part of the Philip C. Jessup International Law Moot Court Competition, a contest that would eventually involve more than 500 law schools from over 80 countries, including about 145 U.S. law schools.
"The issue in question was related to international freedom of speech, and I thought I had it pretty reasonably tied up," Hiett said. "I'm trying to get my confidence up, and we weren't really looking at making substantive changes at that point."
His coach, Megan Strand '08, had other ideas, perhaps based on the training she received from her own coach back in the day, Col. David Graham, who was then the executive director of the U.S. Army Judge Advocate General's Legal Center and School.
As Hiett recited some basics about the International Covenant on Civil and Political Rights, Strand cut him off and put on her hot-bench hat.
"OK, cool, that's great. But what's the law," he recalled her asking. "I can read the ICCPR, but what's the actual law you're applying? What's the case law? How has the court done this before?"
After parrying back and forth for a bit, Strand cut him off again and asked him to meet with her separately to go over relevant case law. As the team moved into the later stages of the contest, Hiett said, despite the competition stiffening, his scores continued to rise. The team eventually advanced to the round of 32 in the international rounds that year, with their written submissions placing 14th worldwide and third among U.S. teams.
"That's something I attribute entirely to her being aggressive with me early and then taking that extra step to meet with me to work through the issues," Hiett said. "I didn't feel super good going into the early round, but Megan provided me with the tools I needed to improve on that specific point, and she was harder on me than the judges were."
This is just par for the course for Strand, who's now in her 15th year of coaching Jessup after a decorated two-year career as a member of the team. The job is part drill sergeant, part law firm partner, part "den mother," in her words. She's fielded desperate calls from competitors stranded in snowy connecting airports and foraged for medicine for sick team members.
And, like a den mother, the job is time-intensive, unpaid and juggled against real parenting duties to sons Joseph and George.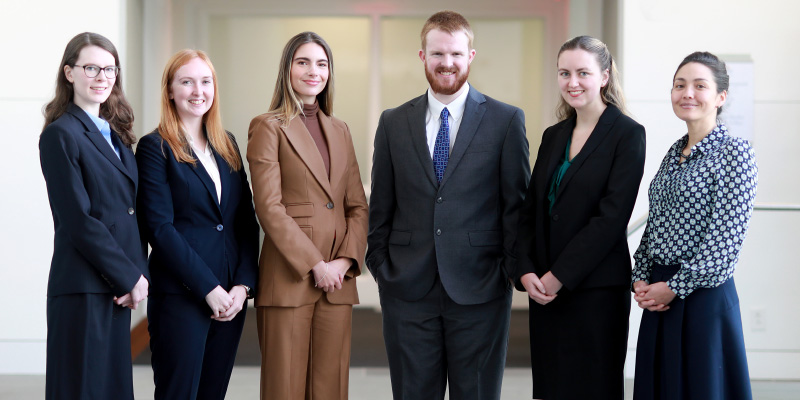 This year's Jessup team members Camille Blum '24, Jess Williams '25, Claudia Frykberg '25, Bo Hiett '24 and Cathryn Casatuta '24 stand with their coach, Megan Strand '08. The team will compete in person for the super-regional round for the first time since 2019. Photo by Mary Wood
"I try not to think about the time in quantifiable terms," she said with a laugh. "It's just this unique opportunity to compete in the largest and most prestigious moot court competition in the world, and it's kind of all-consuming."
A graduate of the Punahou prep school in Honolulu, Strand was drawn to UVA as an undergraduate for the well-balanced lifestyle it offered. She returned as a transfer student from the University of Hawaii's law school because of UVA's international law offerings. (Her father, Robert Strand, graduated from UVA Law in 1973. Conveniently, their reunion years now overlap.)
Although she's maintained a keen interest in international law — and she's helped more than one Jessup alum land a job in the field — it's not the career path she ultimately took.
A Mandarin-speaker, Strand had hoped to practice in Asia, and secured a summer associate position at Chadbourne & Parke in Washington, D.C., with an eye on their Beijing office.
"As life would have it, I ended up spending that summer focused in part on project finance for renewable energy projects," she said. "Back in the summer of 2007, this was an area that was really starting to take off in the U.S., and so that sort of took my interest in a different direction."
She co-founded her own solar development company, Trajectory Energy Partners, in 2017 just prior to Chadbourne & Parke merging into Norton Rose Fulbright. She also teaches a renewable energy law and policy seminar at Georgetown University Law Center, which is where her mother graduated from law school.
Strand's co-coach, Lauren Sandground, is a fifth-year associate in K&L Gates' insurance recovery practice and has helped coach the Jessup team since she graduated from UVA Law in 2018.
"I think Megan's career shows that moot court is important for everyone and not just people who want to be litigators," Sandground said. "Her big pitch is that these skills are important for whatever you do after law school — you need to be able to speak persuasively and write well."
Sandground and Hiett say the Jessup competition and Strand have made them better law students and better lawyers. And neither of them intend to practice international law.
"She taught us how to streamline briefs, tighten arguments, use the right type of sources and how to be more convincing depending on your audience," Sandground said. "It is a unique thing to have a coach acting as your senior lawyer for three years."
Coaching Jessup — and taking on international pro bono projects — has helped Strand sate her thirst for the puzzles that international law presents.
"She talks about the fact that the Jessup time is the 'fun time' for her, when she's working through these international law treatises and things," Hiett said, somewhat incredulously. It's even become a family affair, with her husband, Patrick Guarnieri (Com '04), sometimes participating in prep sessions.
The Law School has long had ties to the competition, which was co-founded 63 years ago by members of the J.B. Moore Society of International Law, a student organization at UVA. One of the awards for the best brief in the worldwide competition is named in honor of former contracts professor and dean Hardy C. Dillard '27.
As the Jessup alumni network and the Law School's support for the program have grown, the load has gotten easier to handle, Strand said, giving shout-outs for the continued involvement of "Col. Graham," Professors John Setear and Ashley Deeks, Sandground, and the dozens of alumni who help students prepare for competition and apply for jobs — including some who dial into meetings from several time zones away.
The five members of this year's Jessup team are currently preparing for the Washington, D.C., super-regionals round Feb. 24, debating international sanctions similar to those imposed on Russia. Somewhere between 12 and 20 of the U.S. teams will advance to the international rounds in April, where they will compete against the top 100 teams from around the world.
With a year of training under Strand, Hiett — who is now a team co-captain with Blum — said they are ready for anything that could happen at this year's competition.
"After having Megan as a judge in practice, we know we are ready for even the most difficult of judges in D.C.," Hiett said. "Her tough-but-fair approach is the best preparation possible for oral argument. We are set up for success."
Founded in 1819, the University of Virginia School of Law is the second-oldest continuously operating law school in the nation. Consistently ranked among the top law schools, Virginia is a world-renowned training ground for distinguished lawyers and public servants, instilling in them a commitment to leadership, integrity and community service.
Associate Director of Communications and Senior Writer