Decarceration Clinic's Busy Year Rebuilding Lives
On an unseasonably warm day in February, a steady trickle of visitors ambled into a Charlottesville city gym for a monthly "One-Stop Shop" reentry fair. Many were just rejoining the community after being released from prison, but the scene was one of hope and joy, right down to a rainbow-hued boom box pumping out the Pharrell Williams tune "Happy."
At one of about a dozen tables, students from the University of Virginia School of Law were meeting with the recently decarcerated, surveying them about their most pressing needs to identify ways the students in the school's Decarceration and Community Reentry Clinic could help them tackle the issues that can lead them back to prison. The clinic, now starting its second year, has racked up multiple recent wins under the guidance of its full-time director, Professor Kelly Orians, and with additional help from pro bono student volunteers.
The survey is part client intake and part data collection for planning purposes, according to Whitney Carter '23, who, with Juhi Desai '23, started the Reentry Legal Helpline project within the clinic last year.
The survey identifies areas of need for the helpline project, which currently assists with driver's license reinstatement, acquiring valid identification and professional licenses, managing child support debt, transferring probation or parole supervision to other states, accessing state identification, civil rights restoration, court fines and fees, preparing for job interviews and sealing records where appropriate.
"This survey is actually how the clinic's civil rights restoration work came about," Carter said. "Enough people were like, 'Hey, I need help with this,' so that's led to us helping people get their rights restored."
Since the project's inception, students have surveyed close to 60 people and created about a dozen modules to train students on these legal issues.
At this day's event, Carter spoke to a potential client who needed someone to draft a simple will.
"That's not even on our form," Carter said. "That's why events like this are helpful to us, because you do continue to learn from people about what they really care about and need help with."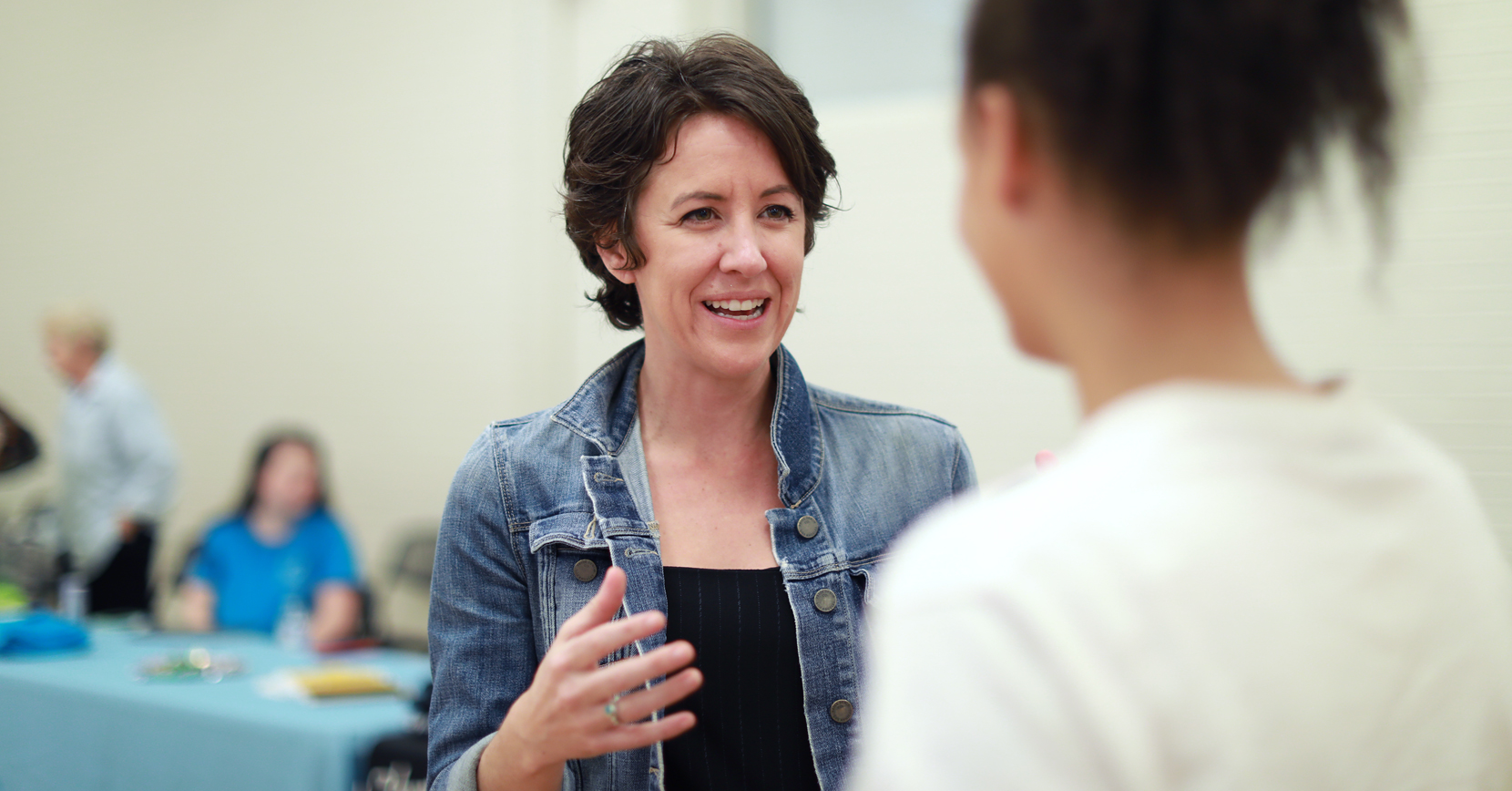 Professor Kelly Orians directs the Decarceration and Community Reentry Clinic.
The One-Stop Shop event is organized by Martize Tolbert, a former clinic client who is now the national director of client and community engagement at The Fountain Fund. That nonprofit fund, founded by Tim Heaphy '91, offers low-interest microloans to formerly incarcerated people in Central Virginia, New Orleans and Philadelphia to help them buy cars, pay off debt or start businesses.
In partnership with the Virginia Law in Prisons Project and Resilience Education, a Charlottesville nonprofit, the Decarceration Clinic has also helped ensure those recently released from prison have basic financial and entrepreneurial skills by creating a curriculum for law students to co-teach in Virginia prisons. Third-year students Payal Sampat, Tyriek Mack and Anne Reyna, and second-year students Liam Zeya, Katherine Poppiti and Io Jones have worked on the project.
Thanks to a grant from The Jefferson Trust, law students should be able to teach their first classes to incarcerated students this spring.
Zeya called it an "incredible learning experience."
"Designing lesson plans has given our team members a chance to move beyond the comfort of theory and really engage with how the law impacts people in their everyday lives," Zeya said. "It has also prompted me to reflect critically on my own legal education."
The clinic is also changing lives through postconviction appellate work in Virginia, New Orleans and Washington, D.C., usually conducted with the help of students and alumni working on a pro bono basis, Orians said.
In D.C., the clinic is working with four clients who are eligible for sentence reductions under the Incarceration Reduction Amendment Act, which applies to people convicted at a young age, if they have served at least 15 years in prison. In Virginia, the clinic has two clients who are eligible for parole, including a 76-year-old man who has been in prison for 46 years, Orians said.
Allison Coffin '17, litigation counsel at Akin Gump Strauss Hauer and Feld, recruited seven firm associates to serve as co-counsel on the four cases and the firm is providing financial support for the retention of expert witnesses, Orians said. The cases require about 18-24 months of work, including investigation into the full social history of the client and the case history, coordinating expert witnesses, visiting clients and holding regular check-in calls, and creating a reentry plan.
Third-years Blair Schaefer and Helen Song have now dedicated more than a year to the D.C. cases so far, while third-years Warren Griffiths, Sarah Crompton and Jordan Woodlief are in their second semesters of work on them, Orians said. Third-years Sydney Stanley and Amanda Biggs represented their client before the Virginia Parole Board last semester.
"The Decarceration Clinic has been one of the most meaningful parts of my law school experience, and I've truly learned so much in the process," Schaefer said. "Incarceration is traumatic and stigmatizing, and the clinic has provided an incredible opportunity to help clients rejoin their communities and loved ones."
Orians and her husband, Professor Thomas Frampton, live part time in New Orleans and continue to do pro bono postconviction work there, with assistance from students. In 2022 alone, they secured the release of five people imprisoned in Louisiana, including four who were originally sentenced to life without parole, she said.
Crompton, who was a third-year student at the time, helped win the release of one of the five — Sherman Singleton, who had already served 32 years of a life-without-parole sentence for second-degree murder. Singleton is one of several high-profile Louisiana inmates released because their convictions in unrelated cases involve a network of corrupt officers in the New Orleans Police Department, including one who is currently on death row.  
Crompton called the advocacy experience "humbling and eye-opening."
"With no hope of ever being released from prison, Mr. Singleton was able to accomplish more than many people do in a lifetime — including working as a hospice volunteer, serving a mission trip providing spiritual support, earning multiple diplomas, sewing over 200 quilts and 4,000 masks during the pandemic, creating workbooks for incarcerated youth, etc.," Crompton said. "I couldn't be more proud of his hard work, and I am honored to have played a small part in his ultimate release."
Founded in 1819, the University of Virginia School of Law is the second-oldest continuously operating law school in the nation. Consistently ranked among the top law schools, Virginia is a world-renowned training ground for distinguished lawyers and public servants, instilling in them a commitment to leadership, integrity and community service.
Associate Director of Communications and Senior Writer