5 Ways To Enjoy The Forum
New North Grounds Hotel Offers Benefits to Law School Community
Next door to the University of Virginia School of Law over the past couple of years, a steady stream of steel beams and construction trucks has evolved into a five-story brick façade with too many windows to easily count. The Forum Hotel, run by Kimpton and owned by the Darden School Foundation, is officially open for business.
The site — featuring 198 hotel rooms, a restaurant and sports bar, an arboretum and botanical gardens, and numerous event and gathering spaces — offers a long list of potential benefits for the Law School community. Here are five to get started.
1. Rooms With a View
Having a hotel just steps away from the Law School will offer reunion attendees, guests at academic conferences and family members a way to spend the night on North Grounds. The rooms, including 10 suites, come in a variety of configurations, including some with views of the garden or the Blue Ridge horizon.
"A stand-out feature are the floor-to-ceiling windows with great views," said Ashley Williams, CEO and chief learning officer of Darden Executive Education & Lifelong Learning.
The hotel was built on the former site of the UVA Inn at Darden, which hosted executive MBA students and lifelong learning participants, in addition to offering accommodations to the public. Those operations will continue, Williams said.
2. A Variety of Dining Options
The Forum features two restaurants. Birch & Bloom, a "reimagined American steakhouse with seasonally driven farm-to-table offerings" presents food and drinks from Michael Shaps Wineworks, Honey Brook Farms, Angry Duck Farm, Caromont Farm and Polyface Farm, among others, according to a Kimpton press release.
The second dining site, The Good Sport, has "familiar-yet-elevated" tavern fare. The casual restaurant pays homage to Darden graduate Frank Sands Sr., who died in 2021 and whose $20 million gift helped jumpstart the hotel project. The funds were part of Sands' $68 million gift to Darden, the largest in the school's history.
"Sands was a fair and kind man who radiated good cheer, and he also enjoyed Belgian and local beers," Williams said. "The taproom will offer a strong craft beer program, as well as cocktails and local wines." That and several big screen TVs promise to make The Good Sport an ideal place to watch the Hoos compete, or for a pre- or post-game outing.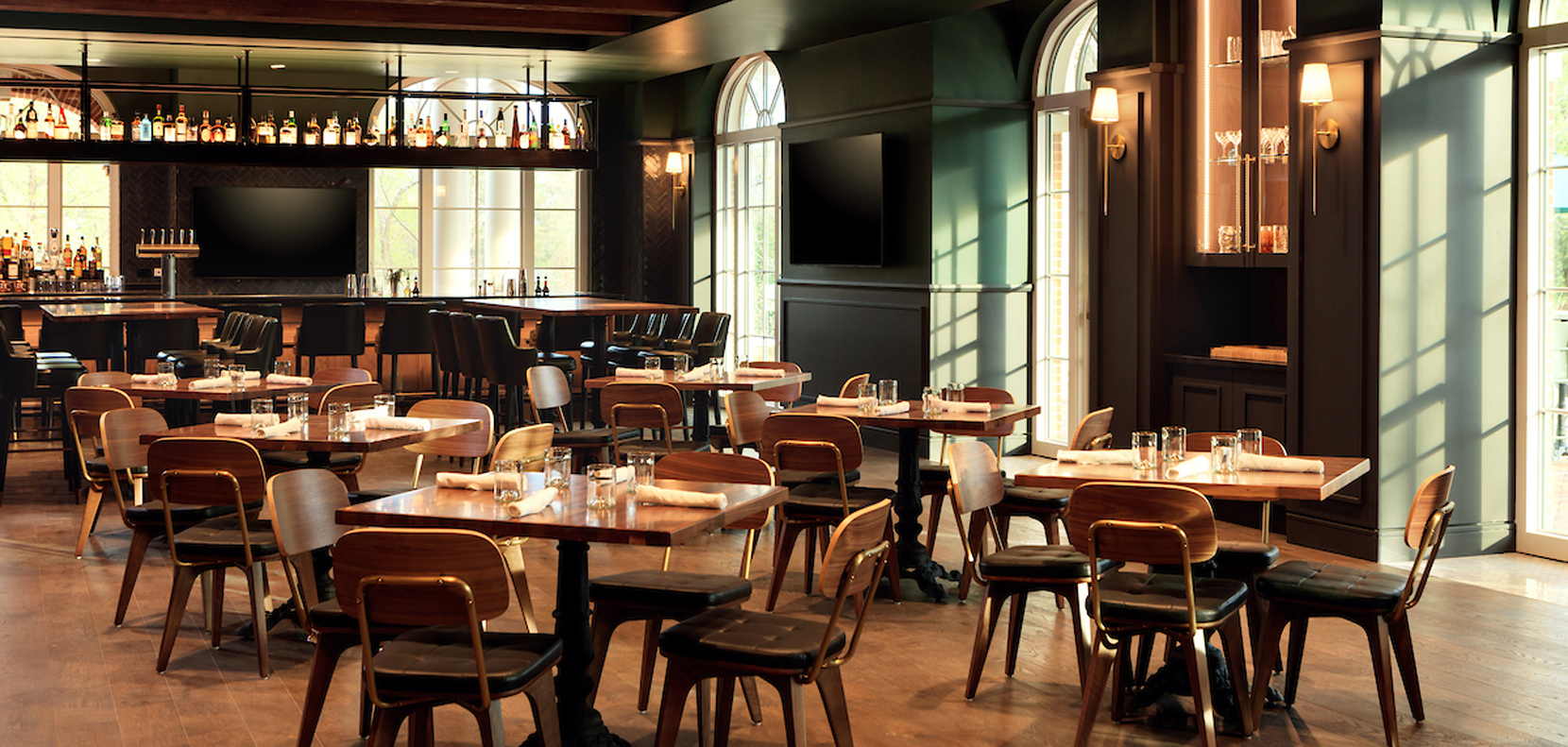 The Good Sport is a casual restaurant and sports bar with a taproom.
3. Expansive Event Spaces
With 40,000 square feet of interior and exterior meeting space, the Forum could become a popular alternative location for Law School events. The site's options include a 6,000-square-foot ballroom, classrooms, meeting rooms and a large lecture hall, according to the Kimpton release. L'Orangerie — a glass-enclosed solarium adjacent to the Birch & Bloom restaurant — offers a private dining and event space.
"We are already in demand as a wedding venue from both alumni with a strong North Grounds connection and people simply interested in a memorable experience in a beautiful location," Williams said.
The Law School's Career Development Office has already scheduled some networking events in the Forum's ballroom.
"Having such a large space allows us to accommodate participation by many more employers and students," said Kevin Donovan, senior assistant dean for career development.
4. A Garden Walk That Builds Connections
The Forum's backyard features five acres of gardens, including 17,000 square feet of event space. Though newly planted and in need of a season or two to reach their full potential, the arboretum and botanical gardens "activate" areas of North Grounds that were not used, Williams said.
An entrance from the Law School's parking lot from Slaughter Hall leads to the gardens, including the Thomas Jefferson Garden and Magnolia Garden.
Walking trails also connect the Law School to Darden and several outdoor gathering spots, including a pond, an outdoor concert amphitheater and various thematic gardens, from a Japanese garden to an international edibles garden.
5. The Main Lobby, Plus a Cozy Spot
The Forum promises a grand entrance with a view that will change throughout the year.
"When you walk into the expansive lobby, you are greeted by a sweeping view of the arboretum and botanical garden through enormous wraparound windows," Williams said. "This means the hotel's central hub will present differently throughout the seasons."
There's also a cozy library off the lobby, formally named the Bruner Case Study, with a fireplace and books connected to Dean Emeritus Bob Bruner, one of the Darden School's most-admired teachers.
Aside from its aesthetic and functional advantages, the site has one more accomplishment the builders are proud of: According to Williams, "no major safety issues" arose during construction.
"We are grateful to all of the incredible crews, and we thank the North Grounds community for its patience amid the construction," she said. "We think it will be worth it."
Founded in 1819, the University of Virginia School of Law is the second-oldest continuously operating law school in the nation. Consistently ranked among the top law schools, Virginia is a world-renowned training ground for distinguished lawyers and public servants, instilling in them a commitment to leadership, integrity and community service.