A team of students from the University of Virginia School of Law placed second in this year's International and European Tax Moot Court competition, among other accolades for the Law School community.
The moot court team was second-years Daniel Elliott and Kathryn Kenny, and third-years Katrina Meyer and Neil Kelliher. Third-year Natalie Mauch, a member of last year's team, served as student coach. The competition, held in Belgium for the first time in three years due to the pandemic, concluded March 31.
UVA Law, which first participated in the competition in 2017, has quickly built a successful record in the meet, which attracts teams from around the world. The school became the first U.S. team ever to win the competition in 2018, launching a three-year winning streak. This year the team lost to WU Vienna, an eight-time winner.
"Virginia-Vienna is becoming a rivalry, as the same two teams faced off in last year's final as well," said Professor Ruth Mason, who has served as a faculty adviser for the team since it launched. "I was especially proud of how the students — most of whom had little tax background — delved deeply into the issues to write convincing briefs. That's exactly what litigators have to do — make persuasive arguments about an area of law in which they have no specialization."
The competition allows law students to sharpen their oral and written argument skills on tax issues with global implications. The event is sponsored by the Institute of Tax Law of KU Leuven and the International Bureau of Fiscal Documentation.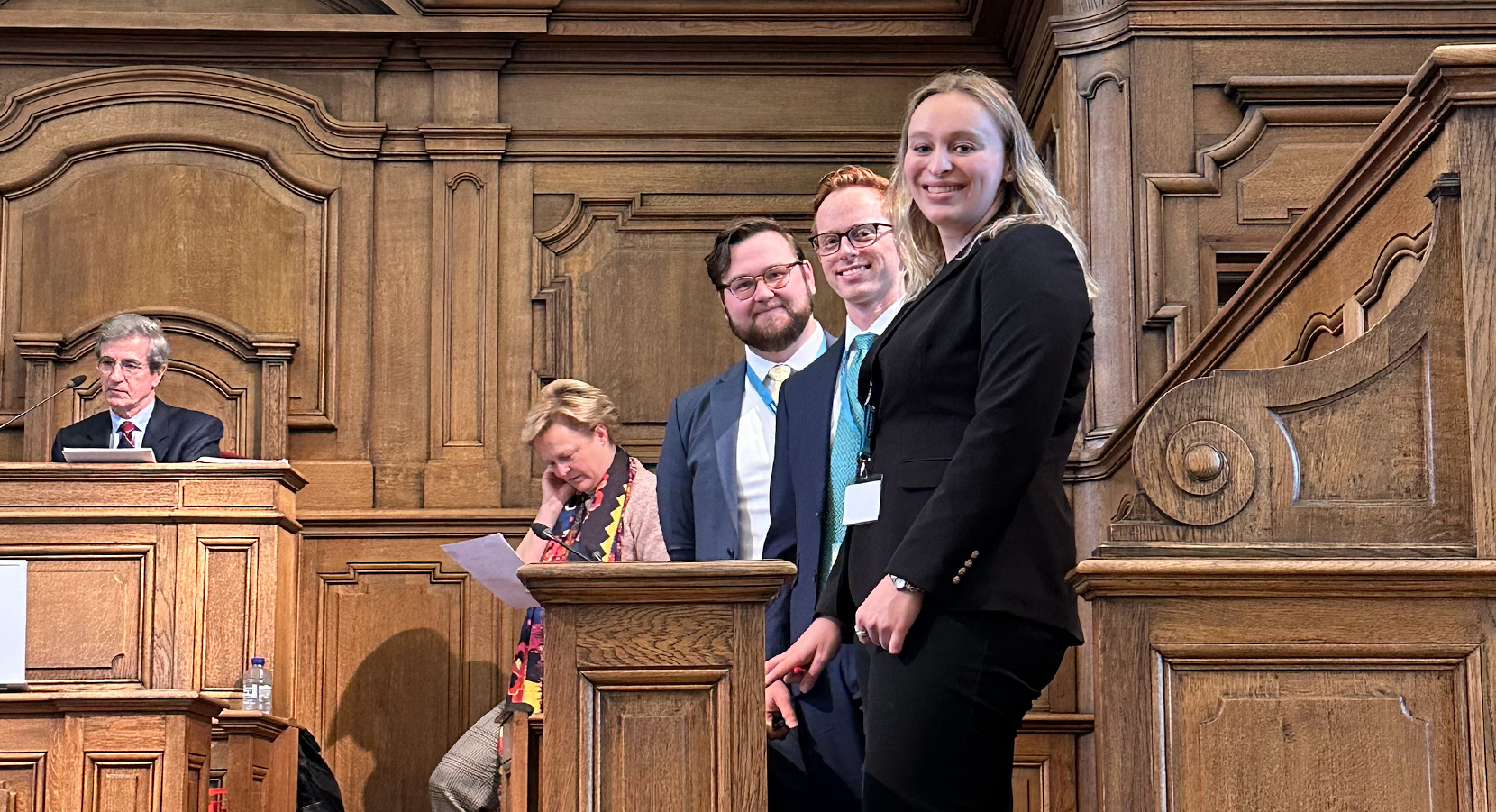 The competition was held in Belgium for the first time in three years due to the pandemic.
Block, Ross Join Community Engagement Initiative
With the help of students, Professors Andrew Block and Bertrall Ross are part of the legal team for a partnership between UVA's Weldon Cooper Center for Public Service and the city of Virginia Beach that will provide a report to City Council regarding policy options for local elections. The final report will include legal analysis, a review of social science research on the impact of different local election systems, and input from residents gained through surveys and 12 community meetings. The team will share the report with City Council in early summer 2023.
Block directs the State and Local Government Law Clinic, and Ross is the Justice Thurgood Marshall Distinguished Professor of Law and directs the Karsh Center for Law and Democracy.
2L Wins Associated Press Award
Dennis Ting '24 won a 2022 Virginias Associated Press Broadcasters Award for a news story on enslaved families at Monticello, the AP announced April 1. Ting, a freelancer, co-produced "Descendants' Voices at Monticello" for VPM in December, interviewing Gayle Jessup White, an author who spent four decades tracing her ancestry and discovered through DNA that she is related both to Thomas Jefferson and Sally Hemings' brother, Peter. White is a public relations and community engagement officer at Monticello.
Before law school, Ting was a reporter and news anchor for ABC affiliate WHAS11 in Louisville, Kentucky.
Well this is cool - my story on Monticello and the descendants of the enslaved workers just won a Virginias Associated Press Broadcasters Award! Grateful to have had the opportunity to tell this story with a great team that has been willing to accommodate my law school craziness. pic.twitter.com/ndfqKH7Dk2

— Dennis J. Ting (@DennisJTing) April 1, 2023
2L Breaks UVA Discus Record — Again
Ashley Anumba '24 broke her own UVA record and set a nation-leading mark in the discus with her throw of 59.37 meters to win the track and field Raleigh Relays at North Carolina State University on March 24. This is the fifth time Anumba has broken the discus school record since she joined the team in 2022. The mark also set a Raleigh Relays record. She is competing for the Cavaliers during her two final years of collegiate eligibility.
Hear from Ashley Anumba after her record-breaking performance in the discus today#GoHoospic.twitter.com/Bp8QHRteU1

— Virginia Track & Field and Cross Country (@UVATFCC) March 24, 2023
Grad Named Charles F.C. Ruff Fellow
Robert Mathai '22 was named a Charles F.C. Ruff Fellow in the District of Columbia Office of the Attorney General on March 13. The yearlong fellowship promotes public interest legal work and gives recent law school graduates the opportunity to practice law as assistant attorneys general, according to a press release.
Founded in 1819, the University of Virginia School of Law is the second-oldest continuously operating law school in the nation. Consistently ranked among the top law schools, Virginia is a world-renowned training ground for distinguished lawyers and public servants, instilling in them a commitment to leadership, integrity and community service.