A Friend of the Court
Supreme Court Experience Fuels 3L Julia Grant's Interest in Law
As an undergraduate, Julia Grant interned at the U.S. Supreme Court, spurring her interest in law school. By her third year at the University of Virginia School of Law, she was helping her team prepare to argue a case there.
Set to graduate from the Law School on May 21, Grant has been involved in a number of activities, including being a student in the Supreme Court Litigation Clinic, articles development editor of the Virginia Law Review, a volunteer with the Innocence Project, and a research assistant for Professors Rachel Bayefsky and A. E. Dick Howard '61. Her note, "A Clash of Constitutional Covenants: Reconciling State Sovereign Immunity and Just Compensation," is forthcoming in the September 2023 issue of the Virginia Law Review.
The Gulfport, Mississippi, native earned a bachelor's degree in public policy leadership and economics from the University of Mississippi.
In our occasional series "Star Witness," Grant discussed working for a nonprofit that helped businesses during the COVID-19 pandemic and her rewarding experience as a clinic student.   
Tell us something about your life before law school.
There's really nothing more that I love than my family, and I think a lot about the long months I had with them during COVID right before I moved to Charlottesville. That time was difficult for everyone, but with hard times come silver linings, and I would not trade that stolen time I had with them for anything. My dad and I can get our curiosity piqued pretty easily, so on his days off we would do anything from watch baseball to read Eudora Welty or books about the Jesuits. Some days we would just watch Adam Sandler movies or the "Back to the Future" trilogy. My mom is my biggest supporter, and we spent a lot of time talking about the life I was about to begin and how to remain true to myself once I entered the world. My sister and I kept track of the days by when our favorite new television shows were released and walked the dog together. Nothing makes me feel more grateful than when I think back to those times, both for my health and for my family.
Also during this summer, I was contacted by a mentor of mine, Marie Sanderson, who wanted to expand a nonprofit developing in other states to our home state of Mississippi. The goal of the nonprofit was to provide forgivable loans to small businesses that were experiencing severe financial hardship during the pandemic. Along with my mentor and her husband, Brian, I helped bring the nonprofit, the 30 Day Fund, to Mississippi and served as its executive director. It truly was the most rewarding experience. Each day, I reviewed applications from small-business owners from around the state; the applications included videos, through which I was introduced to my fellow Mississippians and the businesses that they had poured their lives into. The best part of the job was definitely calling recipients to tell them they would be receiving the forgivable loans — there were always tears and shouts of joy. Throughout my tenure, I helped raise roughly $300,000 and fund 50 small businesses!
Why law school?
My freshman year of college, I had a pretty unjustified impulse to apply for an internship at the Supreme Court of the United States. I was 18 years old at the time, knew very little about the law and probably could not have been more unqualified for the position. But something about the court had always fascinated me, and I remember parsing through opinions on the SCOTUS website in high school, just trying to make sense of them. When I was offered the internship, they essentially told me I was getting it because I sounded so excited during the interviews, not because I was really qualified in any way. I thank God every day they took a chance on me. That summer changed my life. I was immediately taken not just with the grandeur of the court, but also with the humdrum of it — the staff lawyers, the mailroom people and the kind bureaucrats whom I worked with, who showed up every single day for decades and kept the machine running. Part of my job was manning the phone lines, where on any given day I would talk with a Harvard law professor filing an amicus brief or a tearful mother asking how to file an in forma pauperis petition on behalf of her incarcerated son. From that summer forward, I knew that I wanted to spend the rest of my life helping the machine run, too.
Describe your most interesting law school experience.
Definitely the coolest thing I've done in law school, or honestly in my life, was serving on the Jones v. Hendrix team in the Supreme Court Litigation Clinic my 3L fall. My team was lucky enough to inherit a case that had already been granted cert, thanks to the hard work of the clinic the semester prior, so I had the incredible experience of serving on a Supreme Court team as a student. The case was an extremely complicated habeas matter, and our weeks were spent unraveling seemingly endless legal complexities embedded in the issues. As oral argument loomed, we got to play justice and moot Professor [Daniel] Ortiz. It felt like prepping for battle. Then, I got to head to D.C. with some of the best people I have met in law school and listen to the justices themselves pepper Professor Ortiz with questions about the briefs I had worked on. It was truly surreal.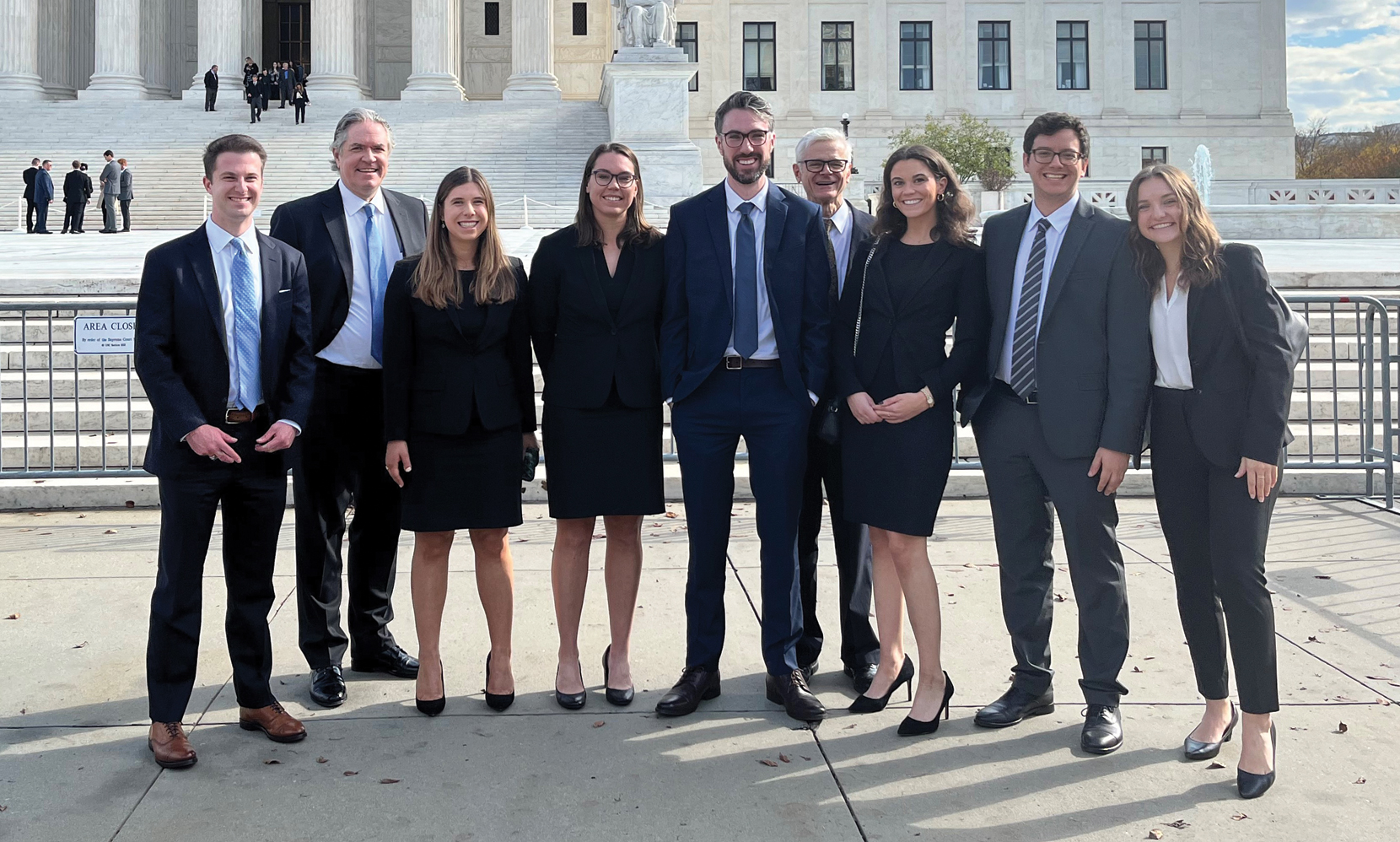 Julia Grant '23 and members of the Supreme Court Litigation Clinic heard Professor Daniel Ortiz deliver oral argument Nov. 1. Pictured are Steven Higgins '23, Jeremy Lowrey (the counsel below), Harper North '23, Laura Lowry '23, Boyd Hampton '23, Ortiz, Grant '23, Jeffrey Horn '23 and Emily Bucholtz '23. Courtesy photo
What's something your classmates don't know about you?
I was never an athlete growing up, unless you count being on the math team (or chess team). But I love a challenge, and I love spending time with my friends. So when my (incredibly sporty) roommate asked me to try out CrossFit with her last year, I thought I would give it a shot. I honestly think it's been a steeper learning curve than law school, and the sight of me trying to do a handstand or throw a sandbag over my shoulder has got to be pretty hilarious. But I'm still showing up, and honestly, it's one of the most humbling and truly fun things I've ever done.
What's next for you?
After graduation, I'm lucky enough to get a bonus year here in Charlottesville: I'll be clerking for Judge J. Harvie Wilkinson on the U.S. Court of Appeals for the Fourth Circuit. After that, I'll clerk for Judge Trevor McFadden on the U.S. District Court for the District of Columbia. Post-clerkships, I hope to go into private practice.
Founded in 1819, the University of Virginia School of Law is the second-oldest continuously operating law school in the nation. Consistently ranked among the top law schools, Virginia is a world-renowned training ground for distinguished lawyers and public servants, instilling in them a commitment to leadership, integrity and community service.