Professor Frederick Schauer won the 2023 Scribes Book Award for "The Proof: Uses of Evidence in Law, Politics, and Everything Else," among other accolades for the University of Virginia School of Law community.
Scribes presents the award for the best work of legal scholarship published during the previous year. The Scribes Book-Award Committee receives upwards of 50 nominees each year. Professor G. Edward White won in 1994 for "Justice Oliver Wendell Holmes: Law and the Inner Self," and Professor Douglas Laycock won in 1991 for "The Death of the Irreparable Injury Rule." Past winners also include Erwin Chemerinsky, Lawrence M. Friedman, E. Barrett Prettyman Jr. '93 and Laurence H. Tribe.
Schauer's book explores the use of evidence in courts but also in areas ranging from medicine to art to history and beyond, and explains what kinds of evidence matter in different contexts.
Schauer is a David and Mary Harrison Distinguished Professor of Law. He is a world-renowned expert in the areas of constitutional law, evidence, legal reasoning, freedom of speech, and jurisprudence and the philosophy of law. His expertise has been demonstrated in hundreds of books, book chapters, articles, essays, classes and personal appearances.
Class of 2022 No. 1 in Jobs, No. 5 in Federal Clerkships
UVA leads the nation in recent J.D. graduates with permanent, full-time jobs that require passing the bar. American Bar Association data analyzed by Reuters found that 95.41% of 2022 UVA Law graduates obtained such positions.
UVA is No. 5 nationally in the percentage of 2022 J.D. graduates clerking for federal courts, at 12.84%. A third of all federal clerks nationwide graduated from just 10 schools, including UVA. Out of 327 J.D. graduates in UVA's Class of 2022, 47 are clerking during the 2022 term, including 12 in federal appellate circuit courts.
Professors Contribute to ALI Book
Four professors contributed to "The American Law Institute: A Centennial History," published in April by Oxford University Press. Marking the organization's 100th year, the collection of essays provides original perspectives on both the ALI and its relevance for American law. Professors Kenneth S. Abraham and G. Edward White wrote "The Work of the American Law Institute in Historical Context," Professor Naomi Cahn co-wrote "The Restatement of Trusts—Revisited," and Professor Frederick Schauer wrote "The Restatements as Law."
They are among 34 members of the faculty affiliated with the institute.
Frost Testifies Before Senate
Professor Amanda Frost testified May 2 before the U.S. Senate Judiciary Committee for a hearing on Supreme Court ethics reform. She argued that Congress has the constitutional authority to pass a code of ethics for the justices, noting that the 1st Congress set the size of the Supreme Court, established a quorum, dictated how often the court would meet and required the justices to also serve as circuit court judges.
Frost is the John A. Ewald Jr. Research Professor of Law and co-directs the school's Immigration Law Program. She writes and teaches in the fields of immigration and citizenship law, federal courts and jurisdiction, and judicial ethics. She has been interviewed by The New York Times, The Washington Post, NPR and other national media outlets about judicial ethics in recent months. A TikTok clip of her testimony attracted over 86,700 likes.
Federal Register Cites Citron Paper
Professor Danielle Citron's paper "Privacy Harms" was cited in the Federal Register's proposed rule to support reproductive health care privacy on April 14. The proposal, drafted for the U.S. Department of Health and Human Services, would modify existing standards that permit uses and disclosures of protected health information. In the Boston University Law Review article, Citron and her co-author, George Washington University law professor Daniel J. Solove, examine how individual injuries can facilitate systemic privacy harms.
Additionally, Citron participated in a White House state legislative meeting on April 26 on proposals to strengthen protections for victims whose intimate images were non-consensually distributed.
Citron is the Jefferson Scholars Foundation Schenck Distinguished Professor in Law, the Caddell and Chapman Professor of Law and director of the school's LawTech Center.
See footnote 349 of the proposed HIPAA rule for the protection of repro health data citing my piece with @DanielSolove "Privacy Harms". Thanks @BULawReview for publishing it, @futureofprivacy for naming it best paper. Really gratified. @UVALaw @gwlaw https://t.co/0XPmfO3Qnd

— Danielle Citron (@daniellecitron) April 16, 2023
Society Honors Shalf, Chapter
The American Constitution Society for Law and Policy named Professor Sarah Shalf '01 its Faculty Advisor of the Year. Shalf directs the Community Solutions Clinic and serves as the school's director of clinical programs. The UVA Student Chapter also received a Programming Award, given to the "strongest" ACS chapters that have conducted at least 18 substantive and compelling events during the school year, according to ACS. Shalf and the chapter were honored at the ACS National Convention this month.
Additionally, chapter President Io Jones '24 and Co-Director of Programming Sumit Kapur '24 were named ACS Next Generation Leaders.
ACS's mission includes advocating for laws and legal systems that strengthen democratic legitimacy, uphold the rule of law and redress the failures of the Constitution and enduring inequities in the law, according to a statement.
Congrats to Sarah Shalf, Prof. of Law at the @UVALaw, for being the 2023 Faculty Advisor of the Year. Shalf has gone above and beyond to support the student and local lawyer network. She has also uplifted ACS's work and has been an active attendee at ACS's National Convention! pic.twitter.com/xOeuR1rUqF

— American Constitution Society (@acslaw) May 16, 2023
Student Organization Receives Jefferson Trust Grant
In partnership with the Decarceration and Community Reentry Clinic and Resilience Education, the Virginia Law in Prison Project's Prison Education Program received a $10,000 flash grant from the Jefferson Trust. The funding, announced April 17, expands the Entrepreneurial Reentry Education Program model to include law school students in developing and teaching educational course materials for incarcerated learners.
Nicoletti Podcast Episode Nominated
An episode of the "HISTORY This Week" podcast featuring Professor Cynthia Nicoletti, a legal historian, was nominated for a Webby Award for Featured Guest Podcasts. The episode, "Reconstruction I: Secession on Trial," explores the capture and prosecution of Confederate President Jefferson Davis after the Civil War. The award recognizes a single podcast episode showcasing a guest or special co-host.
Nicoletti's book, "Secession on Trial: The Treason Prosecution of Jefferson Davis," won the 2018 Cromwell Book Prize.
Environmental Law Clinic Recognized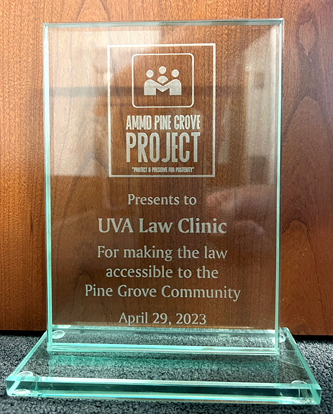 The AMMD Pine Grove Project recently recognized the Environmental Law and Community Engagement Clinic for the clinic's role in trying to preserve the Pine Grove Elementary School in Cumberland County, Virginia. The clinic has joined an effort to protect the historic African American schoolhouse and surrounding property, which community members say are threatened by a proposed landfill.
"Collaboration can accomplish more than traditional legal representation," said Professor Cale Jaffe '01, the clinic's director. "Following our partners can be more powerful than trying to lead."
Founded in 1819, the University of Virginia School of Law is the second-oldest continuously operating law school in the nation. Consistently ranked among the top law schools, Virginia is a world-renowned training ground for distinguished lawyers and public servants, instilling in them a commitment to leadership, integrity and community service.