Professor Concludes 17-Year Run as Director of Supreme Court Clinic
After arguing at the U.S. Supreme Court, then having lunch with students who worked on the case and sometimes other lawyers, Dan Ortiz drives back to Charlottesville and ends his day the way the University of Virginia School of Law professor usually does: with a long swim in the pool.
"They're not my fastest swims, but they're a way of relaxing," said Ortiz, who is stepping down this year after 17 years as director of the Supreme Court Litigation Clinic. Launched as a trial class in the spring of 2006, the clinic ramped up to full speed that fall and has never looked back, arguing 18 cases on the merits since then. As new UVA Law professor Xiao Wang takes the reins of the clinic, Ortiz will return to teaching classes in administrative law, constitutional law and election law.
"I've had a lot of fun, but after 17 years, it's time for new blood," Ortiz said. "I'll be excited to see where Xiao takes it."
The yearlong clinic offers students the chance to find potential cases to appeal to the Supreme Court, research and write briefs for those cases, and prepare one of the instructors for oral arguments while also preparing any supplemental materials.
"Students really love it — it's a great way of capping their three years of work at the law school," Ortiz said. "They get to go up against some of the best lawyers in the United States, and it's just a great training ground."
Of the 35 alumni who went on to Supreme Court clerkships since the clinic began, 21 participated in the clinic. The clinic has also brought back former students, including Matthew M. Madden '07 and Donald Burke '08, to teach.
Ortiz said one challenge in running the clinic is ensuring students have work to do, so finding cases, which students work on even over the summer, is imperative.
"You have to work very hard to find cases that the Supreme Court might be interested in," he said. "That probably took up more of my time than actually working on the cases once we got them."
Students are often diving deep into the weeds of case law to ensure they cover every detail that might be brought up in oral argument, or as justices consider the briefs' contents. Ortiz recalled that one student this school year, Julia Grant, had the seemingly "thankless" task of reviewing some 300 cases decided over several decades by the procedural mechanism at issue in Jones v. Hendrix — and her work was eventually summarized in one footnote in the brief. At Ortiz's oral argument Nov. 1, Justice Sonia Sotomayor raised the issue of cases during that time period, and Ortiz was prepared for the answer thanks to Grant's efforts.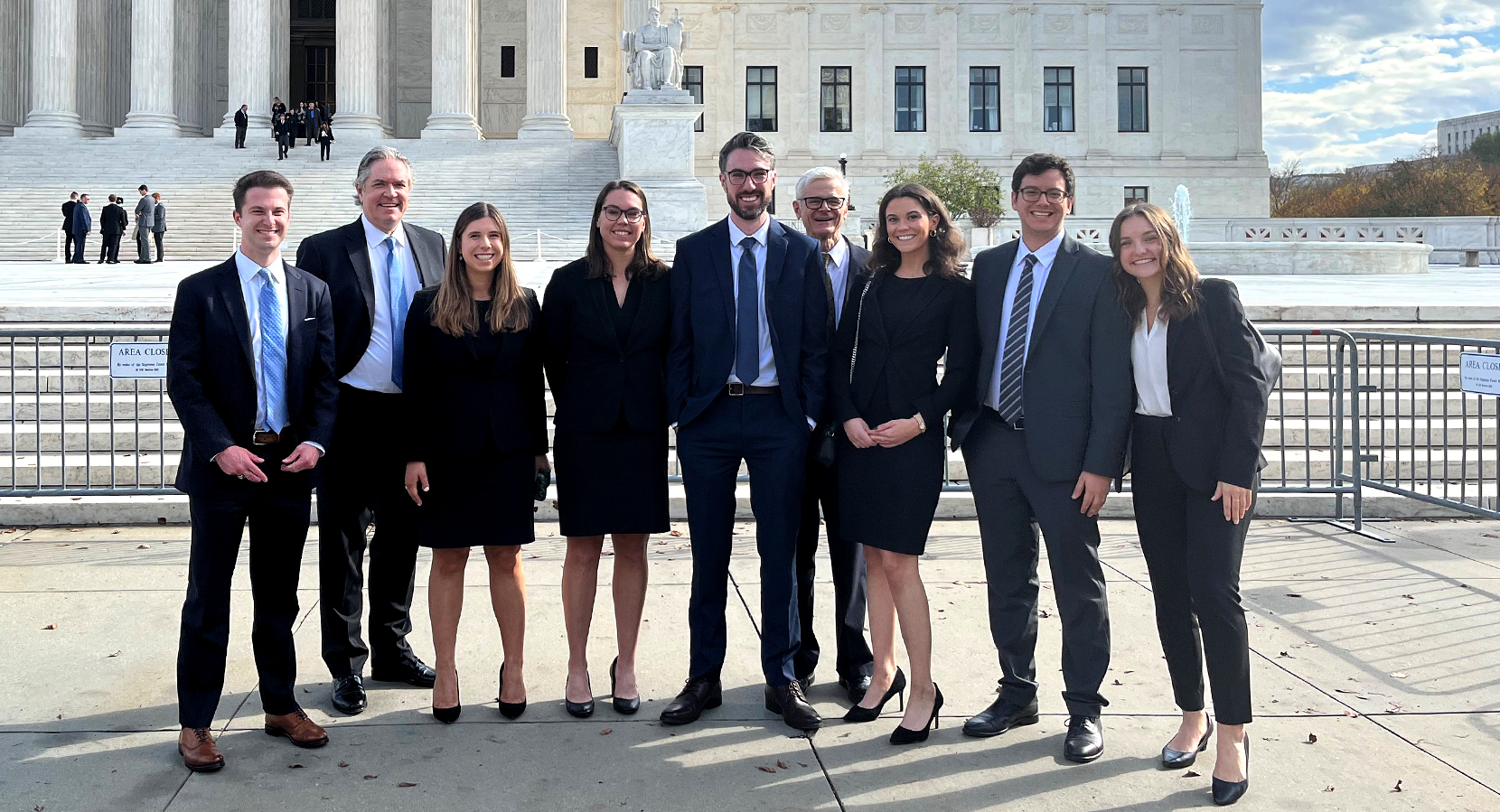 Members of the Supreme Court Litigation Clinic heard Ortiz deliver oral argument in Jones v. Hendrix on Nov. 1. Courtesy photo
"It was the best kind of recognition she could have gotten for that work," Ortiz said. "If that question had not been asked, I think Julia might have thought that work was thankless when it actually was critical."
Ortiz has argued seven cases himself since he launched the clinic, the preparation for which is meticulous. Students initially come up with questions they believe justices will ask and help strategize about how to answer them. After Ortiz writes a short introduction, he prepares through a series of moot arguments — with the clinic students, with UVA Law faculty, in Washington, D.C. and sometimes on Zoom.
"After each moot, there's a postmortem, where people say what worked, or I don't think that worked," Ortiz said. "That's a pretty intense period of time, especially for me, but also for the students."
Throughout, students are researching new issues that come up during mootings, and the team is refining their appeal.
The actual argument, Ortiz said, is the least memorable part, in some ways.
"When you're doing oral argument, it passes so fast and you're just locked in, in the moment," he said. "I can't honestly remember much of any one oral argument."
Over the years, the clinic has won "9½" of its 18 cases, having received one split decision and with one ruled as being improvidently granted. Ortiz said the most notable decision may be the Facebook threat case, Elonis v. United States. Adjunct instructor John Elwood argued the appeal, and its follow-up this term — though not for the clinic — Counterman v. Colorado, which is awaiting a decision.
In the case, Anthony Elonis argued that comments he posted on Facebook, which were styled as rap lyrics, were meant to blow off steam rather than be actual threats. He won, though the decision left questions in its wake.
Though Elonis garnered the most press, Ortiz said the latest appeal he argued, Jones v. Hendrix, could have a greater impact.
"If we win, it may be the one that's most impactful on the ground in terms of affecting people's outcomes and numbers of cases and things like that."
In Jones, the justices are considering whether habeas relief is available to federal inmates who could not otherwise file challenges to their convictions when judicial decisions decriminalized the activities at issue after they were convicted.
Marcus DeAngelo Jones, who was convicted in 2000 for being a felon in possession of a firearm, wants his conviction vacated. In 2019, the Supreme Court ruled in Rehaif v. U.S. that in possession cases, the government must prove a defendant "knowingly" possessed a gun and also knew that they were prohibited from doing so. Jones said the government had not met the latter standard in his case in the lower courts during and after his trial, "and they all rejected that argument," Ortiz said. Later, after the Supreme Court made clear those courts were wrong in Rehaif, he tried to file a new habeas action raising the issue again, which the lower courts in his case said he could not.
"There's a circuit split on this issue," Ortiz said, making it ripe for a Supreme Court decision. Eight circuits have supported habeas relief when a change in substantive law is retroactively applicable, as it was in Jones, and three have opposed it.
Over the years, various professors have co-taught the clinic, including Toby Heytens, now a U.S. judge on the Fourth Circuit, and UVA President Jim Ryan '92 when he was a full-time law professor, but Ortiz has been a consistent presence throughout.
Mark Stancil '95, an appellate litigator with Willkie, Farr & Gallagher who has co-taught the clinic off and on for 10 years, said Ortiz was "indefatigable" as the course's leader.
"Dan has unlimited patience for the private practitioners with whom he taught and unbridled enthusiasm for his students," Stancil said. "He just worked tirelessly to take every opportunity and make the most of the clinic's cases."
Founded in 1819, the University of Virginia School of Law is the second-oldest continuously operating law school in the nation. Consistently ranked among the top law schools, Virginia is a world-renowned training ground for distinguished lawyers and public servants, instilling in them a commitment to leadership, integrity and community service.