Bagley Focuses on Science Through the Lens of the Law
Posted Aug. 31, 2006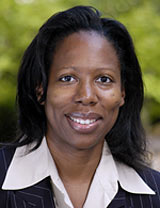 When Margo Bagley worked as a research chemical engineer in the 1980s, she found herself routinely clearing product development projects with the legal department's patent attorneys. A star at Procter & Gamble, where she was named Food Product Development Excellence "Rookie of the Year" and was co-inventor on a U.S. patent, and later a senior research analyst at the Coca-Cola Company, she nevertheless found over time that her role as a technologist in corporate life was too "narrow and cramped." Intrigued by her many conversations with the legal department, she decided to make a few phone calls.
"Any time I wanted to run a consumer test, I would have to clear it with patent attorneys because we might be losing rights to obtain patent protection in other countries," recalls Bagley, the Law School's new Class of 1941 Research Professor. "I really became interested in patent law through those interactions. So I actually pulled out the phone book and cold-called some more patent attorneys to find out if they really liked what they were doing and how they got into the field. I concluded that it was a change I wanted to make and it's been wonderful."
Bagley never regretted her decision. She received her J.D. in 1996 from Emory, where she was an editor of the Emory Law Journal. Bagley worked as an associate with Smith, Gambrell & Russell and Finnegan, Henderson, Farabow, Garrett & Dunner as a patent attorney for three years. Up to that point, she had never really considered academia as a career, but another phone call changed her course yet again.
 "I was practicing law and received a call from Howard Abrams, one of my professors at Emory," says Bagley. "They were looking for a patent law professor and he was a real champion of mine. I was a Woodruff Scholar at Emory so I knew a lot of the professors very well and had a great relationship with the dean. They brought me in, I made a presentation, and they invited me to join the faculty."
Bagley became an assistant professor of law at Emory University in 1999. She was a visiting professor of law at Washington & Lee University School of Law in 2001 and at the Law School last fall. 
Bagley finds teaching also helps generate ideas for her scholarship. "I see different approaches to issues related to increasing levels of patent protection internationally. As a professor, I get to have an impact in a way that I never could as a practicing attorney. I still am in contact with students who I taught eight years ago and who are off around the world doing great things."
While at Emory, Bagley played a significant role in the development and implementation of the nationally recognized and award-winning TI:GER (Technological Innovation: Generating Economic Results) program. TI:GER is an interdisciplinary joint venture between Emory Law School, the Georgia Institute of Technology, and the Emory Department of Economics that brings together J.D., M.B.A., and Ph.D. students to learn the process of commercializing innovation. TI:GER echoes the Law School's Law & Business Program in its interdisciplinary approach to the study of law and its goal of teaching law students the "language" of their clients.
"I think that interdisciplinary learning is very important, especially for lawyers. Lawyers need to understand their clients' business needs and be able to work with them creatively to figure out how they can use tools in the law to achieve their company objectives."
Bagley readily admits that her degree in chemical engineering is fundamental to her success as a patent attorney and now scholar in intellectual property. "You have to have a science or engineering background in order to sit for the registration exam and represent clients before the Patent and Trademark Office. That degree was critical to my being able to practice the kind of law that I did and is still relevant now to some of the classes that I teach. It was very helpful when I was in practice, because I had a rapport with my inventor-clients. I had credibility with them because I'd been in R&D, I'd been an inventor, and I understood the kind of work they were doing."
Nevertheless, Bagley says that a student doesn't need a scientific mind to study patent law or to litigate patent cases. She shows students how every case deals with the law. She helps them drill down past the technology to where the student ultimately finds the legal principles; what the law is, and more importantly, what the law should be. Is it really a good decision? What are the policy implications? What type of patent system do we want to have? "I tell them this is law, just like any other area of law and to not be afraid of the science. And once students find out that they don't have to be afraid of that, they do just great."
Bagley is now focusing on a particularly irksome development in Congress that throws an administrative wrench into one area of the patent process. "It's a mess right now," she says. "Our system allows patents on pretty much any type of subject matter. But now we have this strange little thing called the Weldon Amendment which says that the Patent Office can't use any of the funds Congress has appropriated to it to issue patents on humans. It doesn't tell us what a human is. It doesn't provide a basis for an examiner to actually reject any claims. And under current judicial interpretations of the Patent Act, the Patent Office doesn't have the authority to reject such claims. It really is an untenable situation."
Bagley is also concentrating her scholarship on three highly visible areas of public policy. The first is the nexus between morality and biotechnology, which involves the Weldon Amendment. The second is the unintended consequences of linking intellectual property protection to international trade. And the third is technology transfer issues surrounding the Bayh-Dole Act of 1980, which gave universities the right to take title to inventions made with federal funds.
And, says Bagley, she has found the perfect place to pursue her research. When she visited Virginia last fall, she "fell in love with the area and the collegiality and involvement of both students and faculty. I was so impressed with the caliber of students, the quality of the questions they asked, and their interest in the subject matter. I'd never had 65 students in patent law before and I was thrilled that so many students took the course with no science/engineering background, it was great. And I absolutely love the interaction with my colleagues; their collegiality, their commitment to scholarship, and their willingness to engage and explore issues outside of their particular area. When I presented an article, they gave me wonderful feedback."
Bagley is co-authoring an international patent law book with Ruth Okediji from the University of Minnesota and Jay Ersling, a senior official with the World Intellectual Property Organization, a U.N. agency that is responsible for administering the Patent Cooperation Treaty. This semester, she is teaching patent law and international patent law and next semester a seminar on current issues in patent law. "Congress is considering the most dramatic patent legislative changes in 50 years," she said. "We expect in the next few congresses to see some significant changes and I think it is an excellent time for students to study these issues, get out in front, and tell Congress what it should do, because frankly, Congress needs the guidance. There's so much going on. I want my students to have an opportunity to write papers that influence the outcomes in this area."
Founded in 1819, the University of Virginia School of Law is the second-oldest continuously operating law school in the nation. Consistently ranked among the top law schools, Virginia is a world-renowned training ground for distinguished lawyers and public servants, instilling in them a commitment to leadership, integrity and community service.