Civil Rights Leader to Keynote Public Service Conference
Posted February 1, 2008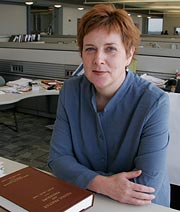 Mary Bauer '90
UPDATE (POSTED FEB. 8): Due to illness, keynote speaker J. Richard Cohen is unable to attend. Mary Bauer, director of the Southern Poverty Law Center's Immigrant Justice Project and a 1990 graduate of the Law School, will speak in his place.
Bauer is at the forefront of litigation and lobbying efforts on behalf of migrant workers and recent immigrants in the South. In addition to filing numerous complex lawsuits against corporate giants, the project has issued reports that have changed the terms of the national debate over guest workers. She and her colleagues have testified in Congress and are frequently consulted on legislative proposals. Bauer was the Law School's first Skadden Fellow—earning her the most coveted public interest award available to young attorneys. Prior to joining SPLC, she was director of the Virginia Justice Center for Farm and Immigrant Workers (now the Immigrant Advocacy Program) at the Legal Aid Justice Center and legal director of the Virginia ACLU. Bauer will deliver her address Saturday, Feb. 9, at 11:30 a.m. in Caplin Pavilion.
******
Civil rights advocate J. Richard Cohen, president of the Southern Poverty Law Center, will deliver the keynote address at this year's Conference on Public Service and the Law, to be held Friday and Saturday, Feb. 8-9, at the University of Virginia School of Law. Founded by law students nine years ago, the conference brings together students, citizens, and attorneys to discuss current public interest legal issues. 
Cohen, a 1979 graduate of the Law School, will deliver his address Saturday, Feb. 9, at 11:30 a.m. in Caplin Pavilion. Known for his efforts to monitor and stamp out white supremacist activity, Cohen has been involved in a wide variety of civil rights initiatives, ranging from traditional employment discrimination and voting rights cases to campaigns to reform state juvenile justice and educational systems. He has served as the executive producer for six of the Center's award-winning documentary films, four of which were nominated for Academy Awards. Two of these films—"Mighty Times: The Children's March" in 2005 and "A Time for Justice" in 1994—have won Oscars. 
Other conference events include panels on the upcoming reauthorization of the No Child Left Behind Act, political redistricting, the regulation of greenhouse gases, the expansion of children's health care, wrongful convictions, jurisdiction on Indian reservations, refugee migration from Iraq, and prosecutorial discretion. All events are free and open to the public, but registration is required to receive lunch on Saturday.
The conference, which has hosted more than 1,700 participants and 275 panelists since its inception, draws students and speakers from across the country. There is no cost to register and students attending from other law schools are offered free housing with Law School students during their stay. The conference's workshops are designed to help students learn about public service law careers, while the panels are designed to facilitate discussion on key public interest legal issues.
For more information and to register, go to www.uvapublicserviceconference.com
Schedule
FRIDAY, FEBRUARY 8
2:00-7:00 pm
Registration (Clay Hall)
4:00-5:15 pm
Regulation of Greenhouse Gas After Massachusetts v. EPA (WB 126)
5:30-6:45 pm

Justice in Indian Country (WB 126)

7:00-9:00 pm
CONFERENCE DINNER (Caplin Pavilion)
Speaker: 
Anne Milgram, Attorney General of New Jersey
Invited guests only
SATURDAY, FEBRUARY 9
9:00-11:00 am
Registration and Breakfast (Clay Hall)
9:45-11:00 am

PANELS

Conflict-Driven Migration in Iraq (WB 102)
Prosecutorial Discretion (WB 104)
The No Child Left Behind Act: Goals and Implications for the Act's Reauthorization (WB 105)

11:00-11:30 am
Seating for the Keynote Address (Caplin Pavilion)
11:30 am-12:30 pm
KEYNOTE ADDRESS (Caplin Pavilion)
Mary Bauer '90, Director of the Southern Poverty Law Center's Immigrant Justice Project
1:00-2:15 pm

WORKSHOPS

Careers in International Public Interest Law (WB 103)
Careers in Poverty Law (WB 105)
Careers in Prosecution and Defense (WB 126)
Women in Public Interest Careers (WB 102)
Careers in the Federal Government (WB 128)
Public Interest Law in the Private Sector (WB 104)

2:30-3:45 pm

PANELS

Redistricting and the Law: Are Voters Choosing Their Representatives or are Representatives Choosing Their Voters? (WB 103)
S-CHIP Expansion: The Debate and Its Implications for America (WB 105)
Wrongful Convictions (WB 104)

4:00-5:00 pm
Closing Reception (Withers Lounge)
Founded in 1819, the University of Virginia School of Law is the second-oldest continuously operating law school in the nation. Consistently ranked among the top law schools, Virginia is a world-renowned training ground for distinguished lawyers and public servants, instilling in them a commitment to leadership, integrity and community service.