Competition, Globalization Changing Law Firm Business, Baxter Says
Posted September 19, 2005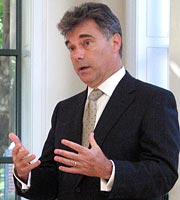 The private practice of law is being reshaped by business economics, said Ralph Baxter '74, Chairman and CEO of Orrick, Herrington & Sutcliffe LLP, at a Sept. 13 lecture sponsored by the Career Services Office. Job-seeking law students should be careful to examine a firm's economic standing, business sense, and culture before accepting an offer of employment, Baxter told students gathered in Caplin Pavilion.
"We are in a progression from being just a profession to a profession and a business," Baxter explained. However, "the business characteristics are secondary…money isn't the most important thing." Law firms still exist to fulfill their primary mission of practicing law and serving clients.
Two major trends are reshaping firms. "Globalization has touched the law and all of us because our clients' needs and risks are global," he said. Secondly, like so many businesses, firms are consolidating. Bigger firms have deeper and stronger resources, said Baxter, whose own firm has recently acquired one of the oldest offices in Moscow, an office in London, and three in China.
"You have to figure out how you're going to keep pace with competitor law firms," he said.
When Baxter graduated from law school, firms aspired to be the best regional firm, but now firms are specializing and being segmented by the market, even as larger firms expand worldwide. Revenues at big firms are starkly higher than revenues at lower-tier firms. But high-end firms have more expenses because of the cost of expanding, especially overseas. Law firms also don't have outside investors but instead receive capital from partners. "That's why major law firms have significant debt."
Baxter said students should examine whether the firm has a clear idea of what market segment they are targeting. Students should also study a firm's finances, because if revenues drop, firms don't have the resources other industries have to keep going. "You can't operate a law firm in the red," he said.
Despite the complex economics behind firm finances, Baxter said he was surprised by the current trend of firm failures. Most failures are still attributable to specific circumstances, but "they're happening at an alarming pace."
"It's a real risk and you need to be careful where you're putting your career."
Being too focused on one sector, one client, or one set of partners can hurt a firm, he said. Firms need strong long-term strategies, good management, and a sense of connection between the partners and leader of the firm. Twenty years ago one firm that was hit with a large lawsuit that far surpassed its liability insurance coverage was able to survive because the partners worked together to pay off the debt.
"The ones that have failed of late didn't have that cohesion," he said.
Firms care so much about billable hours because their revenues are based on them. A firm's greatest expense is attorney and staff salaries, and after that, rent, technology, and marketing. The top 25 or 50 firms average more than $200,000 per lawyer in operating expenses per year—more than a starting associate's salary. "The expense side is a great challenge."
Baxter said Orrick opened a center in Wheeling, W.Va., where finance, helpdesk, and technology services are housed, in order to save money, make the service more reliable and responsive, and protect it from natural disaster.
Baxter said the billable-hours model "rewards inefficiency," but clients are so focused on having an objective foundation for work that they are reluctant to change to a fee structure they can't verify. Orrick has signaled to clients a readiness to experiment, but few have taken up the offer. "In law it's just so embedded, I don't think it's going to change soon."
Baxter said the best resource available to evaluate the economics of America's largest law firms was the American Lawyer top 100 survey. Within the survey data, Baxter identified four drivers of profitability. Revenue per lawyer tells you about the firm's role in segmentation. The higher the pay, the higher the market values the firm. Second, leverage tells you the non-partner to partner ratio. Students can find out the operating expense per lawyer, another key figure, by asking during interviews. And last, students should know whether the firm is making investments, which will lower their profitability. "The one that's been investing really has the superior economics as long as the investments are sound," he said. Similarly, shrinking firms may actually have higher profits because there are fewer partners.
Baxter warned that not all firms tell the entire truth about the firm's profitability when providing information to American Lawyer, but most are close enough to their relative positions.
Some factors affect how firms' finances can appear. For example, how firms classify their partners—as equity or non-equity—shapes the profits-per-partner figure. Equity partners are invested in the firm, have a vote, and share risk if the firm is held liable. The traditional law firm model only had equity partners. Non-equity partners make more money than associates, and can be promoted to an equity partner, but do not share in profits or voting.
Many firms operate instead under a hybrid model, in which all partners have equity—they vote and provide capital for investment—but in the first few years of partnership, they are compensated primarily by a share of profits denominated in dollars ("partly fixed partners," which the American Lawyer classifies as non-equity), are then given an increasingly large share of profits if they perform well, and eventually may be promoted to "fully variable partner." If a firm has made a sudden leap in the percentage of partners who are "non-equity" or "partly fixed," it may be because the firm changed how they classify its existing partners to increase its profits per equity partner in the American Lawyer survey.
"Everybody wants their number to be as high as it can be," Baxter said. Surveys that rank firms have changed how firms operate, making them more competitive than ever. "Now everybody is in the game."
Firms used to promote or increase the salaries of partners according to a schedule, without regard to merit or contribution, but "that is a very uncommon model today because it does not provide incentive."
Almost all firms have some sort of merit-based compensation system, but students should understand how firms articulate their criteria for promotion because it gives insight into the firm's values, Baxter said. The best firms value leading a team, mentoring associates, recruiting efforts, and pro bono work. They don't solely value rainmakers—attorneys who attract business by inspiring client confidence—because they are rare and other attorneys make contributions as well.
Baxter urged students to learn as much as possible about supply-chain management, strategy, and marketing. "The more exposure you have to principles of business, the foundational issues that businesses think about, the better."
Having a handle on what's going on in the world—the changing role of the United States, the changing role of business in America—is also important.
Baxter noted that other changes to law firms include a reduction of support staff. "Technology is enabling the work to be done differently, so there are fewer and fewer non-timekeepers to timekeepers." Every lawyer used to have a secretary, which is now rare. Baxter predicted that law firms will increasingly turn to alternative means to do the most routine elements of legal work like document review because technology enables such innovation and will increase firm efficiency. Firm facilities may also sprout up in more unexpected locations, like Wheeling.
Asked whether rumors about overseas offices commonly losing money or just breaking even are true, Baxter noted that "rumor is right." He said it was important not to try to do things entirely the American way in offices abroad. "Law firms like Orrick want to be pluralistic," he said. "The core elements of the service will be the same in our offices all over the world, but we want to be Italian in Italy, French in France, and so forth. We want to be culturally of the places we are."
Firms can't expect fully functional offices outside the United States to operate on the same economic model as New York City, for example; the economic elements on the revenue and expense side are different. Instead global firms need to articulate different economic models for different regions of the world. The issues are complicated by questions such as currency fluctuation and allocation of firm-wide overhead.
Although firm finances are important to understanding the business of law firms, Baxter said, students should consider evaluating their future employer by their long-term strategies and culture.
"Great businesses of today…need to have a vision about tomorrow and be prepared to take concrete steps to achieve it," he said. The culture, character, and quality of human interaction in a firm "will matter to you as much as any other thing. You're going to spend a lot of your life in this place.
"Economics is critical, but so too is the culture and character of the firm."
Founded in 1819, the University of Virginia School of Law is the second-oldest continuously operating law school in the nation. Consistently ranked among the top law schools, Virginia is a world-renowned training ground for distinguished lawyers and public servants, instilling in them a commitment to leadership, integrity and community service.